We are thrilled to have our uber talented friend, Jamee Bryant, founder of Setting the Mood LLC, design our spring showroom! Setting the Mood is an event design and décor firm in Indianapolis, Indiana specializing in bespoke event décor. Jamee has 15+ years of experience designing and creating memorable events. Whether its custom signage, centerpieces, paper goods, props, backdrops, and buffet décor, she handles all the craftsmanship under one roof to ensure a seamless overall look.
We have worked alongside Jamee at multiple events throughout the years and to this day she continues to inspire us with her creativity and attention to detail. Check out her 5 incredible tablescapes and hear her story below. A special thank you to Alison Mae Photography for photographing Jamee's designs!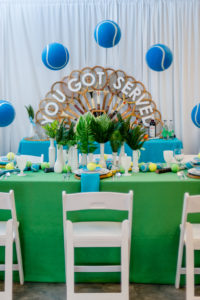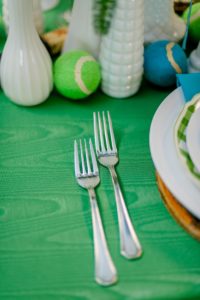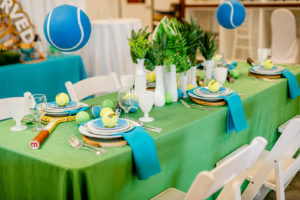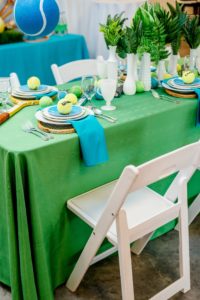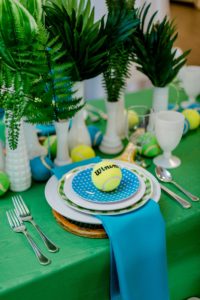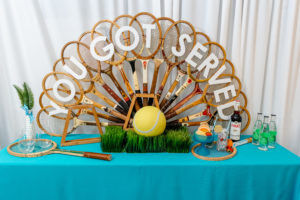 Turquoise Polyester + Kelly Bengaline Moire Linen | White Padded Resin Chair
Classic White China | Prim Flatware | 11.5 oz Water Goblet
ACPR: Let's start at the very beginning, how did you start your career in event design and what services do you offer?
Jamee: Oh, that's a long story.  I was in my last year of college (for criminal justice) and working as a police officer for IU and I needed to fulfill an elective course.  I chose an oil painting class.  It was the first art class I've ever taken and I LOVED it and knew I wanted to do something creative for a living.  So, I answered an ad in the paper for art restoration at the Scottish Rite Cathedral.  I took my only 3 paintings from my class as my "portfolio" to my interview and somehow got hired.  My job was a yearlong contract to restore stained glass windows, paint murals, and restore the wood in the auditorium.  It's crazy to think I got hired on my 3 not-so-great paintings.  I was hooked after that.  Once the contract was up on the Scottish Rite I basically begged some party planners to hire me.  I worked for one party planner part time and she connected me with a caterer that needed help.  The caterer hired me full time and was gracious enough to let me create centerpieces and party décor on the side.  That's how I was introduced to the world of Bar & Bat Mitzvahs.  I decided to go out on my own and have been decorating parties for 20 years now.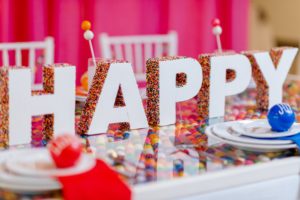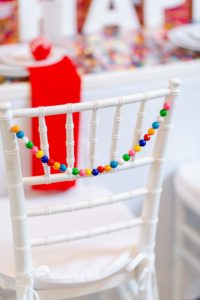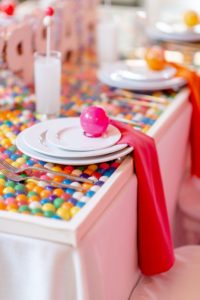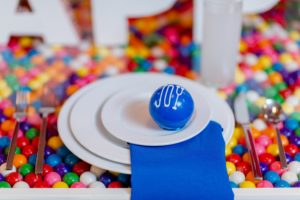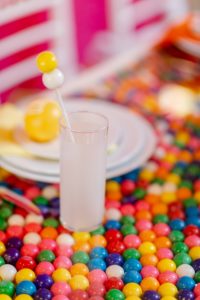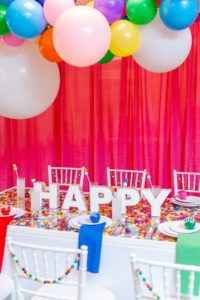 White Panama Linen | Polyester Napkins | Classic White China | White Chiavari Chair | Frosted Highball Glass
Raspberry Pipe and Drape | Balloons: Party with Pink Elephant 
ACPR: What does your creative process look like and where do you find inspiration?
Jamee: My creative process is a little different for each project but overall I would say it first starts with working with the client and coming up with an overall concept or theme.  Once the concept is conceived I start to gather items that relate to the concept-colors, swatches, fabrics, scrapbook paper etc.  Almost like a live Pinterest board.  I sometimes search online for ideas and sometimes they just pop in my head.  I find inspiration everywhere.  I love to go up and down the aisles at hardware stores, craft stores and thrift stores.  Sometimes I'll see an advertisement for something and that stirs up ideas.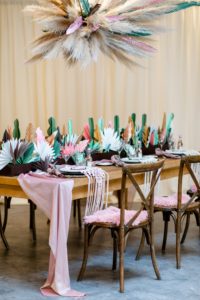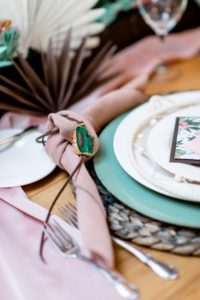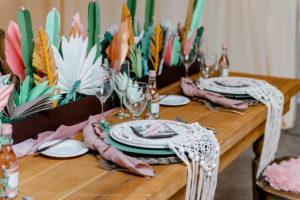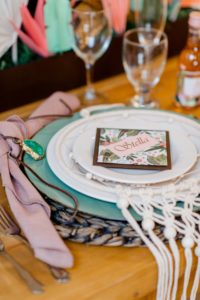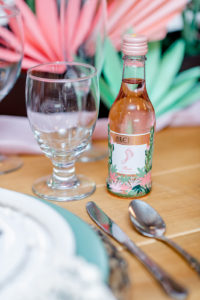 Birchwood Dining Table | Vineyard Crossback Chairs | Toffee Belize Napkins | Syracuse China
Chateau Flatware | 10.5 oz. Water Goblet | Ivory Pipe and Drape
ACPR: You work on a wide variety of events: corporate, social, birthdays, etc. What are your favorite types of events to design?
Jamee: My favorite type of events to design are for clients that like to think outside the box.  The crazier the idea the better.  I've been doing this for a while now so I love when I get to have fun with a theme in a different way.
ACPR: If you could design any event in the world, what event would you chose and why?
Jamee: I really love what designers are doing in Australia and Dubai. They seem to be ahead of the curve when it comes to event design.  They have access to really cool and innovative products and props. I would LOVE to be able to work with David Stark's design team.  He is in New York and his work is AMAZING. To work with him would be a DREAM come true.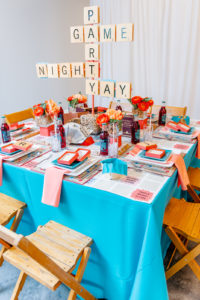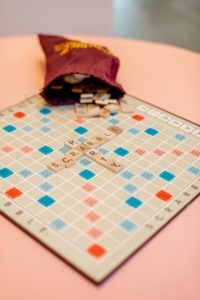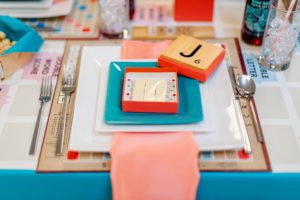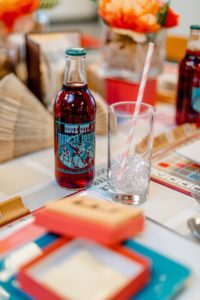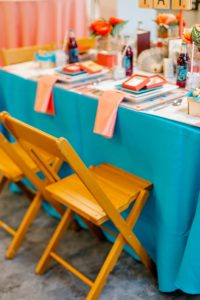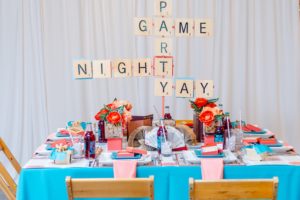 Turquoise Polyester Linen | Coral Bengaline Napkin | Natural Wood Stained Chair
Square White China | Elexa Flatware | Highball Glass
 ACPR: Looking back at your first event ever, what would you tell yourself knowing what you know now?
Jamee: I would tell my younger self (or any person that's new in this industry) is to know your worth and don't be afraid to try new things.  Often times the best ideas come from what seems to be a failure or mistake.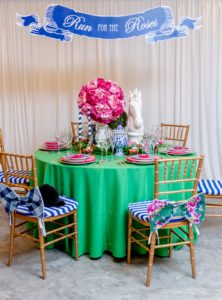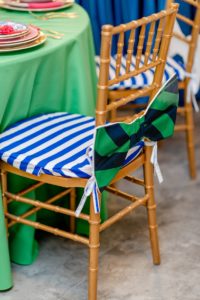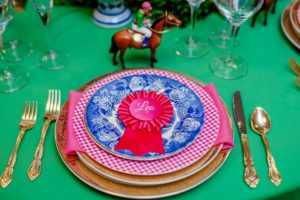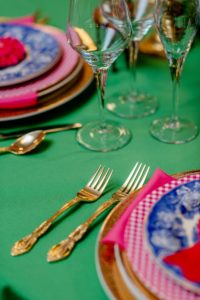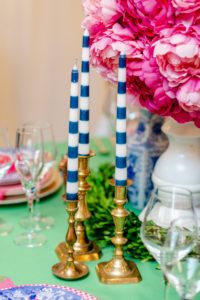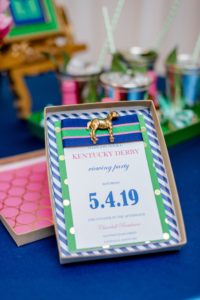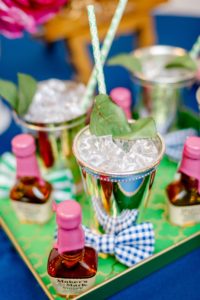 Kelly Green + Navy Satin Linen | Fruit Punch Polyester Napkins | Gold Chiavari Chair with Royal Stripe Cushion
Majestic Gold China  |Abbey Gold Flatware | Napa Glassware Collection
A Classic: 5 questions for our readers to get to know you on a personal level!
Guilty Pleasure: Netflix/Hulu/Amazon binge watching.  I love documentaries too.
Favorite Movies: A Bronx Tale, Shawshank Redemption, Juno.  I love watching the Oscars too, so I try to see as many nominated movies before the actual Oscars.
Hobby: In a nutshell: Creating. I can't pin it down to one hobby but I absolutely love learning new techniques, using new tools or creating something in a new way.
Favorite Quote: "To create something exceptional, your mindset must be relentlessly focused on the smallest detail." -Giorgio Armani
Most used Emoji:
Thank you again to Setting the Mood, Party with Pink Elephant, and Alison Mae Photography partnering with us!