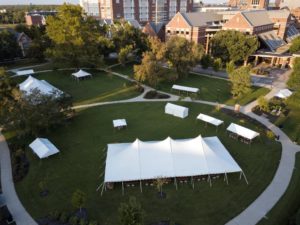 A Tent seems pretty simple, right? Structure, fabric, anchorage – yet it can be complicated! A Classic Party Rental has over 30 years of tenting experience so we can take the stress and worry away from you so you can enjoy the party! In order to prepare the correct quote for you, we will ask several questions – are you prepared? Review our Tent Questionnaire to find out – HERE
Appointments are required for all tent showroom inquiries, to ensure we have a Tent Specialist ready and available to help you! 
We recommend you start by filling out an inquiry – HERE
What size tent do I need? Here is a quick guide: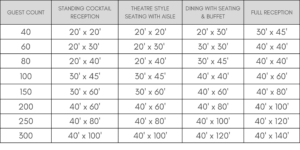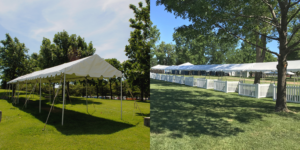 Marquee tents are a perfect solution for walkways, festivals, brand marketing events, exhibits, conventions, and sporting events. Marquee tents can create a strong impact due to their simplicity. Our 9 x 10 marquees combined can create skinny, longer tents for tight spaces. These tents are available in 9' and 12' wide and can stretch out in 10' increments.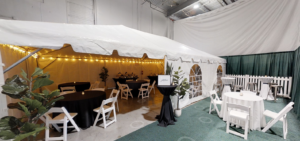 Frame tents are spacious and have flexible layout options as they do not have any center poles or obstructions. This provides an airy open interior. The framework is made of aluminum or steel pipes that support the fabric roof. This special fabric does not require stakes to keep the proper tension, allowing flexibility in the placement of the tent. For example, frame tents are a great option if you want to install the tent as close to a building, home or structure as possible. Frame tents are popular due to their versatility and reliability. Frame tents can be weighted with cement ballasts to safely secure the tent if staking is not an option. Due to costs, tent weighting is a good option only if you absolutely can not stake the tent.
Some advantages of a frame tent include:
more visibility inside a frame tent due to no center poles
more flexibility with the layout and floor plan and
a better option for ceremonies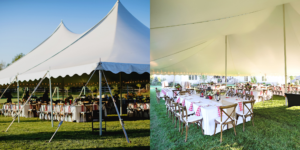 Pole tents have been a staple in the event tent industry for years, providing simple, elegant design and the ability to adapt to any event, according to Anchor Industries (a renowned tent manufacturer). If you are hosting a larger event, we recommend a Pole or Century tent. Pole tents and Century tents are tensioned tents that are supported by stakes that are every 10' around the perimeter of the tent. 40' wide pole tents have a single row of center poles based on the size every 20' down the middle of the tent. 60' wide century pole tents have a double row of center poles based on the size every 30' down the middle of the tent. This creates high peaks which adds to the overall aesthetics of the tent. Pole tents are staked into grass or asphalt and cannot be weighted. Pole tents are easier to set up than frame tents making them a more economical choice comparatively.
Some advantages of pole tents include:
a more economical option
aesthetically pleasing due to the high peaks
available in larger sizes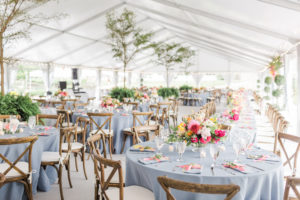 Most suitable for: 
Large scale weddings with a tent rental budget of at least $15,000
Military needs and disaster relief
Long-term projects or additional warehouse space
Live concerts, shows, or speaking events
Trade Shows and markets
Sporting events
Losberger tents are the perfect solution for weather-tight events because they can withstand high winds, rain, and adverse weather conditions. It provides a permanent feel, making it ideal for long-term installations. The clean aesthetics of a modular Losberger tent elevate your event to the next level because guy lines and ropes are not required.
Advantages of Losberger Structures include:
Great for long-term use
Unobstructed interior space usage
French doors – optional
Hardwood floors – optional; additional budget of at least $10,000
Climate controlled due to sliding wall system
Rafters can accommodate complex lighting, chandeliers and AV Systems
More interior options to choose from – liners that create a beautiful environment for high-end events
Creates a truly memorable event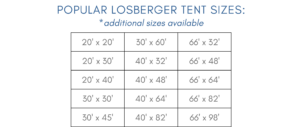 If you are thinking about renting a tent for your upcoming event, we recommend inquiring with us as soon as possible. Tents are in high demand during the summer and fall and often book out months in advance. Call to speak with one of our experienced Tent Specialists for a customized quote!
Contact Us Today!
Call 317.251.7368 or send a Tent Request Form, click here.