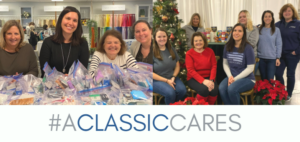 What is A Classic CARES? 
A Classic Cares was established in 2019 as an initiative to be more involved in our local community. A committee was formed to plan community outreach events for each year, pursuing involvement in areas that we are passionate about, both as a company and as individuals. We have identified these areas as – Poverty, Conservation, & Education. 

"Not all of us can do great things.
But we can do small things with great love." – Mother Teresa 
Join Our Mission!  
Check back here frequently and follow us on social media for ways you can participate in our mission to help our local community! 
2023
Habitat for Humanity – We are excited to participate in a team project for Habitat for Humanity on Friday, March 10th! We have our paintbrushes ready to go!
2022
St. Vincent de Paul Annual Food Drive
On behalf of A Classic Party Rental, thank you to everyone who supported our annual food drive for St. Vincent de Paul. The SVdP Food Pantry in downtown Indianapolis feeds over 3,000 families each week. With your help, we exceeded our $1,500 goal and were able to raise a total of $2,701.30! This will be able to provide more than 2,289 meals to those in Central Indiana!
Food pantries are struggling to meet the higher demands due to inflation, supply chain challenges and less available inventory. The demand outweighs the supply, and emergency assistance has ended. All the while, the number of people SVdP serves continues to increase. They are committed to helping provide food and budget relief to those in need, but their costs have increased about 30% over the past year. Your donations and continued support is greatly appreciated from our entire team and St. Vincent de Paul! Thank you!
Interested in helping local families in need, click here: I WANT TO HELP 
Grocery Bag Collection (benefitting St. Vincent de Paul): Our grocery bag collection is still in full swing. Groceries stores are decreasing their use of plastic bags which is great for the environment but leaves our friends at St. Vincent de Paul needed more bags to help feed the families in need. If you have any extra plastic bags at home, please drop them off A Classic Party Rental and put them to good use!
Love Your Neighbor Gala (benefitting SVdP): Monetary donation of $500 to support our friends at SVdP.
Mission Hope Gala:  We proudly supported the 2022 Gala for Mission 22. Mission 22 has helped over 5,783 veterans, funded over $11M in veteran related programs, and has over 3,500 volunteer ambassadors. Mission 22 offers programs at no cost at all to veterans. They focus on three main pillars – Veterans, families, and community and support them in a myriad of ways. If you are interested in helping veteran familes in need, you can donate here:DONATE
Habitat Young Professionals Putts & Pints Event (HYP Organization, benefitting Habitat for Humanity):
Meet Me Under the Bridge: A Classic Party Rental, we have hearts that want to give back.  Recently, our team had the pleasure of supporting a wonderful homeless ministry, Meet Me Under the Bridge Inc., by creating care packages for homeless men and women. Our team spent weeks adding to our inventory of items through personal donations and reaching out to local businesses for support. The care package included personal hygiene products such as shampoo & conditioner, soap, and toothbrushes & toothpaste. Personal hygiene items are often taken for granted.  
Meet Me Under the Bridge Inc. meets weekly to feed and clothe the homeless community. Their Sunday Outreach, located in the parking lot of the A.C.L.U. on East Washington Street in Indianapolis starts with a short church service, followed by a hot meal and fellowship. These care packages will be distributed to all who attend.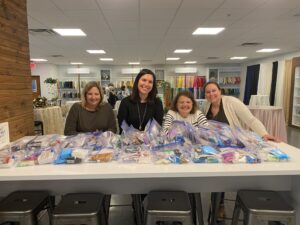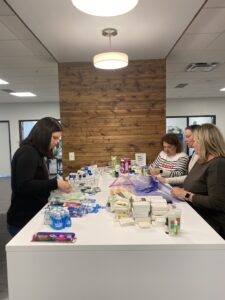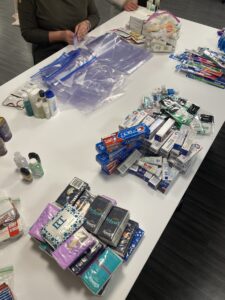 2021
Grocery Bag Collection: In February, we began a Plastic Grocery Bag collection benefitting St Vincent de Paul Indianapolis. They use these bags to package groceries for their distribution, so they are always in need. When they run out of donated bags, they must purchase bags and they are surprisingly expensive. This has been a fantastic way to repurpose those bags that we all have lying around!  This collection takes place year-round and is ongoing. 
"Collecting grocery bags is such a simple task that does not cost our team money. It's comforting to know after a trip to the grocery store or drugstore, I can bring my grocery bags to work the next day to donate to a worthy cause. It never occurred to me that organizations like St. Vincent de Paul have to purchase distribution bags. What a wonderful way for us all to contribute as a team!" – Gina Glas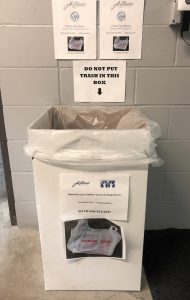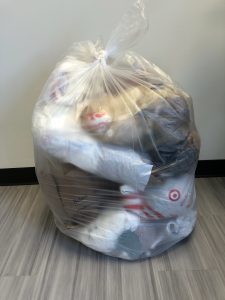 Indy Parks – On April 15th, Gina and Colleen spent the afternoon with Don Miller, Land Stewardship Manager with Indianapolis Department of Public Works.  Don guided us to identify good plants (Wild Ginger, May Apple, Spice Bush), as well as invasive plants (Burning Bush, Garlic Mustard, Honeysuckle Bush).  Invasive species are any plants that are not native to our area, that left unmanaged would adversely affect the environment. For this project, we focused on removing Burning Bush from the West side of Eagle Creek Park. These plants have been carried over from the nearby Golf Course, with the seeds being spread by birds. A big thank you to Don and Indy Parks for spending the afternoon educating us! 
"I really enjoyed spending the afternoon with Don and learning about our local plants and trees.  He was a wealth of knowledge and very informative.  Every hike I've gone on since, I've found myself paying closer attention to the plant life around me and even pulling invasive species. It was such a great experience, and I would encourage everyone to reach out to their local park department or 'friends' groups to help take care of our surrounding parks.  It was amazing what a noticeable difference that just a few people were able to make in one afternoon!"  – Colleen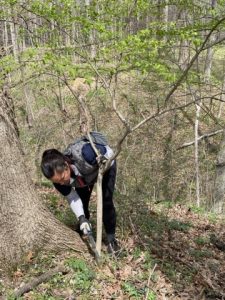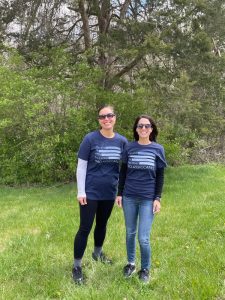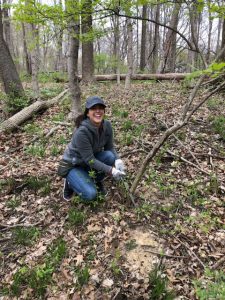 Food Drive: We had our most successful Food Drive yet! In addition to non-perishables, we were able to raise $2,098.90 in November for St Vincent de Paul Indianapolis.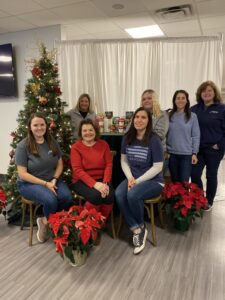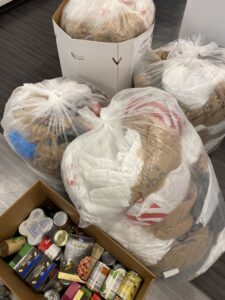 Time: In 2021 our team also dedicated over 33 hours of volunteer service at the St Vincent de Paul Food Pantry and Indy Parks.  
2020
COVID Food Distribution: In March of 2020, COVID-19 brought a devastating blow to the entire Event Industry. Together with Crystal Catering, our first outreach event was an internal food distribution for our employees. A drive-through was set up at Crane Bay Event Center and employees were given boxes filled with paper goods and perishable & non-perishable food items. The boxes were filled with enough food to feed a family of 4 for two weeks. We are incredibly grateful for the support of our vendor partners who helped fill the boxes and our team members who helped package the goods. A special thanks to Crystal Catering for leading this project.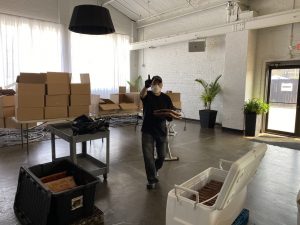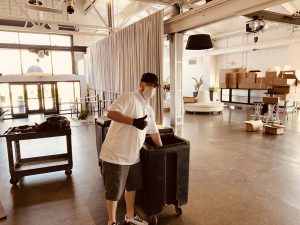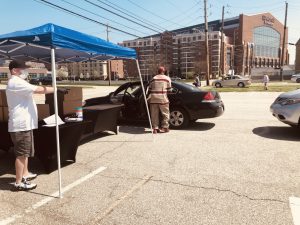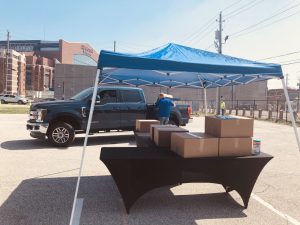 The Bail Fund Project: In June of 2020, our team began to pay more attention to how we can support diversity and the Black Lives Matter momentum. We decided to support The Bail Fund Project through monetary donations. The Bail Fund is seen a a critical tool to prevent unfair incarceration and combat racial disparities in the bail system. To learn more visit the Bail Project website. We plan to continue this journey and change our perspective of "how can we be more diverse" to "how can we include more perspectives in our journey." 
St. Vincent de Paul: We held our 2nd Annual Food Drive in November, this year benefitting St Vincent de Paul Indianapolis, and raised $406 along with non-perishable foods. 
"Being a part of a team that cares so much about the community around us is something I am very proud to be a part of! We have been able to donate many pounds of non-perishable food items and have raised money for St. Vincent de Paul over the past two years. The yearly food drive is something I look forward to all year to see in which ways we are going to be able to help out our local community." –
Angela Richart   
2019
Gleaners's Food Bank of Indiana: In November, we held our first Food (and fund!) Drive. For this food drive, we focused on collecting canned goods and donations for Gleaners Food Bank of Indiana. Gleaners Food Bank distributes food to hungry Hoosiers in 21 local counties, through a network of 300 partner agencies, including emergency food pantries, soup kitchens, and shelters. We were able to raise $560, along with 446 pounds of food. We enjoyed this collection so much that we planned to hold a Food Drive annually every November!
Toys for Tots: We collected new unwrapped toys for the Marine Corps. Toys for Tots organization in December. The primary goal of Marine Toys for Tots is, through the gift of a new toy, to help bring the joy of Christmas and send a message of hope to America's less fortunate children.