We are thrilled to have Christina Burton Events (CBE) as our final showroom designer of the year! Christina Burton, owner, lead planner, and designer, as well as Whitney Holmes, lead planner, wowed us with 5 tablescapes that will be displayed in our showroom. The duo designed dreamy Fall tablescapes that immediately sent our creative juices into overdrive.
Sure to be a fan favorite is the Sage satin and smokey velvet paired with natural elements and gold give the tablescape just the right mix of natural and modern elements. This table has me dreaming of Scottsdale! Christina and Whitney created Thanksgiving tablescape ideas and gave us a fresh take on the ubiquitous blush. There is a little something for everyone in each table design. Their goal is to create unique designs for their brides with the setting in mind – keeping things classy and elegant with a simple nod to a trend is exactly what CBE brought to the table – pun intended.
The CBE team partnered with Rebecca Shehorn Photography, Blu3 Designs, George Thomas Flowers, Icing on the Cake, and Paige Makes to pull the looks together. We all know whether you're designing one table or a large event, it takes a team to achieve the perfect look, feel, and style. Check out their tablescape designs below for inspiration for your next event!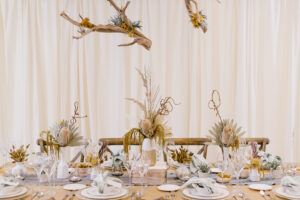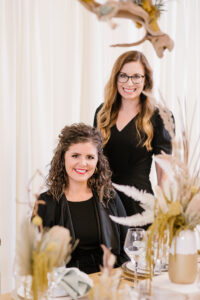 ACPR: Tell us about Christina Burton Events! What do you specialize in and what services do you offer?
Christina Burton Events specializes in wedding planning, design, and coordination. We have four main packages, Coordination, Coordination + Guidance, Coordination + Design, and Full-Service Planning, and also customize packages to fit our client's needs. Logistics is our specialty and at the core of our business, we believe that all clients should have the peace of mind to know that there is a team of problem solvers and timeline magicians crafting their day so they can truly sit back and enjoy. We've also love event design. We design for the couple and the space they've chosen to get married. Each design should be unique and we have a love for keeping things classic and elegant while adding in nods to trendy and a lot of details.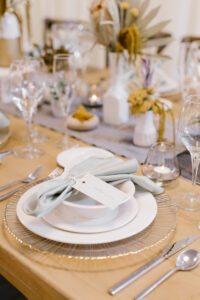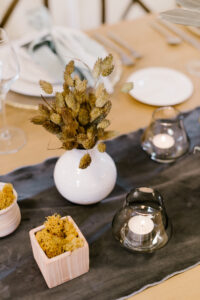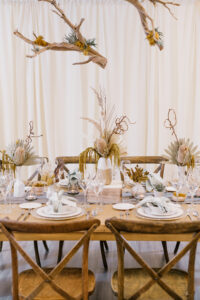 Featured Rentals: Birchwood Dining Table | Vineyard Crossback Chair | Smoke Velvet Runner
Sage Satin Napkin | Gold Apollo Charger | Syracuse China | Elexa Flatware | Napa Glassware | Smoke Votive Cup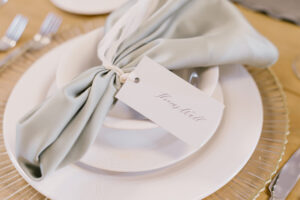 ACPR: Where did you find inspiration for your showroom tablescapes?
CBE: We wanted to have a range of tablescapes, starting with super approachable and easy to recreate at home for your holiday events and dinner parties, to something that flexed our creative muscles a bit more. We love to incorporate a lot of organic elements into our designs and try to always have unique details incorporated. Here we were able to stick with both of those through the dried florals provided by George Thomas Florist, and the stationery pieces provided by Blu3 Designs.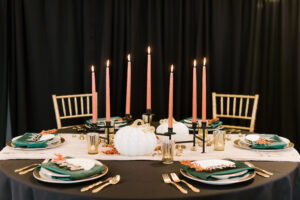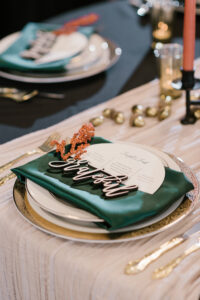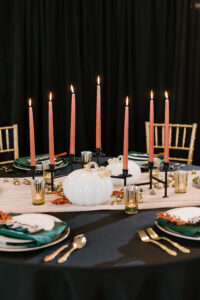 Featured Rentals: Gold Chiavari Chair | Black Poly Linen | Hunter Satin Napkin | Natural Sahara Runner
Majestic Gold Charger | Gold Band China | Abbey Gold Glatware | Gold Stripe Votive Cup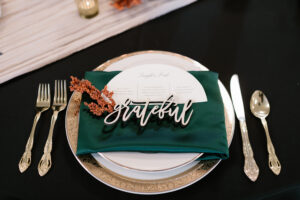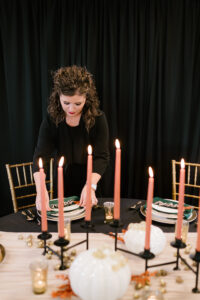 ACPR: What are your go-to rentals from A Classic?
Christy: Crossback Vineyard Chairs, Apollo Chargers, Crown Gold Flatware, Sahara Runners
Whitney: Black Chiavari chairs, Apollo chargers, Napa collection stemware, gold clear votive cup, black + marble linen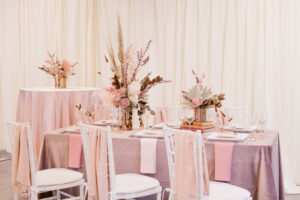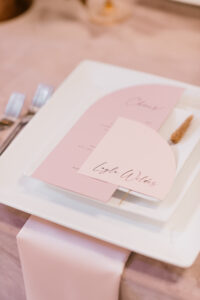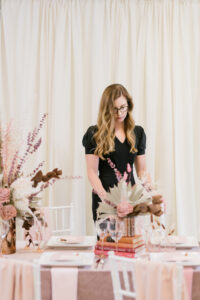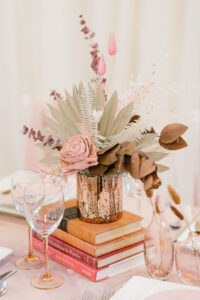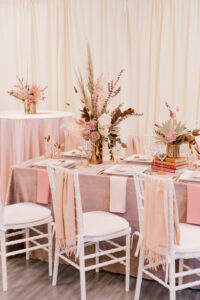 Featured Rentals: White Chiavari Chair | Rose Velvet Linen | Blush Poly + Blush Satin Napkin
Square White China | Elexa Flatware | Pink Stem Glassware | Vineyard Crossback Chair (Ceremony)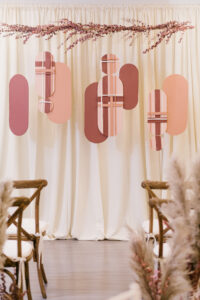 ACPR: What is your favorite moment on wedding days?
Christy: The moment after I've fluffed out the bride's train, told her she looks beautiful and sent her down the aisle. I'm sure I always take a deep breath because there's so much that has led us to that one moment, and usually a couple of busy hours for everything to come together, but we've made it, and it's always so beautiful to see her walking toward her future.
Whitney: I love the moment when all the candles get lit and no one has entered the space yet…it's such a great time to take in all the beauty that so many vendors and Brides have worked so hard on. I also love a first look with the bride and her father, it's just something so special and each one is very different.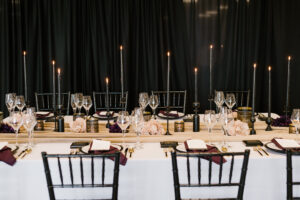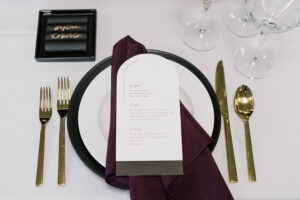 Featured Rentals: Black Chiavari Chair | White Poly Linen | Eggplant Poly Napkin | Cashmere Velvet Runner
Matte Black Stoneware | Classic White China | Crown Gold Flatware | Napa Glassware | Black Candle Holders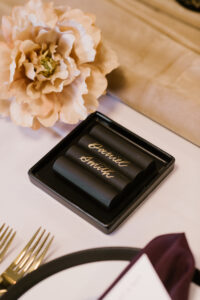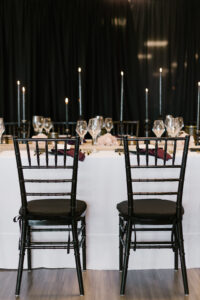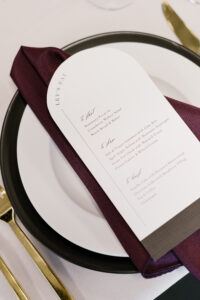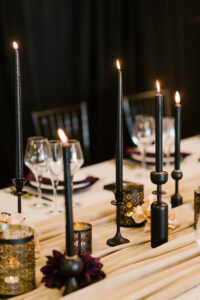 ACPR: If you could plan and design any event in the world, what would it be and why?
Christy: Gosh, we see so many incredible weddings every year, but I think my dream event to plan would still be a wedding. Perhaps one in a really unique nature-driven space, where I can really stretch my creative muscles and create magic.
Whitney: Oh goodness, honestly…I think anything sports-related. I have always dreamt about being able to plan for all of the big Super Bowl festivities. I love sports and planning, what's not to love?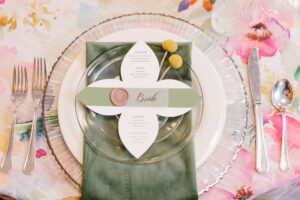 Featured Rentals: Mahogany Chiavari Chair | Brushed Watercolor Linen | Leaf Velvet Napkin
Silver Apollo Charger | Classic White China | Clear Glass Plate | Prim Flatware | Cristallo Stemware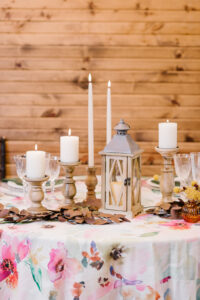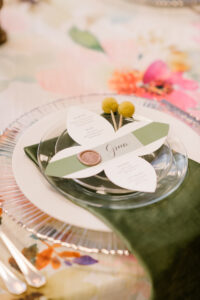 A Classic: 5 questions for our readers to get to know you on a personal level!
Christy:
1. Guilty Pleasure: A hotel room with room service (definitely a glass of red wine) all by myself.
2. Favorite Movie/Show: The Great British Bakeoff
3. Hobby: Walking, hiking, reading, camping (well, more glamping)
4. Favorite quote or saying: "If it's meant to be, it will be."
5. Most used Emoji:
Whitney:
1. Guilty Pleasure: Deep Tissue Massage
2. Favorite Movie/Show: Pretty Woman & Scandal
3. Hobby: I love being with my family, the outdoors, and girl's nights.
4. Favorite quote or saying: "Good things happen to good people."
5. Most used Emoji: