The seasons are changing and so is our showroom! We are honored to have partnered with Alan Thompson, from McNamara Florist, to design our 2017 Summer-Fall showroom. With over 60 years in the business, McNamara is a powerhouse in Indiana's floral industry. They have been recognized locally and nationally for their work and are currently ranked in the "Top 20" by FTD in the US and Canada. Alan has been with McNamara for 27 years and has designed floral for thousands of events throughout his career. Stop by our showroom to see Alan's designs through September and check out our Q&A with him below!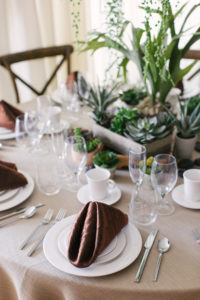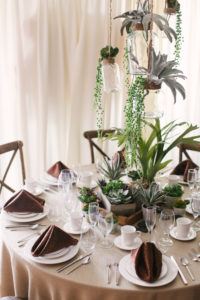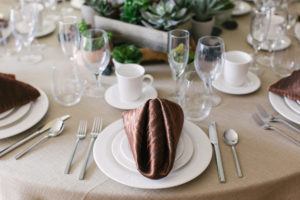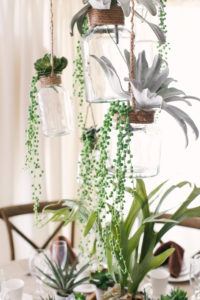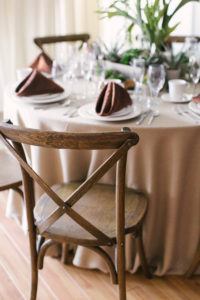 Succulent Table
5′ round table | Natural Panama Linen | Copper Iridescent Crush Napkin | Vineyard Crossback Chair
Syracuse China | Elexa Flatware | Stemless Wine Glasses | Excalibur Champagne Flute
 Anchor Water Glass | Ivory Pipe & Drape
Chung: Tell us about yourself! How did you get started in the industry?
Alan: After graduation from Ohio State University I began in the floral industry at a production greenhouse and wholesale florist. They grew the most beautiful football chrysanthemums I have ever seen – they would last for a month and open to the size of a small dinner plate. Mr. Hartsell worked with industry legends and Ohio State researchers to develop the year round blooming of chrysanthemums. This lead to a relationship with Kroger through another wholesale florist in Cincinnati. Through these relationships I became a resource and point person on design, care and handling of flowers. I entered the retail and event world at the premier florist in Cincinnati until my move to Indianapolis where I started working at McNamara Florist. I have been with McNamara Florist 27 years and at the Carmel location since 1992. Since working there I have been fortunate to build great relationships and friendships with clients and the premier vendors and venues in the area.
Chung: Where did you find inspiration for your three showroom tablescapes?
Alan: I looked at current trends, styles I like, plus the merchandise and gift ware we have in the store.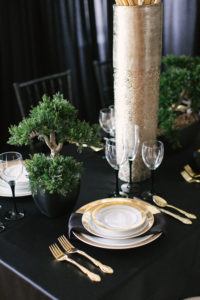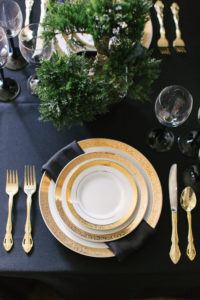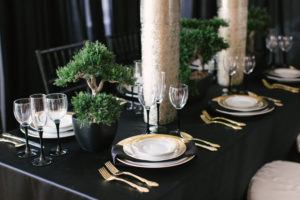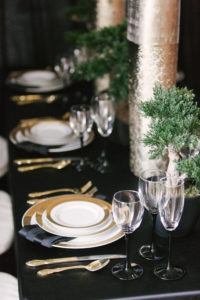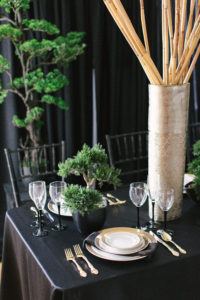 Bonsai Table
6′ Banquet Table | Black Satin Linen | Black Imperial Napkin | Black Chiavari Chair | Majestic Gold China
Abbey Gold Flatware | Black Stem Glassware | Black Pipe & Drape
Chung: How would you describe your design style?
Alan: I am comfortable in any style of design. I love contemporary, Ikebana styles, classic elegance and deconstructed botanical design. I think flower focused and letting the material guide designs is very crucial in my design style.
Chung: What or who inspires you?
Alan: Nature, architecture, flowers and many other things.
Chung: If you could design floral for any event in the world, what event would you choose and why?
Alan: That is a difficult question as I have had tremendous opportunities in my career. I have designed for two presidential inaugurations, The World Figure Skating Championships and The American Institute of Floral Designers (AIFD) National Symposium. I think I would like to design with an amazing vendor team an exceptional event for my industry friends and colleagues to enjoy the fruits of our labor.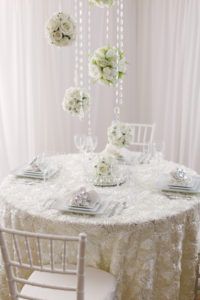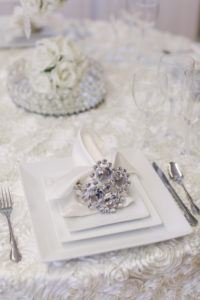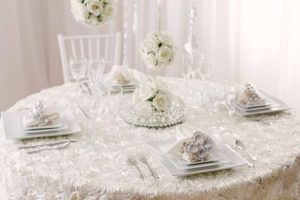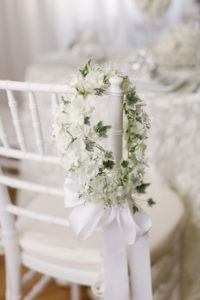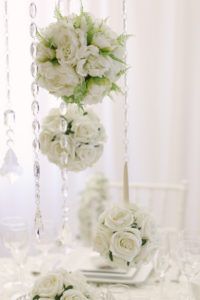 Elegant Wedding Table 
4′ Round Table | Ivory Rosette Linen | Ivory Satin Napkin | White Chiavari Chair
White Square China | Chateau Flatware | Angelic Swirl Glassware | White Pipe & Drape 
Chung: What is your best piece of advice for new comers into the floral industry?
Alan: For those beginning be prepared for long hours and hard work. Find the best and work with them, listen and learn from industry leaders. Remember that it is a team effort.
Chung: What do you like to do when you're not designing floral?
Alan: What little time there is I enjoy being Staff for my cat, Molly (cat people will get that). I also like to travel, cook and entertain, listen to opera to country music, and spend time with my family.
That concludes our Q&A with Alan from McNamara! A big thank you to Traci and Troy who came out and photographed the showroom. They were both so kind and a breeze to work with! For those of you who aren't familiar, Traci and Troy are a sibling duo based in Indianapolis that specialize in wedding photography. Their work has been featured on The Perfect Palette, June Bug Weddings, Wedding Wire, InStyle, and Wedding Day Magazine. They just recently launched their newly designed website, which is gorgeous! Make sure to check it out and follow their work on Instagram!
xoxo,