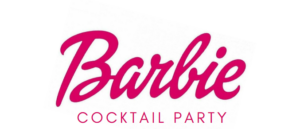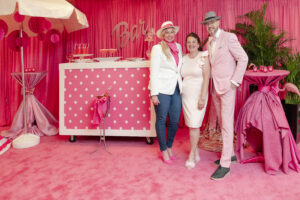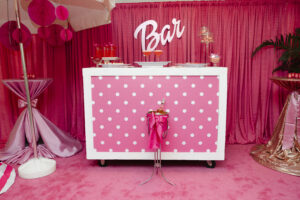 Calling all Barbie fans! If you're looking for a fun and festive way to celebrate your next party, look no further than a Barbie-themed bar. Our Senior Event Specialist, David Reilich, designed a Pinterest-worthy Barbie cocktail party right in the A Classic Party Rental showroom. We can't get KENough of it! Stop by Monday – Friday to see the bar set up and our other showroom tablescape designs!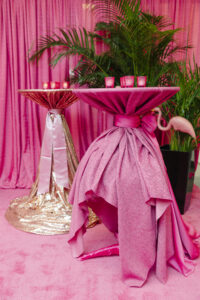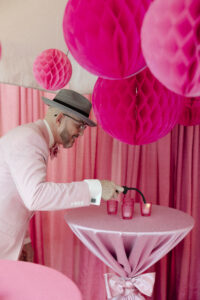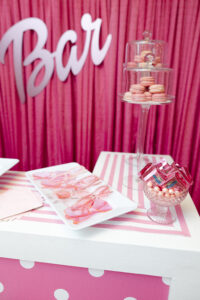 "My sister did not play with Barbies, so my reference point is quite general. For me, the design challenge was about translating the magic of dress-up into a party for a more sophisticated adult audience. Any event planner knows that when you sash linen on a standing cocktail table, you create the equivalent of a woman's skirt. So I just took that a little further by creating different looks for each table. We knew a lot of adult women would want to have cocktail parties around the movie premier, so the idea of "Cocktail Barbie" made perfect sense to us." – David, A Classic Party Rental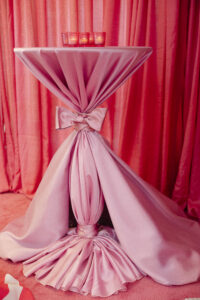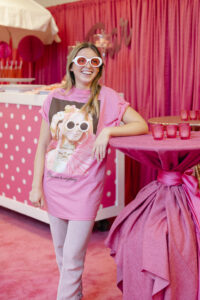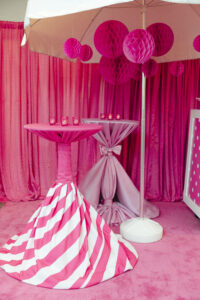 Setting up the Bar
The first step to setting up a Barbie-themed bar is to get the décor right. You'll want to fill the space with plenty of pink, of course. Think pink tablecloths, pink backdrop, and pink carpet. You can also add some fun Barbie-themed touches, like a custom bar wrap, palm trees, and "BEACH" Rosé.

"Yeah, because actually my job, it's just Beach." -Ken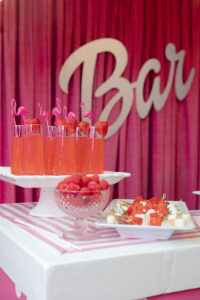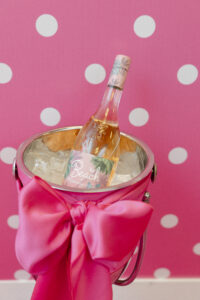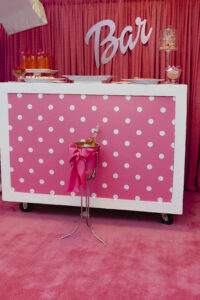 The Cocktails
Of course, no Barbie-themed party would be complete without cocktails. Here are a few ideas for pink cocktails handcrafted by our friends at Crystal Signature Events that would be perfect for a Barbie party: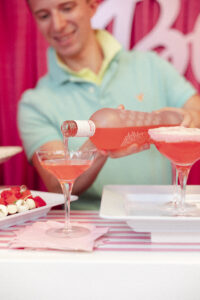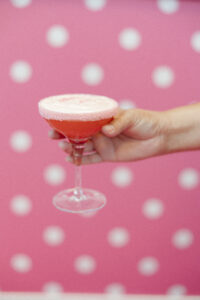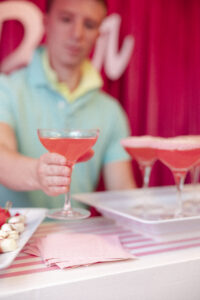 Barbie's Birthday Cake Cocktail
Featured Glassware: City Coupe
1.5 ounces Whipped Vodka
.5 ounces Strawberry Liqueur
1 ounce Lemon Juice
.75 ounces Simple
Pour all ingredients into a cocktail shaker with ice cubes. Shake. Strain in chilled, sugar-rimmed City Coupe glass. Garnish with a tequila rose whipped float and rose gold luster
"I don't have anything big planned. Just a giant blowout party with all the Barbies, and planned choreography, and a bespoke song. You should stop by!" – Barbie


Malibu Barbie Cocktail
Featured Glassware: Stemless Flute
1.5 ounces kinky pink
.75 Orange Juice
.75 Pineapple Juice
.75 Cranberry Juice
Pour all ingredients into a cocktail shaker with ice cubes. Shake.
Strain into Stemless Champagne Flutes and garnish with sliced strawberries.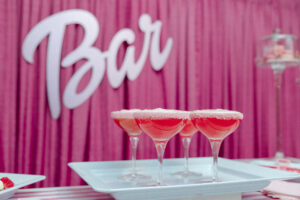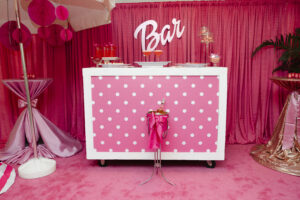 No matter what cocktails you choose, be sure to have fun with the presentation. Use pink straws, stir sticks and garnishes. With a little planning, you can throw a Barbie-themed bar party that your guests will never forget. So get creative and have some fun!

Featured Rentals: Raspberry Banjo Pipe & Drape | Custom Pink Carpet | White Umbrella | All White Portable Bar
2′ Round Cocktail Tables | Champagne Bucket + Stand | City Coupe | Stemless Champagne Flute
Petal Satin Linen | Fruit Punch Cabana Stripe Linen | Blush Glimmer Linen | Hot Pink Rattan Linen