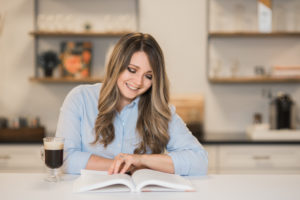 Disney fans are in for a treat with our new showroom designed by local event planner, Sarah Farthing of All In The Details! Sarah brings with her 11+ years of experience in catering and events and is a member of the International Live Events Association and a registered wedding planner with the Association of Bridal Consultants – the real deal. Sarah has a true passion for people, experiences, and the city of Indianapolis. Her vast knowledge and experience quickly became a resource for many in the industry.
Sarah channeled her love for Disney when designing her showroom tablescapes with themes from 101 Dalmatians, The Little Mermaid, and Snow White. Check out her designs below along with our exclusive interview!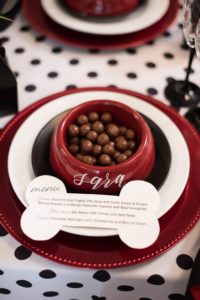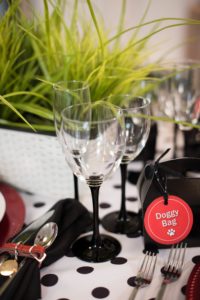 ACPR: How did you start your career in event planning and what services do you offer?
Sarah: I've been in the event planning industry for over eleven years now. With an undergraduate degree in communications/journalism and a master's degree in public relations, I thought my path was laid out before me; I'm so glad I was wrong.
I got started in the event planning industry in a very roundabout way. I actually began in politics working for the First Lady of Indiana handling events at the Governor's Residence along with other communication duties for four years as the Deputy Chief of Staff. Following that, I went on to doing galas, exhibit openings and fundraisers for the Eiteljorg Museum of American Indians and Western Art. From there, I worked as the Venue Manager of D'Amore at the top of the (then) Chase (now) Salesforce Tower and eventually served as an event designer and the associate director of sales at Thomas Caterers of Distinction. Once I had venue, catering management, nonprofit and gubernatorial event experience under my belt, I felt the time was right for me to further pursue my passion and establish All in the Details.
I created All in the Details because I wanted to be able to provide my clients with personalized attention. I wanted to help take the stress of event planning off their shoulders so that they, as well as their friends and family, could truly enjoy celebrations.
All in the Details offers everything from full-service event planning to day-of (which is truly month-of) coordination and design assistance. I serve as the lead planner at most events and I'm so fortunate to have a team of five amazing, experienced associate planners working alongside me.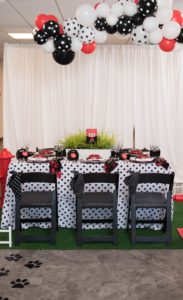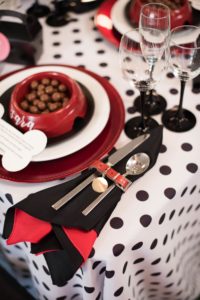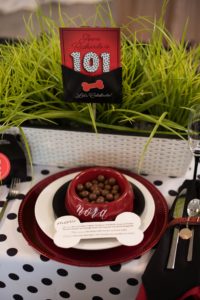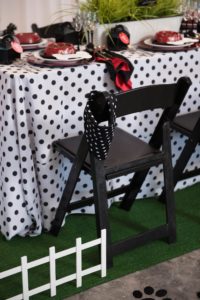 Black Dot Linen | Red + Black Satin Napkins | Black Padded Resin Chairs 
Classic White China | Matte Black Stoneware | Elexa Flatware | Black Stem Glassware 
ACPR: How did you decide on your table themes? What is your favorite detail on each table?
Sarah: I'm a Disney girl at heart. When I was looking into the new linens that A Classic has to offer, the black dot linen immediately made me think of 101 Dalmatians and the theme took off from there.
I wanted to showcase that All in the Details, as well as A Classic and all the other members of this vendor team,  could do more than just weddings. As a result, I decided to create tablescapes for a birthday, baby shower, and a head table at a wedding. I knew that I wanted the 101st birthday party to be very thematic, but I aspired for the other tables to be more elegant and less in-your-face Disney so as to provide a balance.
For the 101st birthday party, I wanted to make it fun. After all, if you are turning 101 you better celebrate! I love the dog bowl place cards, dog collar napkin rings, chair bandanas, and the velvet dog-bone menu as well as the paw prints leading up to the party and the doggy bag favors. Atmospheres Indy provided the cutest fire hydrants, faux grass, and fencing underneath a fabulous balloon installation. The black stem glassware, black dot linen, new matte black stoneware china and chateau flatware from A Classic completed the vision.
Inspiration for the "Life is the Bubbles" Little Mermaid baby shower came from the extreme crush linen as I found it to be reminiscent of waves. Rather than call something a Little Mermaid party, I found further inspiration from a song lyric from the movie. The reason being, I wanted the tablescape to be Disney-inspired but not necessarily themed. I love the bubble bath bead favors and the large bubble place cards found at each setting. Laura Reilly Calligraphy did a wonderful job on the capiz sea shells. The vellum napkin wraps by Noteworthy Expressions were the perfect complement to A Classic's Natural Panama napkins. I'm also a fan of mixing pieces together, so combining A Classic's pink stem and Napa glassware at each setting felt like a natural final touch.
The "Fairest of them All" Snow White wedding table was inspired by the couple at a wedding truly being royalty for the evening. Once I came across A Classic's Birchwood table, Vineyard Crossback chairs, and red velvet linens, I knew that I wanted this table to seem like an intimate, but extremely formal, setting within a forest. There are elements of nature throughout the table such as the apple place cards, wood stump chargers, floral vines, and overgrowing moss. If a prince and a princess are getting married, though, you need to take things up a notch; which is where the classic and regal acro cut glassware, abbey gold
flatware, and majestic gold china from A Classic came in. Atmosphere's Indy went a step further and added some lush velvet ceiling drapery and chandeliers. I also couldn't help but do a mirror menu given the table name and theme to cap things off.
The "Be Our Guest" cake table is truly elegant in a very simple way. I wanted the cake from Heavenly Sweets to be the star, so the table is accented with subtle nude glimmer linen, rose velvet napkins and coup glasses from A Classic. The finishing touch involved a royal invitation suite by Noteworthy Expressions.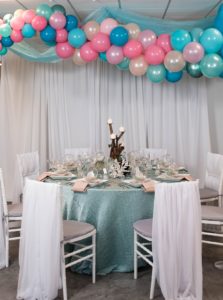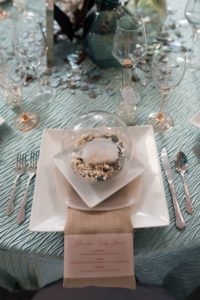 ACPR: Planning events means putting out fires every now and then. Tell us about a difficult situation you faced on event day and how you handled it.
Sarah: No event is perfect, but my job is to handle whatever fires come about so that the couple or client does not have to. A recent one that comes to mind involved a venue shutting down on a client of mine mere months out from their pending three-day wedding celebration. Relying on my industry contacts, I was able to secure them another venue and some wonderful additional vendors who signed on just out of the goodness of their hearts to make sure the day was extra special for the couple. I love how our local special events community will come together and assist one another in times of duress; this was no different.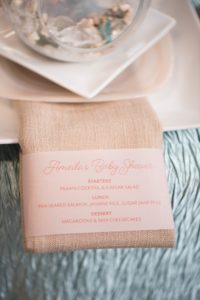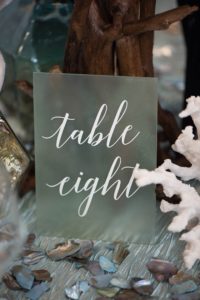 ACPR: If you could attend any event in the world, what would it be and why?
Sarah: I love planning events of any type, but I'm drawn to weddings due to their emotional component. That said, I would have to say William and Kate's royal wedding would have been my dream event to attend. To see the old-world pomp and circumstance and the collaborations of the top special event industry vendors in Europe would be breathtaking and extremely inspirational.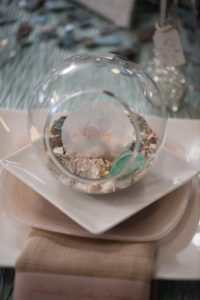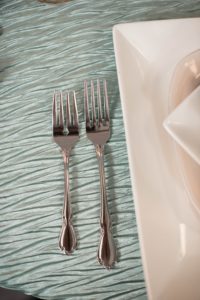 Mint Italian Crush Linen | Natural Panama Napkin | White Chiavari Chairs with Silver Cushions
Square White China | Chateau Flatware | Pink Stem Glassware | Napa Glassware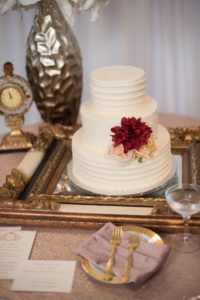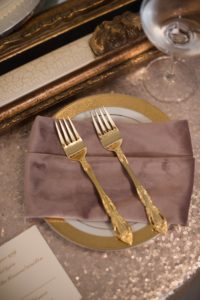 Nude Glimmer Linen | Majestic Gold China | Abbey Gold Flatware | City Coupe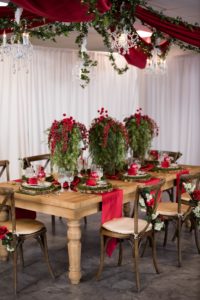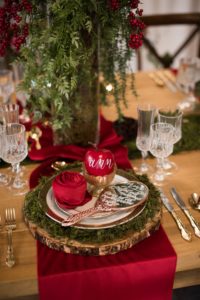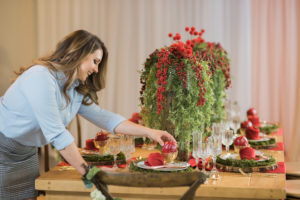 ACPR: What's your favorite piece that A Classic offers?
Sarah: This is such a difficult question because there are so many quality pieces that I love using from A Classic and the collection continues to grow. I'm going to stretch the rules a bit and choose three items. Currently, I'm in love with the city coupe glasses, any velvet linen, and the new crown gold flatware. I'm a sucker for items that exude classic elegance but have a slightly modern twist to them. These pieces all fit that vision perfectly.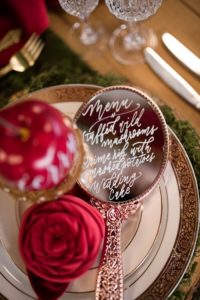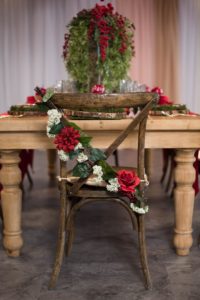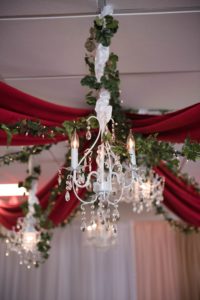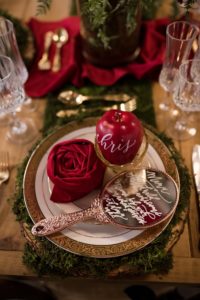 Birchwood Dining Table | Vineyard Crossback Chairs | Red Velvet Runners + Napkins
Gold Band Charger | Clear Glass Plate | Abbey Gold Flatware | Arco Cut Crystal 
A Classic: 5 questions for our readers to get to know you on a personal level!
1. Guilty Pleasure: F.R.I.E.N.D.S. (quoted daily), Suits (the tv show, not the attire), Starbucks, high tea and high heels, chocolate and wine
2. Favorite Movies: (I love watching movies, so I'm all over the place) American President, Holiday Inn, Thor Ragnarok, Forgetting Sarah Marshall and Just Go With It
3. Hobby: I come off as a girlie girl, so people are often surprised to learn that I enjoy hiking. I love my heels, but I can get my boots dirty too.
4. Favorite Quote: I have three.
"First I drink the coffee, then I do the things." – Lorelai Gilmore, Gilmore Girls
"The only way to do great work is to love what you do." – Steve Jobs
"Don't be like the rest of them darling." – Coco Chanel
5. Most used Emoji:
is currently a staple on my phone
CREATIVE TEAM