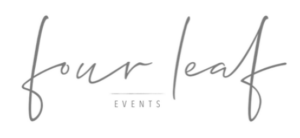 Meet Jen Barnette, owner of Four Leaf Events and our 2022 winter/spring showroom designer! Four Leaf Events offers full-service and month of wedding planning as well as wedding design and coordination. Jen boasts over 15 years of wedding planning experience and as an Indianapolis native, she knows the ins and outs of the local wedding scene. Keep scrolling to get to know Jen and see her three gorgeous tablescapes!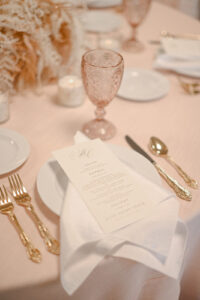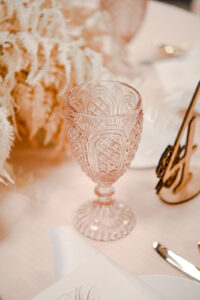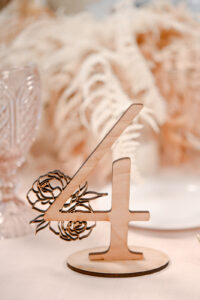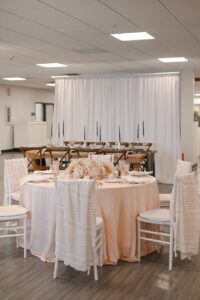 Featured Rentals: 4′ Round Table | White Chivari Chair | Soft Pink Belize Linen
White Supernova Shantung Napkin | Classic White China | Abbey Gold Flatware | Pink Carousel Goblet 
ACPR: Tell us about Four Leaf Events! How did you get into the event industry and what services do you offer?
Jen: I started out as an intern for one of the top wedding planners at the time as I finished my event management degree. I was able to work as an assistant and later branch out on my own with the great support of so many wedding industry professionals. I still thrive off of continued education from my colleagues even after 15 years in the industry. I offer anything from month of planning to full-service planning. No matter what level of service, my approach is always relational and personalized to each client.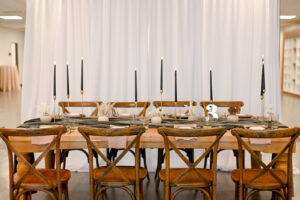 ACPR: Where did you find inspiration for your showroom tablescapes?
Jen: With the tables being out in the showroom during the last leg of winter, I was inspired by the season. The "Winter Blues" table brought in exactly what the name says with some icy touches and a perfectly excessive amount of candles. I went for a warmer, more casual feel with the "Sophisticated Supper" table that felt welcoming for friends and family to cozy up together for a meal. The "Prelude to Spring" table brought in small hints of springtime without being overly floral to give just a taste of what we are now starting to see after these past winter months.
ACPR: What are your go-to rentals from A Classic?
Jen: I've got to have the vineyard crossback chairs! I once got to use over 300 crossback chairs from A Classic to fill a tent and it made quite the impact! I also love the Apollo chargers. They fit so well with most tablescapes and really elevate the look!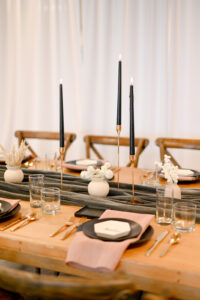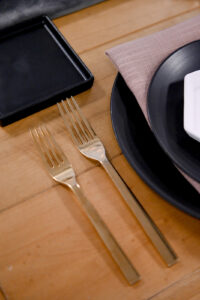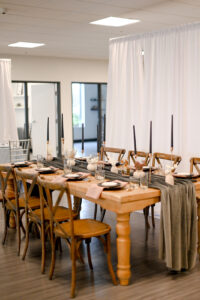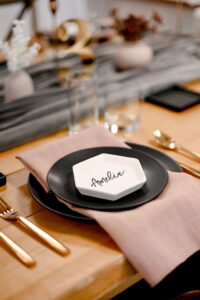 Featured Rentals: Birchwood Dining Table | Vineyard Crossback Chair | Smoke Velvet Linen (used as a runner)
Toffee Belize Napkin | Matte Black Stoneware | Crown Gold Glatware | Old Fashioned Glass | Highball Glass 
ACPR: What is your favorite moment on wedding days?
Jen: I love when couples do a first look! You can see any anxiety or stress just melt away once they finally lay eyes on each other which speaks so much to the love they share and a good reminder as to why we are all here on their wedding day.
ACPR: If you could plan and design any event in the world, what would it be and why?
Jen: Right now I've been thinking how fun it would be to plan a Bridgerton-style ball. I get excited thinking about the possibilities of the exuberant florals, gorgeous food displays, beautiful music and most importantly, the dresses! However, the lack of castles located in Indiana does pose a problem. =)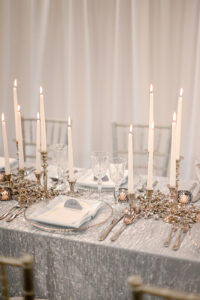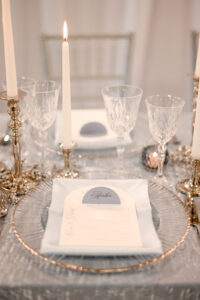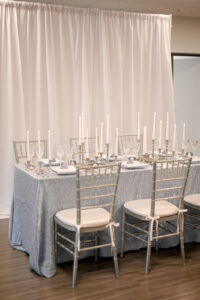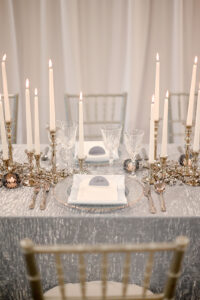 Featured Rentals: 6′ Banquet Table | Silver Chiavari Chair | Sky Blue Iridescent Crush Linen
Light Blue Satin Napkin | Cristallo Stemware | Silver Apollo Charger | Sienna Flatware 
5 Fun Facts: 
1. What brings you joy: my family!
2. Favorite Movie/Show: "How to Lose a Guy in 10 Days" will always be a favorite movie of mine/ any of the "Below Deck" reality shows are so fun to watch with the behind the scenes operations of a mega yacht
3. Hobby: I love writing and crafting
4. Favorite quote or saying: one that I enjoy and have on a small card in my office is "A winner is just a loser who tried one more time"
5. Most used Emoji: 😆