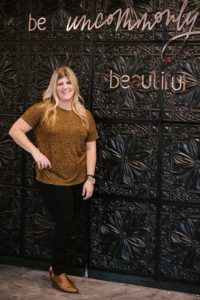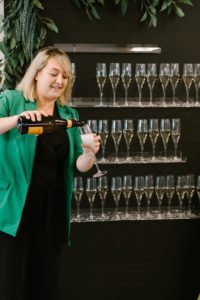 The holidays are swiftly approaching and we are getting into the spirit with our newly designed showroom! This season, we partnered with Brooke Csukas from Uncommonly Styled and Jean Rivers from Blue Llama Events to create 5 stylish tablescapes to inspire you for your next holiday gathering. Beautifully designed menus and place cards were provided by Erica O'Hara from Pickle Prints Invitations and #OOTD inspiration from stylist, Nicole Blair Wear. Keep scrolling to get to know the team and check out their showroom designs!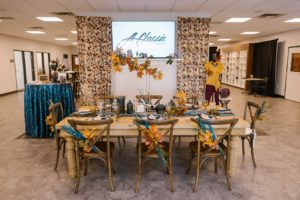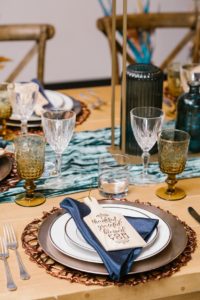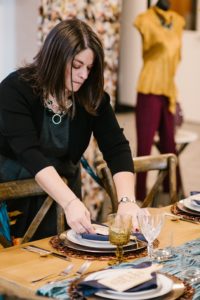 ACPR: How did you start your career in the event industry and what services do you offer?
Brooke: I sold fundraising software to nonprofit organizations for 10 years prior to starting Uncommonly Styled. Unfortunately, my sister was in a devastating car accident 2 weeks before my own wedding in 2016 as she was traveling to Indianapolis for our final hair and makeup trials. My family was told she would never regain consciousness, and as I walked down the aisle at St. John's downtown, she was less than 2 miles away at Methodist in a coma. We refused to give up, which led to me stepping away from work to help her recover. She beat the odds, and after over a month in a coma and several specialty rehab facilities, she fought to get her life back. Nearly 4 years later, she's not 100%, but she's alive – an absolute miracle. I contemplated returning to my corporate role, but my amazingly supportive husband said 'Babe, why don't you do something creative this time'. Here we are 2 years later, I still don't think he had any idea what he was getting himself into!
Uncommonly Styled offers unique decor rentals, custom backdrops for photos, and custom event design that focuses on creative, personalized details.
Jean: I have my degree in photography and was a wedding photographer out of college. I became a planner because I wanted to help my clients with every aspect of their wedding. We offer customized start to finish planning and design for weddings and corporate events.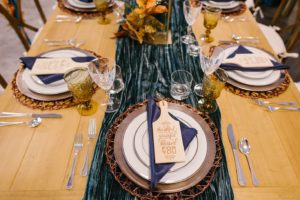 \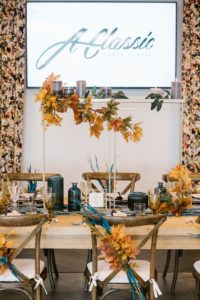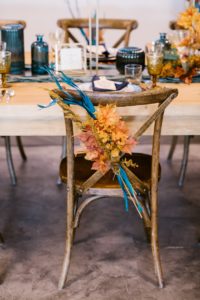 Birchwood Dining Table | Vineyard Crossback Chairs | Marine Navy Bengaline Napkins
Silver Band Charger | Silver Band China | Prim Flatware | Old Fashioned Glass | Preludio Wine Glass 
ACPR: How did you two meet and what events have you worked on together?
Brook + Jean: We met at the Vision Loft Grand opening – Jean and BLE hosted the grand opening event and Brooke attended as a brand new, little startup. Our personalities meshed and we both agreed we wanted to do something together. Together, we have done several styled shoots including an epic mixed metal, edgy yet romantic shoot in the vineyard at Sycamore at Mallow Run, a wooded Southeast Asian inspired shoot with a custom Mandap Blue Llama Events created, and a modern take on the classic black and white 'racing' motif for a shoot at the Indianapolis Motor Speedway Museum.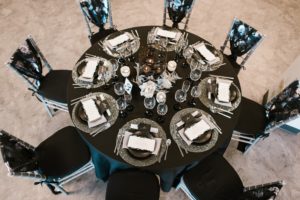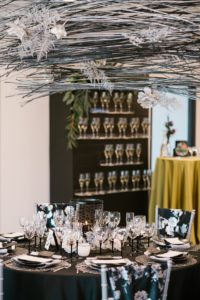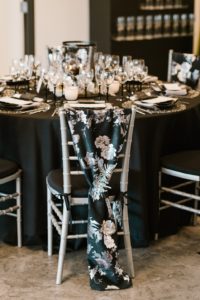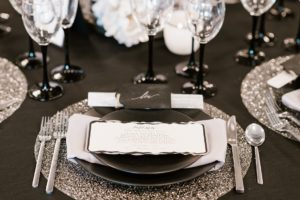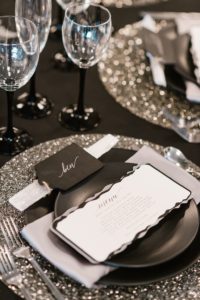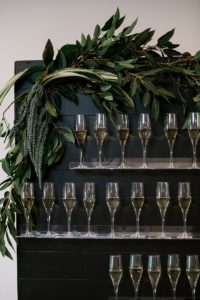 Black Majestic Linen | Silver Satin Napkin | Silver Chiavari Chair
Matte Black Stoneware | Elexa Flatware | Black Stem Glassware
Napa Champagne Flute (pictured above on champagne wall) 
ACPR: Where did you find inspiration for your showroom tablescapes?
Brooke + Jean: We drew our inspiration from both the upcoming holidays as well as the general shift in seasons to fall and winter. We both love bold colors, unique components and texture, so when we started brainstorming, we knew we wanted to incorporate as many of those elements as possible. Each table had an initial inspiration piece – either a specific linen we knew we wanted to showcase, an accent fabric, pattern, a particular cut glass vase or even floral element. We wanted to highlight both of our talents and some of the unique pieces Uncommonly Styled offers like the black champagne wall and a fun textured photo backdrop!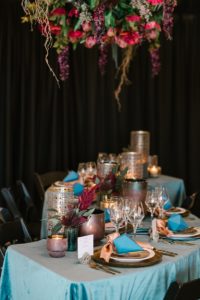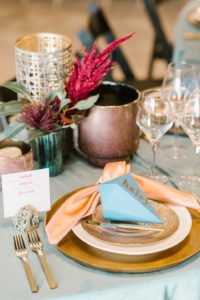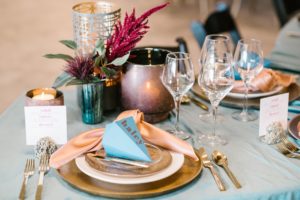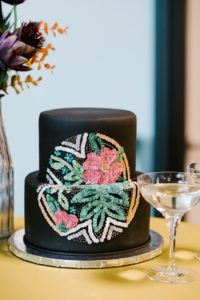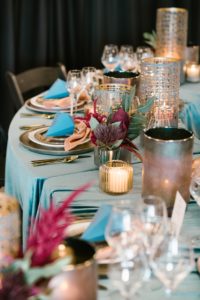 Serpentine Tables | Ocean Velvet Linen | Mauve Satin Napkins | Black Padded Resin Chairs
Classic White China | Clear Glass Plates | Crown Gold Flatware | Napa Glassware 
ACPR: If you could plan or design any event in the world, what would it be and why?
Brooke: Oh, this is tough. I'd want to design an over the top, fully string (and candle) lit outdoor dinner, no detail spared, as a fundraiser to support as many small local animal shelters as I possibly could. Dogs running everywhere of course!
Jean: My team loves creating cultural events. So an outdoor Tuscan wedding, Asian garden wedding or a wedding close by the Taj Mahal in India would be really exciting!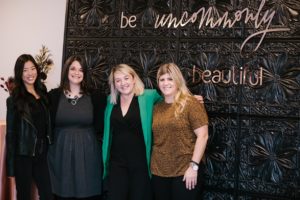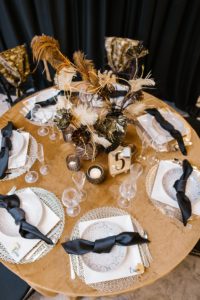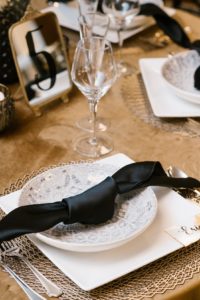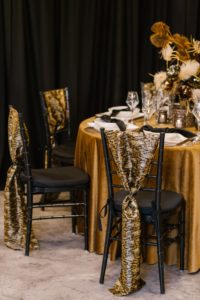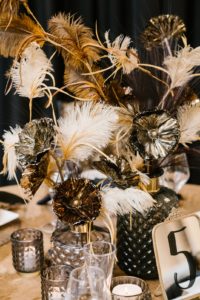 Black Chiavari Chair | Golden Velvet Linen | Black Satin Napkin 
Square White China | Prim Flatware | Napa Wine Glass | Anchor Champagne Flute 
ACPR: What event trends are you excited about right now?
Brooke: Statement installations and black! I've always loved bold, dramatic design so I'm all about the hanging floral pieces, arches and whimsical uses of foliage. I've also always been drawn to the instant drama the color black creates. I had a black wedding cake myself back in 2016 so I'm excited to see others embracing the use of black.
Jean: Experience & personalization! My clients are all about creating an amazing experience for their guests. We spend a lot of time putting their style into their events and creating a unique evening for the guests.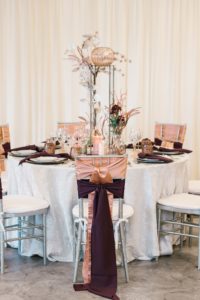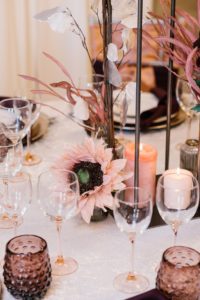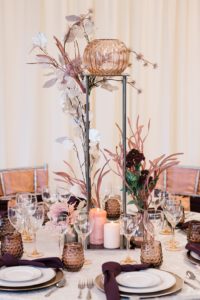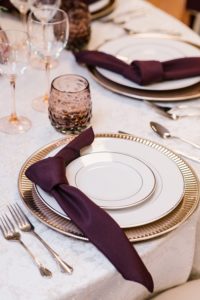 White Marble Linen | Eggplant Polyester Napkins | Eggplant Satin + Mauve Satin Chair Sashes
Silver Chiavari Chairs | Silver Band China | Chateau Flatware | Pink Stem Glassware 
A Classic: 5 questions for our readers to get to know you on a personal level!
Brooke:
1. Guilty Pleasure: Bravo shows like Southern Charm and Vanderpump Rules
2. Favorite Movies: The Goonies, Sex and the City
3. Hobby: Playing with our 2 dogs, watching sports, designing/styling rooms in our home or for my friends
4. Favorite Quote: "You didn't come this far, to only come this far." – Mick Kremling
5. Most used Emoji:
Jean:
1. Guilty Pleasure: can't get enough of housewives of Beverly Hills
2. Favorite Movies: Sound of Music & Mary Poppins
3. Hobby: cooking, gardening, anything where I get to be creative
4. Favorite Quote: "There are some people who live in a dream world, and there are some who face reality, and then there are those who turn one into the other." – D. Everett
5. Most used Emoji:
CREATIVE TEAM