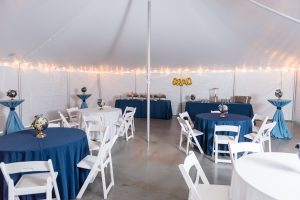 Graduation is an excellent reason to celebrate this year! Gather friends and family together safely to celebrate your grad's start to a new journey.
Graduation parties can seem overwhelming to plan – the food, tables, decoration, guest list, invitations! We work with hundreds of people planning graduation parties each year so we comprised a quick list of things you need to consider.
First, plan ahead to ensure your party rental choices will be available and to make sure your guests have marked their calendars. Next, determine your budget for rental equipment, food, decorations, invitations, and incidentals. Then comes the fun stuff… choose your theme, color palette, and decor. Most parents and grads choose the school colors of the high school or future college. If you are not interested in the high school/college theme, a black/white/gold palette is traditional and you will be able to find lots of decorations in that color palette.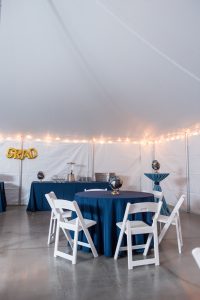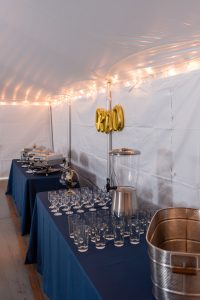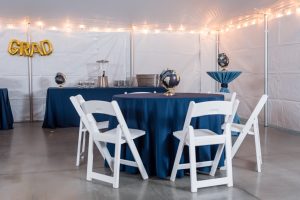 Here's what you will need to plan the perfect Graduation Party:
1) Tables for guest seating (nobody wants to stand and eat!). You can rent round or rectangular tables, it's purely your preference (I happen to prefer round tables for a better guest experience). Most people rent (4) 5′ round tables and seat 8 people at each, 6 if you want to adhere to better social distancing. Cocktail tables are a great way for people to mingle once they are finished eating.
2) Tables for food, dessert, drinks, and any displays/picture collages of the graduate. Rectangular tables tend to work better for the latter.
3) Let's talk tents… tents are popular for graduation parties because they offer shade for sunny summer days and protect against the rain or inclement weather. We typically recommend a 20 x 20  or a 20 x 30 frame tent. The 20 x 20 frame tent holds up to 40 people and a 20 x 30 frame tent can accommodate up to 60 people. This year, we are recommending 20 x 30 Frame Tents to allow for more social distancing. We recommend you reserve your tent 3-4 months in advance to be sure it's available. Most party rental companies have a limited number of this size tent so it's better to reserve the tent as early as possible!
4) Linens will make your look complete! You can rent halfway drop linens so they do not puddle on the ground or for a more formal look, full-length linens will cover the folding legs of the tables. As far as fabric, polyester is the most popular option for graduation parties.
5) Meet and choose a caterer. If you want to prepare the food yourself, make sure to plan ahead. You can rent bowls, trays, and utensils, or anything else you may need for the buffet.
6) If you have any other professional needs, such as florists, bakers, event planners, contact them in advance to discuss your needs.