Event trends come and go, but there's one trend that's here to stay-custom cocktails! We love personalized touches, so what better way to celebrate special moments with your guests than with a signature drink that reflects your taste. Whatever cocktail you choose we have a vessel for it in one of our many glassware collections. Mix up one of our staff favorites below or Hotel Tango's summer cocktail for your next event!
Hotel Tango | Tim Collins
(Tom's Lesser Known Relative)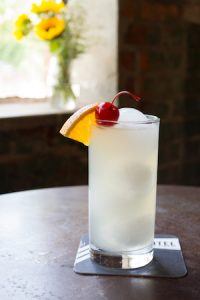 2 oz Hotel Tango Lima Charlie Limoncello
1/4 oz Fresh squeezed lemon juice
3/4 Lavender citrus simple syrup
Top with soda water (1-2oz)
Combine all except soda water into a shaker tin.  Fill the shaker tin half way with ice, and shake vigorously until chilled.  Strain into a Collins glass with ice, top with soda water and garnish with and orange slice and a maraschino cherry.
For the Lavender Citrus Simple:
1/2c fresh lemon juice
1/2c fresh lime juice
1c granulated sugar
1/4c dried lavender
Combine all into a small nonreactive sauce pan.  Stir, making sure all of the sugar is released from the bottom of the pan.  Bring mixture to a light simmer over medium to medium high heat. Once simmering, removed from heat and then let the syrup steep for 25-30 minutes. Strain out the lavender using a fine mesh strainer, bottle, and chill in the refrigerator. Holds for 3-4 weeks.
Sarah's Pick | Classic Sangria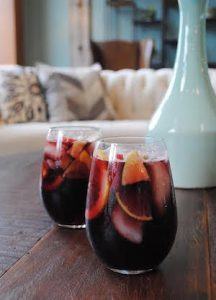 Featured Glassware: Stemless Wine Glass
Recipe adapted from Martha Stewart
1 orange, halved and cut into 1/4-inch slices
1 lime, thinly sliced crosswise
1 granny smith apple, cored and cut into 1-inch pieces
1 cup strawberries, halved
1/4 cup brandy
1 bottle (750 ml) dry red wine
4 cups (32 ounces) chilled lemon-lime soda
ice
Method: In a pitcher or large bowl, combine orange, lime, apple, brandy, and red wine. Stir to combine and refrigerate 1 hour (or overnight). To serve, add soda and ice.
Lane's Pick | Skinny Margarita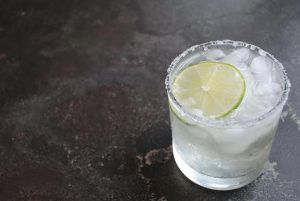 Featured Glassware: Medium Old Fashioned
1 ounce silver Tequila
3 ounces soda
juice from 1/4 of a lime
kosher salt and lime, for garnish
ice
Method: Pour tequila, soda and lime juice over ice; cover and shake. Rim glass with kosher salt and fill with ice. Strain into the glass and garnish with a lime wheel or wedge.
Angela's Pick | Peach Long Island Tea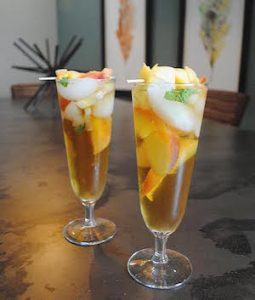 Featured Glassware: Footed Pilsner
1 ounce peach schnapps
1 ounce vodka
1 ounce gin
1 ounce gold tequila
1 ounce light rum
1 ounce triple sec
3 ounces sweet & sour mix
splash of coke
fresh peach slices
ice
Method: Pour vodka, rum, gin, tequila, triple sec, peach schnapps and sour mix over ice; cover and shake. Pour cocktail into a pilsner glass and top with splash of coke. Garnish with a fresh peach slices.
Rachel's Pick | Non-Alcoholic Sparkling Strawberry Lemonade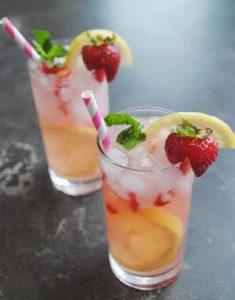 Featured Glassware: Highball | Recipe Adapted From Gimme Some Oven
1 1/2 cups chopped strawberries
2 tablespoons sugar
2 tablespoons water
1 cup boiling water
1/2 cup sugar
1 cup freshly squeezed lemon juice
4 cups cold sparkling water or club soda
ice
Method: Puree the strawberries, sugar and (2 Tbsp.) water together in a blender or food processor until pureed. Remove and strain through a fine-mesh strainer if desired. In a separate bowl or pan, stir together the boiling water and (1/2 cup) sugar until the sugar is dissolved. Stir in the lemon juice and strawberry mixture until well combined, then stir in the sparkling water or club soda. Serve over ice.
Chung | Event Specialist & Social Media Coordinator for A Classic Party Rental