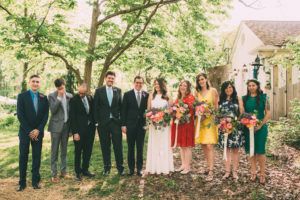 Image Courtesy of Ashton Events. See full gallery here.
Knowing what to do and what not to do on your wedding day can sometimes be a confusing
task. With so much going on, it can be difficult to find out what should be done. Instead of
asking your soon-to- be wife so many questions and adding to her stress, here are basic do's
and don'ts that will help you on your big day.
DO…
…get involved in the planning
Take an active part in the planning of the wedding. It isn't just your wife-to- be's big day, it's
yours too. Show an interest from the start, and, whether it be about booking the venue or renting
out party equipment for the reception, try your best to make all major decisions together.
Support your fiancée and provide her with ways that you can help. It doesn't mean that you're
all set just because you've already filled out your side of the guest list.
…be romantic and considerate
Show your new wife how much you love her. Escape from the stress the wedding day brings
and take her to a quiet place so that you can share a peaceful and heartfelt moment together.
Make her day extra special. Write her a love letter or give her a wedding present, be it a
personalized sentimental gift or a luxurious piece of jewelry. Romantically showing her what she
means to you will keep that smile of hers gleaming on your big day.
…look your best at the wedding
It's your big day. All eyes will be looking at you and your wife. Make sure that you are looking
your best. Find the perfect suit. Clip on the right cufflinks. Put on a pair of stylish shoes – do
what you must to look sharp.
Don't forget to cut and trim your beard as well. Now is not the time to try outlandish hairstyles;
go for a haircut that has consistently served you well. It also isn't just about looks. Do use
cologne. You will be talking to a lot of people, and you would want to be smelling great all
throughout the day.
DONT…
…be shy about your emotions
Don't bottle up all your emotions for the sole sake of trying to look good. It's okay to shed a few
tears of joy. Your wedding day is supposed to be the happiest day of your life, after all. Bask in
the heartfelt moments that will come on your big day.
Share your thoughts and how you truly feel. Learn how to take elements of your emotions and
incorporate them into your speech. Your wedding day is an emotional day. There is no reason
to be shy about them.
…have your bachelor party a day before the wedding.
We've all seen The Hangover. You wouldn't want your wedding story to be part of the movie
series' latest script. Set the bachelor party to be at least three days away from your big day.
Avoid drinking too much the day before too. You should be in your great shape the day of your
wedding. You wouldn't want to have a foggy head and bloodshot eyes when saying "I do".
…forget to thank your attendants
Don't forget to say thank you. This includes your family, your wife's family, and anyone else who
helped make your wedding day wonderful. Include all your 'thank-you's in one speech and try to
not make it sound like one thank you is better than the other.
Remember to thank your bros as well. If you want to go the extra mile, a great gesture to show
how grateful you are is by giving your best man and groomsmen unique "thank you" gifts.
Disclosure: This blog post sponsored by Groovy Groomsmen Gifts.