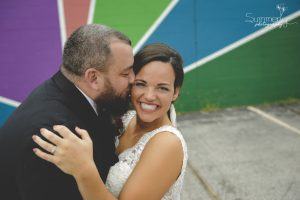 Having the perfect wedding is not an easy task and takes time to understand all of your options. There are many pros and cons of having your wedding indoors or outdoors, so it's vital to weigh both options before making your decision. Talk to all of the professionals you've made contact with thus far and if you haven't made any yet, go ahead and make a few calls. Wedding professionals in your area are probably willing to take a few minutes to help you out.
Indoor Wedding Pros
Wedding venues offer a great deal of relief on your wedding day. The caterer has all the amenities they will need, there is a coordinator in addition to the planner you may have hired, who not only will assist you on the day of, but along the way as well.
A 0% Chance of rain, snow, wind, or any element is a big PRO. Guest's comfort should be a huge consideration through out the planning process.
Depending on the time of year, your wedding may need to be held indoors. November through March, A Classic (and other tent companies) do not usually rent tents because of the possible harsh and unpredictable weather. A venue would be your best option during those time periods.
Indoor Wedding Cons:
Availability or lack there of.  Rental spaces are rented out a year in advance these days or even more.
There are maximum capacities and hidden fees with any venue and the venue rental cost will probably be one of your largest fees, so check contracts thoroughly and ask plenty of questions.
Tent Wedding Pros:
Gorgeous outdoor views, a clean slate for decorating, and an intimate setting.
A tent wedding creates a unique venue that will be unlike any other wedding you've been to.
A Classic Party Rental or whichever rental company you are working with, will provide you with all you need: dance floors, tables, chairs, catering equipment, and linens.  Your tent company should be able to provide other vendors for you if they cannot fulfill your need, such as lighting or sound equipment.
Tent Wedding Cons:
The first obvious con to an outdoor wedding is the brutal force of Mother Nature.
Tent weddings are a lot  of work and expenses can add up quickly.  The clean canvas of mother nature will be gorgeous on the big day, but it will mean a lot more work. Remember you won't have anything you need (tables, chairs, dance floor, lighting or sound equipment).  It will all need to be rented.  Click for downloadable Tent Checklists.
Hopefully this will help guide you in the appropriate direction that is right for you.  There is not a right or wrong answer here, just pros and cons.
If you have questions about tent weddings or events, feel free to email
[email protected]