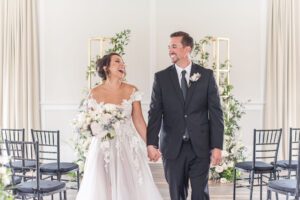 Did you realize your wedding reception is the first official party you'll host as a married couple? If you haven't had the occasion to plan an event beyond perhaps a shower or dinner party, you'll soon learn there are many moving parts; particularly if you host it at a private location. Most couples don't have the experience in planning events to know where to start so utilizing the expertise of the team at A Classic Party Rental is a great first step!
The pandemic has required us to create many different ways to host wedding celebrations. Elopements and micro-weddings grew in popularity and we see this trend continuing over the next several years. As we turned the corner to expanding the guest count at weddings, many families continue to plan more intimate weddings at varied locations. Tents, gardens, historic homes are all popular; and they all require rental equipment.
We're here to help! At A Classic Party Rental, we provide over thirty years of event experience, and our seasoned staff of Event Specialists is here for you! With some thought and planning, we can work together to determine your rental needs.
WHERE DO I START?
After creating your guest list, selecting your ceremony and reception locations, the next step is to create an overall vision for the setup, starting with the ceremony. This will help you choose the rental items you'll need for your big day.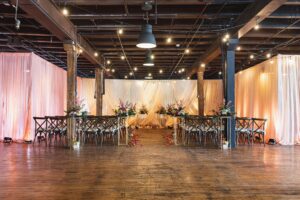 Ceremony Rental Needs:
· Tents – check out our blog post for everything you need to know about tents!
· Chairs – What type suits your vision and budget? Will your ceremony and reception be in the same area?
· Guestbook table and linen-as guests arrive, how will they be greeted?
· Ceremony area – Will you need an arch? Table for unity ceremony?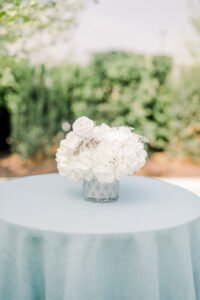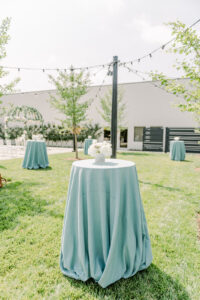 Cocktail Hour Rental Needs:
· Tent – Will you want your guests to be protected from elements of weather?
· Cocktail Tables – 2′ wide is fine for drinks only; but if guests have an appetizer plate, go for the 3′ tables!
· Linens – Go bold for this part of the day if you're doing neutrals for the dinner tables, choose something more colorful or textural to get the party started.
· Café Tables – It's always good to have a few tables with seating for elderly guests or those with small children. We have an umbrella table package for those sunny summer days!
· Food Service – Speak with your caterer or planner to determine if you need tables for food stations such as grazing or charcuterie board or if you want to butler pass hors d'oeuvres.
· Beverage Service – Determine what type of bar you'll provide and what tables/linens or bar kit you'll need.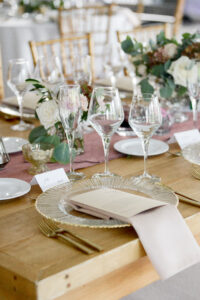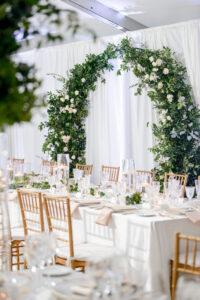 Reception Rental Needs:
· Tents – Start by sketching a general floor plan, you'll know what you need to fit under the main tent and then your Tent Specialist at A Classic can assist with the best option for your needs. It's a good idea to reserve tents early in the planning process due to availability and requirements such as inspections and/or permits. To schedule a complimentary consultation with a Tent Specialist, fill out our tent inquiry form, here!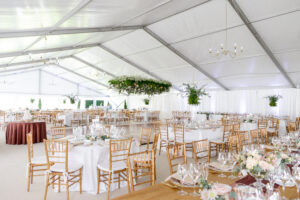 · Dance Floor – We offer both Cherry Wood and Black and White dance floor options in various sizes.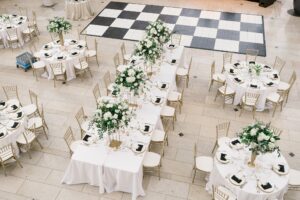 · Linens – We have listed the various tables you might need for your celebration, each one needs linen and the A Classic Team can help you find the perfect linens to complete your vision, in your color palette and your budget. Try the new trend of blending several textures and colors throughout all wedding areas! Enjoy a complimentary showroom consultation with one of our wedding specialists, where you can 'play' with a variety of samples to find your perfect combination.
· Head Table or Sweetheart Table – Do you want a larger 'kings' table for your wedding party or a charming sweetheart table for two?
· Guest Tables – Does your vision include farm tables, round tables, a mix of round and banquet? Sketch out a rough floor plan to start thinking about what you'll need! (you can always change quantities after the final guest count)
· Chairs– Keep in mind you may need a different set of chairs for the reception from the ceremony. A great chair can transform the space!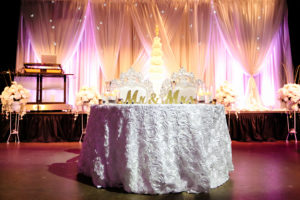 Jessica Strickland Photography
· Cake Table – The cake table is the perfect place to make a statement. Oftentimes, your cake table ends up in your wedding photo album so you want it to be picture perfect.
· Gift Table – The gift table is usually a 6′ or 8′ banquet table. A simple, yet elegant linen works for the gift table – it's one of the first impressions for your guest but it's simply functional.
· Guest book – What type will you use? Do you need a large flat surface for a picture frame or large print; or a small area for a traditional guest book?
· DJ – Will they bring their own table and linen or need those from you?
· Escort card table (for seating place cards) – You can go either way on your escort table, but again, it's a first impression moment so put thought into the presentation, style, and look. The escort table should be cohesive to      your overall aesthetic but you can venture outside the box by playing with color and texture.
· Memoriam table – Engagement photos, photos of relatives who have passed, generational photos
· Photo booth prop table
· Food Tables – If you're having a buffet, have enough space for the entire menu as well as prep tables in another location
· Bar or Beverage Station – Be sure to have enough tables for drink dispensers, ice, glassware, etc.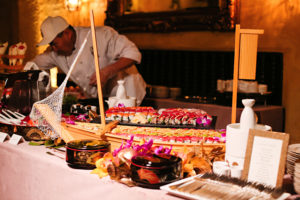 Jessica Strickland Photography
Catering Rental Needs:
If your caterer provides partial service, you may need the following after you choose your caterer and menu:
· China – Will you need an appetizer, salad, dinner, and dessert plates?
· Glassware – Will you have a wine and water glass on the tables and more at the bar? Will you have a champagne toast?
· Flatware – Same questions apply – Will you need salad forks? Cake forks? Teaspoons? Soup spoons?
· Special areas: Coffee urn and Irish mugs for a coffee station? Platters and baskets for a s'mores station?
· Chafing Dishes/sternos– The caterer typically provides foodservice equipment, however, not all do. Make sure to ask!
· Serving Bowls and Platters
· Bussing Trays and Tray Jacks
· Hot boxes to keep food warm before serving on the buffet
· Table number stands to assign tables
· Drink Dispensers, tubs, or ice chests for the bar area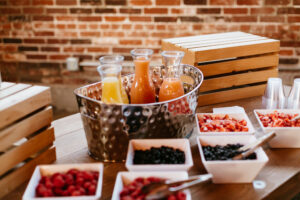 We hope the rental suggestion list shown above will help you clarify what you'll need to make your wedding celebration go smoothly, regardless of the type of wedding you have in mind. The great benefit of working with the team at A Classic Party Rental is that you have access to thirty years of wedding experience when you visit our showroom or speak with an event specialist. You are in good hands when it comes to event rentals!
On to the next part of the planning…Cake tasting anyone?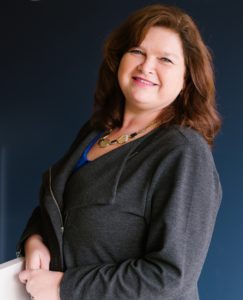 Written by A Classic Senior Event Specialist, Amanda Wood