If you aren't following Party Little Things on Instagram stop what you are doing and follow immediately! We guarantee that you'll be instantly inspired. The talented ladies at Party Little Things have an eye for perfectly paired color palettes which is initially what drew us in. Pastels for Halloween, seafoam at an IU Tailgate party, mixing patterns, and bright colors – Party Little Things is able to achieve unique design elements that make their events stand out. Their creativity has no boundaries and their attention to detail is impeccable.
We had the honor and pleasure of working with Rachael, the co-owner and designer at Party Little Things to design our Summer Showroom. Rachael believes that the planning process should be a "piece of cake" and as much fun as the celebration itself. No detail is too small to be overlooked which Rachael believes makes for big results. We know that design is not the only element of a successful party or large event, Rachael offers guidance and support through the entire planning process. We can attest to her timelessness, thoughtfulness, and creativity.
Scroll slowly as you enjoy the details of each table design: East Coast Oyster Party, Color Pop Baby Shower, and a Modern Romantic Wedding. Thank you to Elderflower Designs for the gorgeous backdrops and Katherine Mei Photography!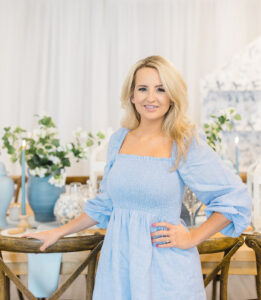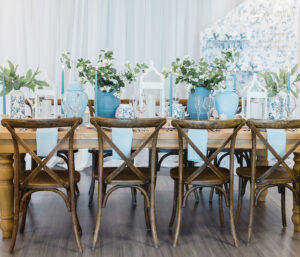 ACPR: Tell us about your background and how you started Party Little Things!
Rachael: Before Party Little Things, I worked as a luxury wedding and event planner for a boutique event planning company in Chicago. I designed, styled, managed, and executed high-profile events and weddings all over the city. It shaped me to handle even the most complex events with finesse. I also worked in the restaurant industry as an events manager for a premier hospitality group in Chicago. Both of my previous careers have given me the unique experience of being able to see and understand both sides (the venue and client) fully.
With a leap of faith in 2019, I embraced a new chapter in my life by starting Party Little Things with one of my best friends (Taylor) I met while working in the industry. A year later I relocated from Chicago, Illinois to Carmel, Indiana for my husband's job, and expanded Party Little Things to the Indy area!
Party Little Things is the result of Taylor and I's greatest interests colliding: parties, styling, and entertaining. Using a combination of our expertise in event planning, design, artful styling, floristry, graphic design, and all things gorgeous – we craft innovative events into thoughtfully designed celebrations. We even do the floral design, graphic design, and production in-house, making all design aspects cohesive to every last detail.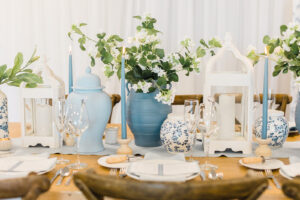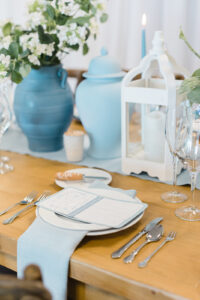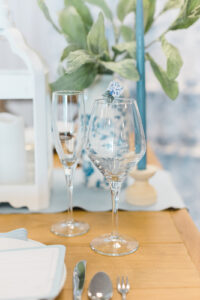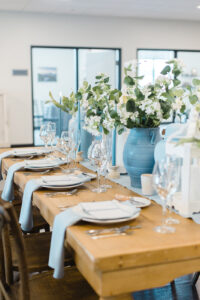 ACPR: Where did you find inspiration for your showroom tablescapes?
Rachael: I wanted to design three tablescapes around our favorite type of events to style for. One for showers, one for dinner parties, and one for weddings. I am constantly immersing myself with daily inspiration as I scout the internet and magazines looking through lifestyle, food, and wedding photos and articles. My favorite pastime is to absorb and capture all things beautiful and inventive.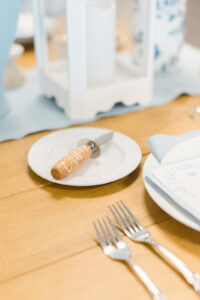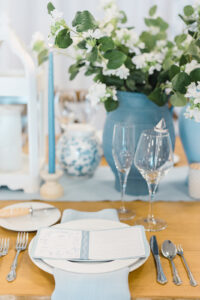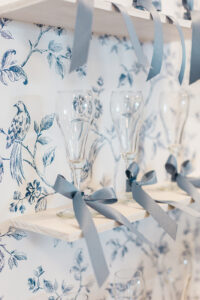 Featured Rentals: Birchwood Dining Table | Vineyard Crossback Chair | Sky Panama Runner + Napkin 
Chateau Flatware | Classic White China | Napa Stemware | Tulip Champagne Flute 
ACPR: What is your favorite detail to design for your events?
Rachael: Easy! Florals. Of course, I love all the smaller details that we dream up for our events but by far, designing floral is my favorite detail at every event. Flowers are always the showstopper. We build all of our floral arrangements in-house. We concentrate on
choosing local flowers, interesting textures, fun foliages, and gorgeous vases in our designs to make them unique to every party. Florals are so important for those who want a highly stylized, unforgettable party.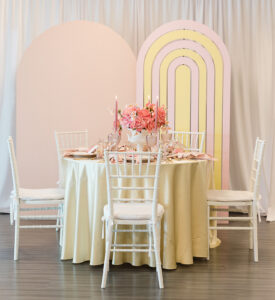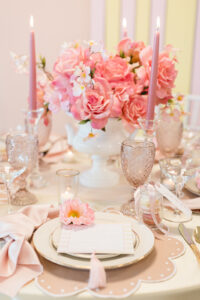 ACPR: What event trends are you loving right now?
Rachael: Grandmillennial style! It's the resurgence of traditionally classic décor. Items like toile, plaid, floral patterns, chinoiserie print, bow details, tassels, embroidered linens, rattan, bamboo, wicker, ornate china, and wallpaper. This is my personal decorating style so I'm so happy it's become so popular over the last few years. I love designing my tables to be whimsical, with lots of "grandmillennial" textures, patterns, and colors. You'll see many grandmillennial style details on my "colorful shower" tablescape as well as my "blue oyster roast dinner party" tablescape.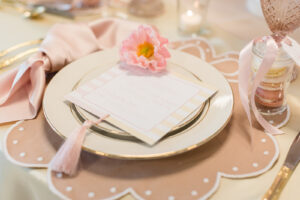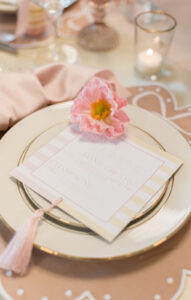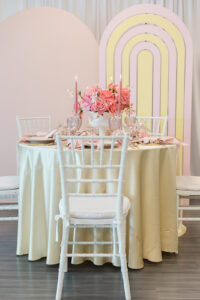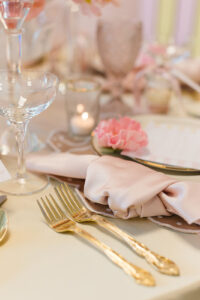 Featured Rentals: White Chiavari Chair | Morning Haze Satin Linen | Blush Satin Napkin
Gold Band China | Abbey Gold Flatware | Pink Carousel Goblet | 4′ Round Table 
ACPR: If you could design any event in the world, what would it be and why?
Rachael: When given the chance to design, plan, and style…I am beyond obsessed. Whether it be an intimate shower, a special birthday bash, a romantic wedding, or a black-tie soirée with a delirious amount of details, I love it all. But if I was to design a dream event it would be a small yet lavish outdoor dinner party somewhere in Europe at an iconic estate. The vibes and environment to design it would be such a DREAM!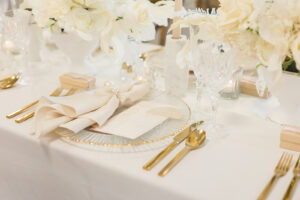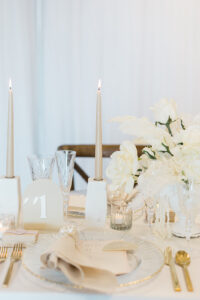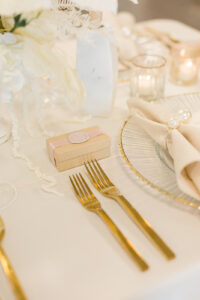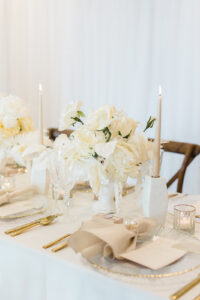 Speed Round!
1. Tell us a fun fact about you!
I hate cheese! Everyone is baffled every time they learn this about me. I even pull it off pizza. Sauce and bread for me only, please!
2. What is your favorite movie or show?
Movie – The Sound of Music
Show – I'm a "Bravo-holic" so anything on Bravo I love!
3. What are your favorite things to do when you aren't designing events?
Cooking and entertaining friends and family.
4. Do you have a favorite local spot that you love going to? Where and why?
I live right by downtown Zionsville and love to hang out, eat, and drink at all the local spots right on Main Street.
5. What's your favorite quote or saying?
"A party without cake is just a meeting." – Julia Childs
6. Favorite Emoji? 🌸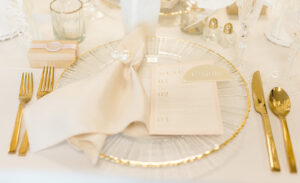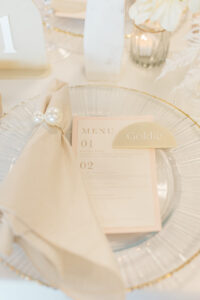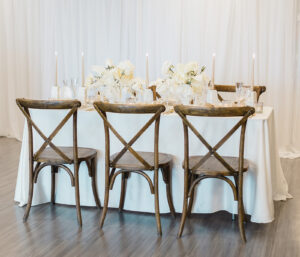 Featured Rentals: Vineyard Crossback Chair | Ivory Satin Linen | Ivory Shantung Supernova Napkin 
Apollo Gold Charger | Crown Gold Flatware | Cristallo Stemware | Marble Taper Candle Holder 
Votive Cup with Gold Rim | Mini Salt + Pepper Shaker Set | 6′ Banquet Table