Our final showroom designer of the year is none other than the talented Lisa Norris of Lisa Norris Events! Lisa is an Indianapolis based wedding planner and with her team of 5 coordinators, they have produced over 75 weddings! Her team's ultimate goal is for their couples to experience the presence of ease and joyfulness on their wedding day. Lisa partnered with custom paperie and event branding expert, Christy Wilson of Creative in Bloom; together they created 3 gorgeous tablescapes for our fall-winter showroom. Check it out below!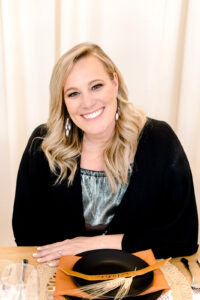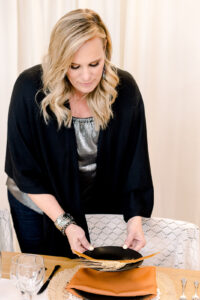 Pictured Above: Lisa Norris, Lisa Norris Events
ACPR: Tell us about yourself! How did you get into the wedding industry? 
Lisa: I always knew I wanted to work in the hospitality industry, although being a wedding planner was never on my radar. I graduated from Purdue University where I received my Bachelor's & Master's degrees in Hospitality Management. My first career out of college was corporate event planning which ultimately led to social events and weddings. Along the journey,  I also managed a full-service wedding venue which gave me a better understanding of the different roles in our industry.  Once I decided to make the jump to starting my own planning business, I obtained my Certified Wedding Planner certification through The Bridal Society. It's been a fun journey and I am blessed to find a career that I love!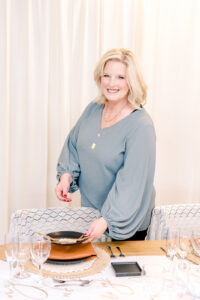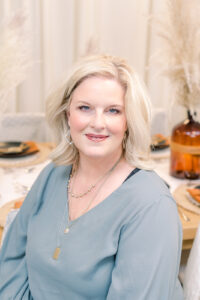 Pictured Above: Christy Wilson, Creative in Bloom 
Christy: I think working in the wedding industry for me, was just always meant to be. I graduated from the Herron School of Art when it was on Pennsylvania off of IUPUI's campus with a Visual Communications degree. I immediately started working in advertising agencies in central and northern Indiana near Chicago. As a lead Art Director and Addy Award Winner, I worked on many national accounts all of which hosted large events, trade shows, and dinners. Working creatively on that scale has really prepared me for weddings. I did my first custom stationery suite in 1996. From that point on I was hooked. Creative in Bloom was officially launched in 2008 as a limited liability company. We not only provide full-service guest communications experience but have decor rentals and beautiful gifts. Our ability to sit down with each couple to give them personal attention, thinking out and planning their decor, paper, and communications needs really sets us apart from any competition.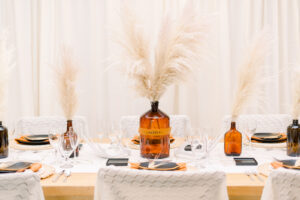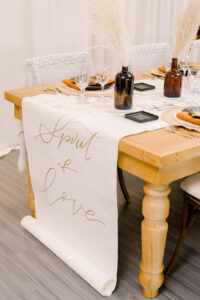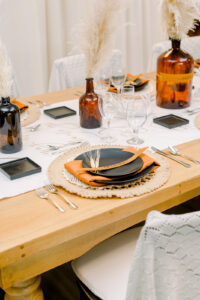 ACPR: You partnered with Christy Wilson from Creative in Bloom to design our showroom. How did you two meet? Walk us through the design process.
Lisa: Christy and I met while planning an editorial shoot at the gorgeous Wilds venue in Bloomington. She has a passion and creative zeal for creating beautiful paperie and signage, not to mention her calligraphy skills are incredibly beautiful.  When beginning my design process I knew I had to ask Creative in Bloom to collaborate. As with any event, adding thoughtful custom details and distinct guest communication pieces can truly elevate the ambiance and feel of a wedding. One of the many details I was excited to bring to life was the farmhouse table draped with a variety of textures through a  handwritten paper scroll and leather name place settings.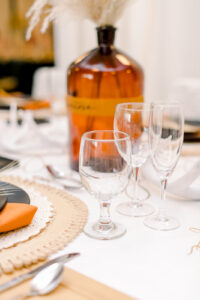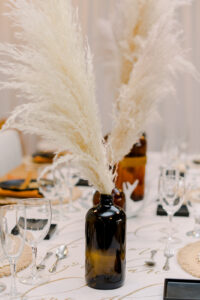 Birchwood Dining Table | Vineyard Crossback Chair | Matte Black Stoneware 
Chateau Flatware | Water Goblet | Excalibur Stemware | Copper Poly Napkin
Christy: Yes! I was fortunate to meet Lisa through her approach with the Wilds Venue in Bloomington, Indiana. She was so easy to love immediately, I felt very comfortable with her. I can see why she is such a desired coordinator, she is a sweetheart that has amazing connections and can get the job done. Communication with Lisa is easy and we work together very well. She asked me to help her with the ACPR showroom and I was honored to do so. Lisa chose the "themes" for the tables and we worked together on the ACPR linens and tableware. I really wanted to bring in the "romance" with the paper, table numbers, favors, table decor and place markers. Our biggest challenge was our "jewel" theme which is now our favorite! In the end, we embraced color and got inspired by "Bollywood" themes. It's always the challenges that make design fun!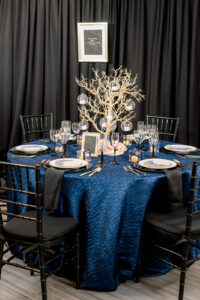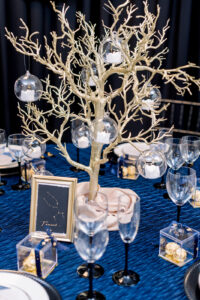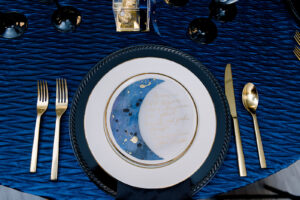 ACPR: The pandemic has brought on many challenges for the event industry. What procedures have you put in place to ensure a safe and successful event? 
Lisa:   A few of the procedures I've seen in place due to the current environment are creative seating arrangements, smaller headcounts, and virtual attendance.  We've been keeping families together at independent tables to remain in their social bubbles. This is where choosing a spacious wedding venue will come in handy and make it easier to space out your wedding tables. Additionally, the use of technology via Zoom and FaceTime allows at-risk guests to attend virtual and share in your special day.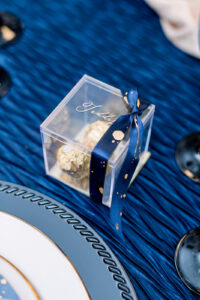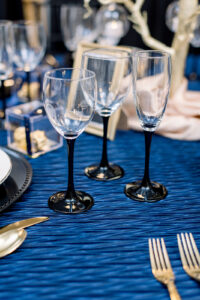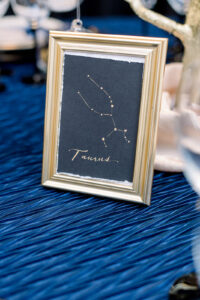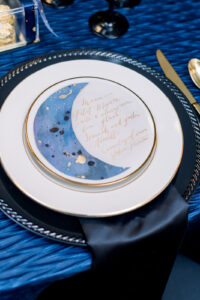 5′ Round Table | Black Chiavari Chair | Navy Italian Crush Linen | Black Satin Napkin
Gold Band China | Crown Gold Flatware | Black Stem Glassware 
Christy: We definitely had to do some things to protect our clients and our business. I immediately consulted our law team and spent hours on the phone talking things through. We now have procedures in place to be sure our clients do not lose out. We were happy to help our couples send out change of date notices free of charge, something that national companies wouldn't do. With some clients, weddings went from 250-400 guest count down to ¼ of what they planned. In those cases, we ramped up the details and built statement pieces, provided gifts and extra details that they may not have gotten otherwise. We are available for our clients in times like these to pivot fast and stop the presses if need be. Working with a local stationer becomes very important when unexpected changes happen. Of course, day to day operations like assembly has always been done safely. We don't lick envelopes! But we did change set-up and tear-down a bit, making sure we wear masks and gloves when setting table paper and table numbers.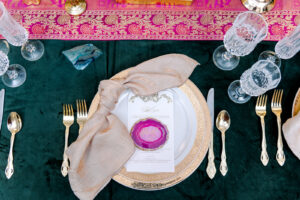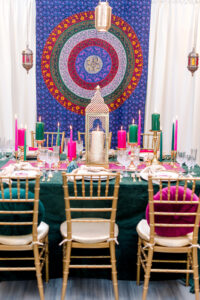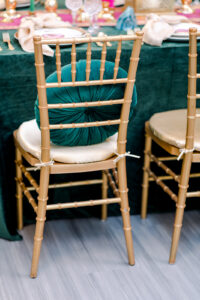 ACPR: There's no doubt that intimate gatherings are the new trend. What is your advice to couples planning a micro wedding or elopement?  
Lisa: Your wedding is an opportunity to do something special. Regardless of the size or scope, I encourage my couples to incorporate meaningful details into their day. (Bonus: It's much easier to add those really special touches for 10 people than it is for 200!) You also open up the world of unique spaces with a smaller wedding so explore those fun intimate venue ideas. And finally, as with any special day, hire a photographer to document your nuptials. You'll appreciate having those memories in years to come!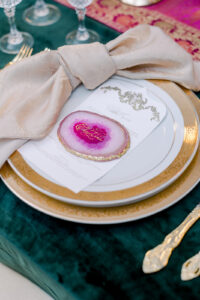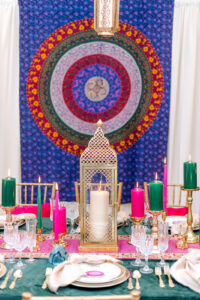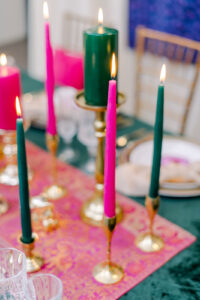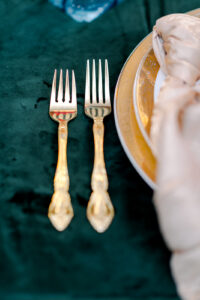 Hunter Velvet Linen | Camel Iridescent Crush Napkin | Gold Chiavari Chair 
Majestic Gold China | Abbey Gold Flatware | Arco Cut Crystal 
Christy: I love this new trend of smaller weddings. In my experience this year, couples have been able to really maximize their budgets and get the dream weddings they never thought possible due to a smaller guest count. Details truly make the design. We have been able to do so much more for couples this year, from building seating wall statements to amazing elopement invitations and day-of details. All of those things that help create the atmosphere and guest experience, not to mention the heirloom keepsakes. These things are really possible with a smaller guest count.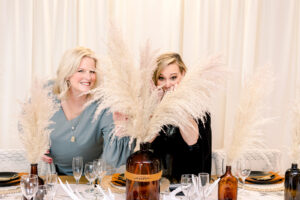 A Classic: 5 questions for our readers to get to know you on a personal level!
Lisa
Guilty Pleasure:

A slice of sugar cream pie by My Sugar Pie might quite possibly be my all-time favorite treat.

Favorite Show/Movie:

I'm a big fan of many 90's movies, but my favorite classic is "

You've Got Mail"

Hobby:

Traveling! I have an adventurous soul with a natural curiosity to see new places. I'm easily swayed by roadside attractions, cheesy tourist stops and off the beaten path destinations! 

Favorite Quote:

"I've learned that people will forget what you said, people will forget what you did, but people will never forget how you made them feel." – Maya Angelou

Most used Emoji:
Christy
Guilty Pleasure:

Brownies and wine, but not necessarily together!

Favorite Show/Movie:

When Harry Met Sally, an old one by today's standards, but anyone who knows me well knows I've literally seen it hundreds of times.

Hobby:

My work is my hobby! I feel so blessed to have made a business doing something I not only love, but need to do for my own mental health and happiness.

Favorite Quote: "

You will find as you look back upon your life that the moments when you have truly lived are the moments when you have done things in the spirit of love."

Most used Emoji: ❤️
CREATIVE TEAM