We are honored to have our first showroom of 2018 designed by the incredibly talented Sheena Birt, owner and founder of Color Story Studio! If you have ever stepped into an Anthropologie or read local publications such as Pattern Magazine and Indianapolis Monthly, you've seen her work. Sheena specializes in retail, residential and event decor and design. Her bespoke designs and installations are all over Indianapolis at local boutiques and venues. Learn more about Sheena, how she started Color Story Studio and the services she offers in our interview below!
Tell us about Color Story Studio, how did you get started?
Color Story Studio designs and creates handmade display and decor for retail, residential, and event spaces. It's owned by me, Sheena Birt. My husband helps out a bit too.
I got into display after studying fashion design and fiber arts at the Savannah College of Art and Design, which led to a position at Anthropologie, the women's apparel and lifestyle brand. After working 8 years for them creating everything from window displays to jewelry fixtures, to opening new stores and prototyping new materials and methods, I decided to leave the company and pursue other creative interests.The idea to start my own business came in mid 2016, when I realized I could work with local boutiques, homeowners, event planners, and brides to transform their space or event through inspiring visual consultation and creations.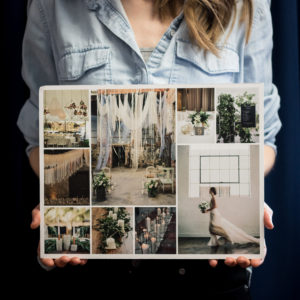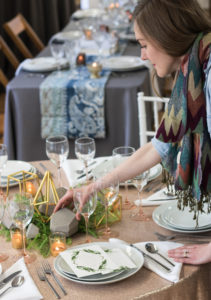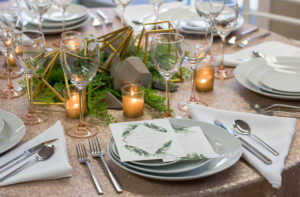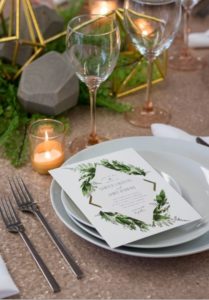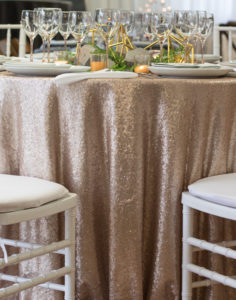 Nude Sequins Linen | White Imperial Napkin | White Chiavari Chair
Castle White China | Elexa Flatware | Pink Stem Glassware | Minted Stationary 
How would you describe your design style? What services do you offer?
My design style is focused on creating harmony within a space. I love to pull lots of inspiration together, think about why I'm drawn to those images, and then edit, edit, edit! That's the part most people find challenging. They'll see different things they like, but not know how to bring it together. In the end, I want the space to tell the client's unique story.
We offer full-service Visual Consulting for retail, residential, and special events. This means we do everything from art direction, to Pinterest editing and mood board creation, to designing and producing decor, to installing it and taking it down.
I love working with either brides or planners because I love helping couples tell their story visually. It's amazing how many couples, after working with me to create a Design Board say, "Thank you! This is exactly us, and now we have something to give our wedding planner!"
I am happy to offer the following services:
Design Boarding – After an initial interview, I sort and refine your inspiration into two separate themes and create a custom mood board for each. I draw from my vast collection of imagery to help round out and clarify your vision. Your planner will thank you.
Wedding decor for rent –  including signs, sign holders, votive holders, etc.
Wedding decor for purchase – custom designed and produced ranging from table decor to ceremony backdrops. Imagine a piece of art for you wedding, that goes home with you for your living room.
Custom textiles – custom made linens including table runners or backdrops, and hand-dyed fabrics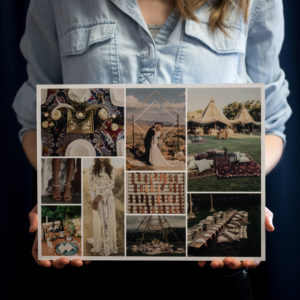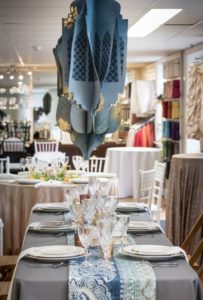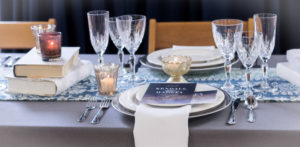 Charcoal Polyester Linen | White Polyester Napkin | Natural Wood Stained Chairs
Silver Band Charger | Syracuse China | Chateau Flatware | Preludio Crystal Stemware
Navy Pipe & Drape Backdrop  | Eggplant Votive | Mercury Votive | Amber Votive | Minted Stationary 
Where did you find inspiration for your showroom tablescapes?
The inspiration for the showroom tables came from my three favorite design styles: modern, bohemian, and romantic. I chose to include a Design Board and wedding invitation for each scenario in order to fully round out each theme. Helping people create a top-to-bottom vision is part of what I do.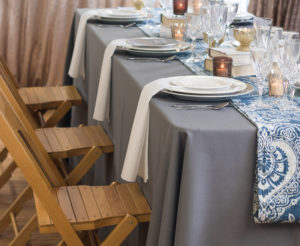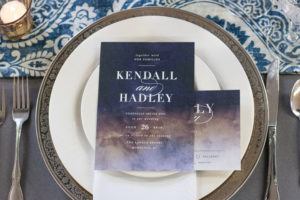 Where can our readers find your work?
Readers can find my work around Indianapolis, at retailers such as Kindred Boheme Collective and Lily & Sparrow Boutique where I produce their in-store and window displays. You can see some of my custom lighting in Tinker House Events and Penn & Beech Candle Co. I am proud to still work for Anthropologie as a freelancer, which allows me to travel a few times per year. You can see some of my display featured in a past issue of the Indy publication, Pattern Magazine.
We're also active on Instagram, so please follow along @colorstorystudio. We will be rolling out a new website shortly, at www.ColorStory.Studio.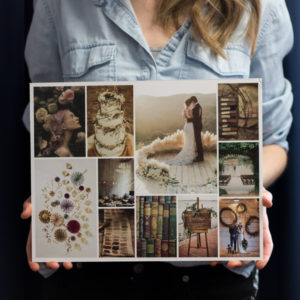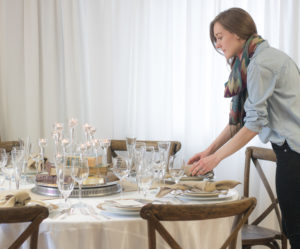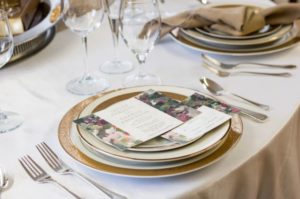 Ultra White Bengaline Linen | Natural Panama Napkin | Vineyard Crossback Chairs
Majestic Gold Charger | Gold Band China | Prim Flatware | Anchor Glassware | Gallery Tray | Minted Stationary 
Who is your ideal client?
Even if my clients need a little help editing (don't we all!) they have great taste and a specific point of view regarding their style.They may be lacking the time, experience, or resources to create what they have in mind, but that is where I come in.
Custom wedding decor makes an event so personal and memorable when done right. Ideally, I would work with someone to design the entire look of the event, from the mood, to the invitation, to the ceremony and reception decor, to recommendations on the favors, etc. Then, I would be hired to make the most unique and one-of-a-kind items on their list.
One thing I've learned is, if you want custom decor but your budget doesn't allow for a full-service package, have one large impactful piece created versus several small elements. Many small decor items may get lost among the venue and everything else, but a larger, high impact item really stands out. Plus, once the wedding is over that piece becomes decor for the couple's home to always remind them of their special day.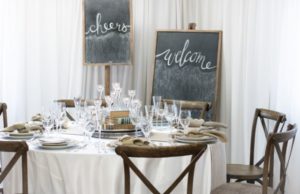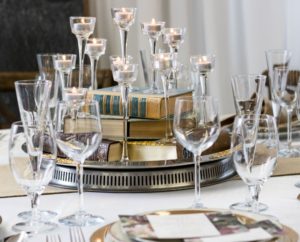 A huge thank you Sheena for partnering with us and to Jessica Rowe Photography for coming out to photograph our showroom! Follow her on Instagram @jessica_rowe_photography.