We had the pleasure of working closely with Tara, from Tara Nicole Weddings, for a week while she and her team thoughtfully placed every item from the salad fork to the feather detailing on the salad plate. Not a detail was missed or overlooked. It was clear that Tara had a passion for design and creating unique tables that represent her clients.
 "We get to know each client on an intimate level so we can plan and design a wedding that is unique to them.
Our process is refined, well oiled, and designed to suit the unique needs and crazy-busy schedules of our couples."
Tara made designing our showroom fun, stress-free, and jaw-droppingly gorgeous. In 2015, Tara expanded her team and has been producing beautiful, highly personalized weddings ever since.
Producing high-quality weddings and events takes a strong team of professionals and that's exactly what Tara curated in our showroom. Watching the team, work together behind the scenes to create a masterpiece is so rewarding. Grab a bag a glass of wine and keep scrolling because these tablescapes are 👌😍
Sophisticated Natural Elements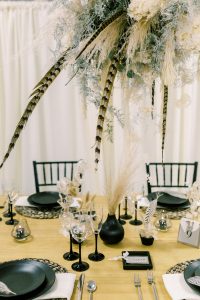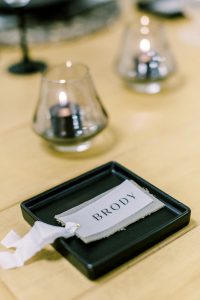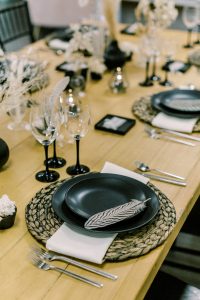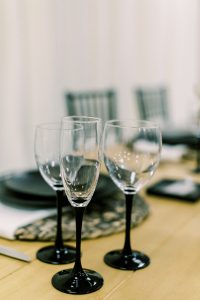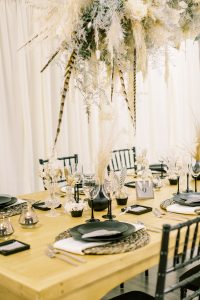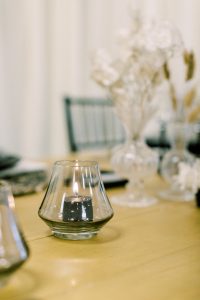 Featured Rentals: Birchwood Dining Table | Black Chivari Chairs | Matte Black Plates |
Elexa Flatware | Black Stem Glassware | Ivory Panama Napkin | Clear Smoke Votive | Ivory Pipe & Drape
Floral: Solstice Floral | Placecards: Twin Sister Designs
ACPR: How did you start your career in the event industry and what services do you offer?
Tara: I was the little girl who would cut out images from wedding magazines and made "design boards". So it came as no surprise that before I ever started Tara Nicole Weddings, I already knew what I wanted to be when I grew up. It's kind of a silly story, but I remember sitting in my high school choir room watching the Wedding Planner during finals week my senior year and I wanted to be Mary Fiore. If you haven't seen it yet, Mary is an ambitious San Francisco Wedding Planner planning the high society wedding of an heiress. I knew from the moment I saw the opening scene this is what I wanted to do with my life. The church aisle lined with flowers and trees literally took my breath away – I wanted to create beautiful weddings just like that. As I watched the movie, I fell more and more in love with the idea of being a wedding planner and when I left that classroom, I knew I had discovered my purpose in life. I then pursued that passion in college by planning my sorority's formals.
After college, I worked at Target as a store manager. As stressful and demanding as my time at Target was, it taught me how to effectively manage a team, solve problems quickly, and the value of providing a great client experience – all of which have been invaluable to me as a wedding planner. I worked at Target for 5 years as a manager, doing weddings on the side. I started Tara Nicole Weddings in 2010 and left Target in 2013 to pursue Tara Nicole Weddings full-time. In 2015, I expanded our team, and together we've been producing beautiful, highly personalized weddings ever since.
Bridal Shower // "She Found Her Main Squeeze"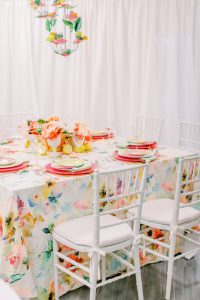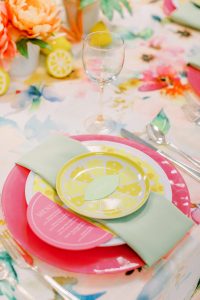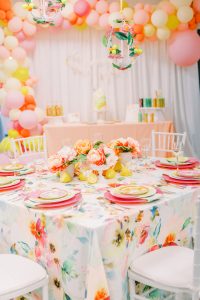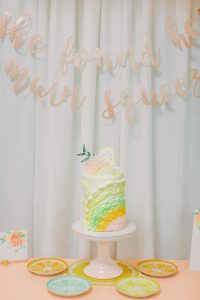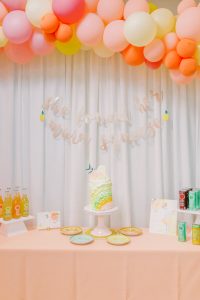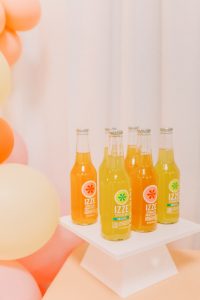 Featured Rentals: Brushed Watercolor Linen | Peach Polyester Linen | Clover Polyester Napkin
White Chiavari Chair | Classic White China | Prim Flatware | Pink Stemware | White Pipe & Drape
  White Acrylic Stackable Trays | 5′ Square Table | 6′ Classroom Table
Centerpiece & Decor: Setting the Mood | Balloon Garland: Atmospheres Indy
Cake: Moist Cake Co. | Menus & Signage: Twin Sister Designs
ACPR: Where did you find inspiration for your showroom tablescapes?
Tara: 2020 was a hard year for many, not just the wedding and event industry. With all of the reschedules and unknowns that carried over into the beginning of 2021, we know 2021 will be a hard and busy year as well.
The inspiration for the showroom designs is "elegant intimate gatherings". We understand Covid isn't going anywhere anytime soon and we wanted to showcase how small, intimate celebrations can still be incredibly beautiful with intentional planning and an incredible vendor team. We have found with smaller gatherings; we are able to add more personal details and create a bigger wow factor in the design for our clients. In the showroom, each table was intentionally designed for a specific event – full of details that have been carefully thought through from colors all the way down to how the napkin is folded.
Romantic Backyard Wedding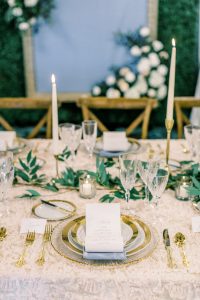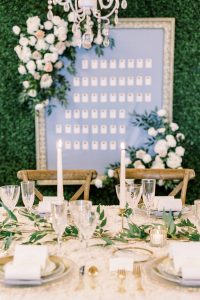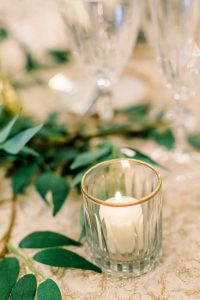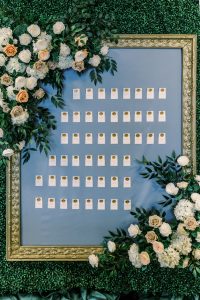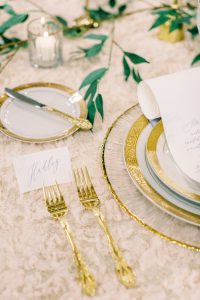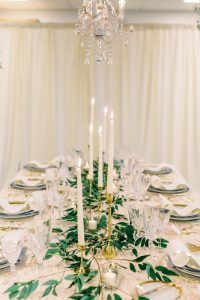 Featured Rentals: Kings Table | Ivory Polyester Underlay | Blissful Blush Overlay | Storm Satin Napkins
Vineyard Crossback Chair | Gold Apollo Charger | Abbey Gold Flatware
Ribbed Votive Cup with Gold Rim | Ivory Pipe & Drape  | Floral: Solstice Floral
Paperie: Twin Sister Designs | Boxwood Backdrop & Lighting: Atmospheres Indy
ACPR: How has the pandemic affected your past and future events? How are you proactively keeping events safe for your clients?
Tara: Since we produce large-scale weddings, the pandemic forced many of our clients to postpone their events to 2021 and 2022.
To proactively keep our events safe, we are staying on top of all local, state, and federal guidelines and putting together production schedules that follow all CDC regulations. We have also partnered with several companies to provide FDA approved Rapid Covid Tests that use a smartphone to easily and quickly run the test and report results.
The pandemic also challenged us to think outside the box to still create innovative and elegant designs, while also keeping in line with social distancing and safety measures. For example – we completely moved weddings from venues to the family's backyard, we have created gorgeous seating sections that were properly spaced for social distancing for ceremonies and receptions, we ensure hand sanitizer and masks are readily available in an elegant way, rather than just sitting out on a table, and so on.
We also went completely virtual and now do zoom meetings with almost all of our clients and potential clients who inquire with us. Venues and other vendors had to get creative when it came to showcasing their space/work once the shutdown hit. The use of virtual tours and 3-D renderings skyrocketed almost overnight. Technology has evolved wedding experiences over the years, and thanks to 2020, now the wedding planning process will also be particularly impacted – from virtual invitations, dress fittings, AR technology, or Augmented Reality Technology, will become the new standard in how wedding planners and designers design spaces. Couples will come to expect this kind of technology when planning their wedding.
Backyard Dinner Party Al Fresco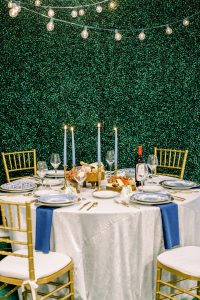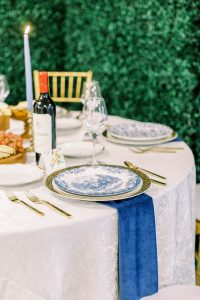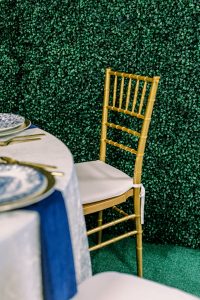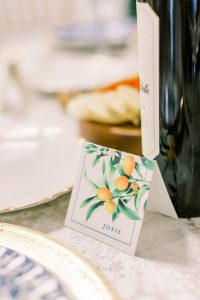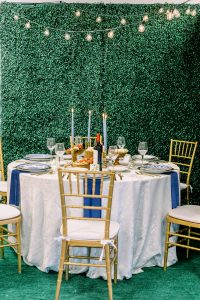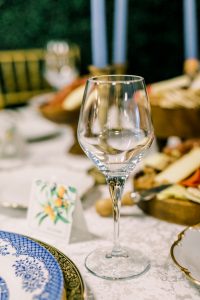 Featured Rentals: Gold Chiavari Chair | Oyster Marble Linen | Marine Velvet Napkins
Gold Majestic Charger | Crown Gold Flatware | Napa Glassware | 5′ Round Table 
Decor: Setting the Mood | Paperie: Twin Sister Designs
Boxwood Backdrop & Lighting: Atmosphere's Indy
ACPR: What event trends do you think we will see for 2021?
Tara: I think we will definitely continue to see small, intimate gatherings through 2021 and into 2022. If there was one positive thing that came out of the pandemic for the events industry, it's that it forced society to refocus wedding celebrations to be more personal and emotional during such an uncertain time.
Micro Weddings will be big in 2021. Micro doesn't mean "not as nice". I feel like we will see a lot of small gatherings done on a grand scale.
Weekday weddings. With all of the rescheduling, we will see more and more weddings happening on weekdays this year than ever before.
Backyard weddings are still on the rise – with the restrictions of many venues, couples are realizing they have more and more freedom with hosting their event in their backyard. It may require more work, but with an experienced planner and exceptional vendor team, it can be seamless. That being said, tent weddings will also be big moving forward for a safer environment.
Laduree Paris Birthday Party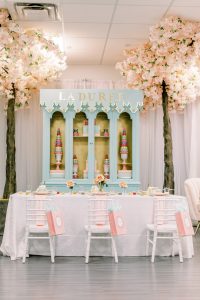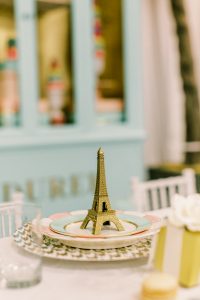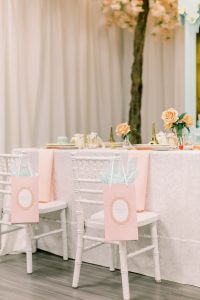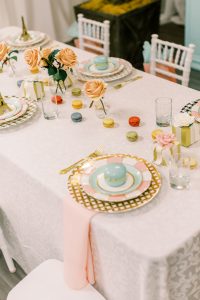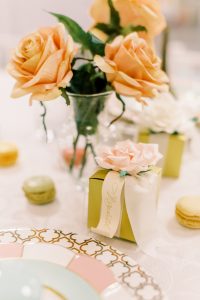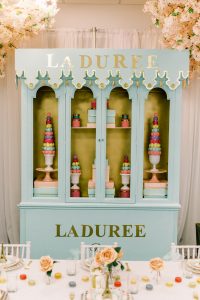 Featured Rentals: Juvenille Table | Juvenille White Chiavari Chairs | White Somerset Linen
Light Pink Polyester Napkins | Juice Glass | Abbey Gold Flatware | Paperie: Twin Sister Designs
Lauduree Theme Decor: Setting the Mood | Faux Cherry Blossom Trees: Detail + Design 
ACPR: If you could plan and design any event in the world, what would it be and why.
Tara: Aside from a royal wedding (perhaps Prince George, Princess Charlotte, or Prince Louis), I would love to be the in-house planner/designer for all of the "events" in the Hallmark movies. They really need some love and a professional's touch.
5 questions for our readers to get to know you on a personal level!
1. Guilty Pleasure: Hallmark Movies and anything with Chip and Joanna Gaines
2. Favorite Movies: Pride and Prejudice (2005) and all of the Harry Potter Series
3. Hobby: Home Improvement Projects, Home Décor, Working out, Bible Studies
4. Favorite Quote: "If it is meant to be, it will be". I say this about almost all aspects of my life.
5. Most used Emoji: 💕
PHOTOGRAPHY: Lillian Rose Photography