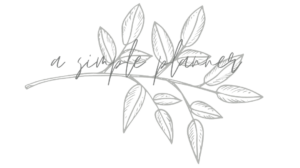 We are excited to introduce our final showroom designer of 2022 – Kayla Keith, owner and event planning expert, at A Simple Planner! Kayla's mission is to make event planning simplified, stress-free, and fun. She holds a degree in Tourism, Convention, and Event Management and has executed over 200+ events from weddings, and birthdays to corporate events. Kayla partnered with Kayla Boyll Photography, The Lettering Grove, Red Door Florals & Sweets, and The Balloon Bar Indy to create 4 festive tablescapes to inspire your next holiday celebration. Check it out below!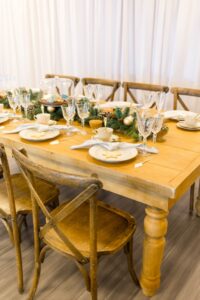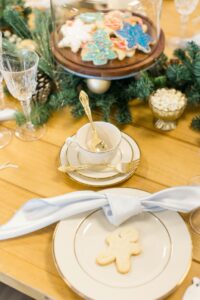 ACPR: Tell us about yourself and how you started A Simple Planner!
Kayla: For as long as I can remember, events have been a passion of mine and I knew I wanted events to be a part of my future. I went to IUPUI where I studied Tourism, Convention and Event Management. Coming from a family of entrepreneurs, I didn't shy away from the opportunity to become one in my own. Insert A Simple Planner. I have been a part of planning over 200 events, ranging from birthdays to corporate events to weddings, and I've loved every second of it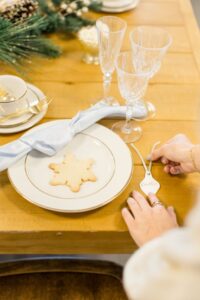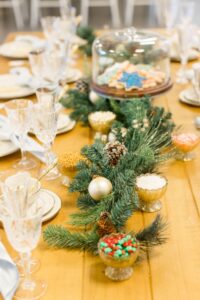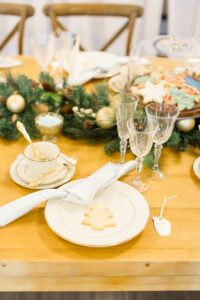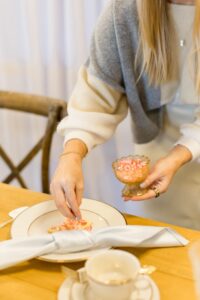 Featured Rentals: Birchwood Dining Table | Vineyard Crossback Chair | Light Blue Satin Napkin
Gold Band China  | Abbey Gold Flatware | Cristallo Stemware | Mercury Votive Cup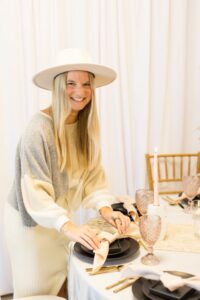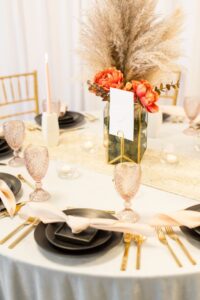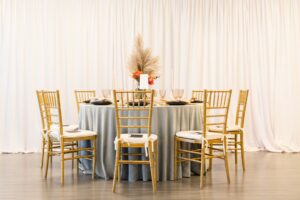 ACPR: Talk us through your showroom tablescapes – what inspired you?
Kayla: While planning each tablescape, I tried to envision what I would want the table to look like if I were hosting that gathering. The Friendsgiving Tablescape speaks for itself; everyone loves gathering around the table with drinks, food and loved ones. The Christmas Cookie Making Tablescape was inspired by an annual tradition with my closest friends to celebrate our favorite time of the year. I pulled from various modern trends (like Pampas grass, velvet and matte black) to create The Boho Winter Wedding Tablescape. My trendy friend who enjoys a good time was my inspiration for The NYE Disco Tablescape.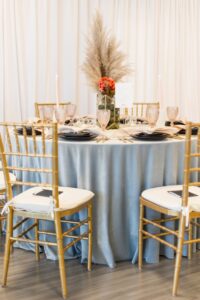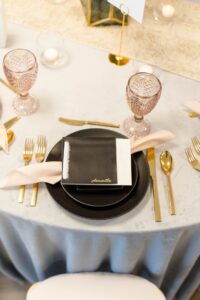 Featured Rentals: Storm Velvet Linen | Blush Supernova Shantung Napkin | Gold Chiavari Chair
Matte Black Stoneware | Crown Gold Flatware | Pink Carousel Goblet
Chiffon Rose Khaki Runner | Marble Taper Candle Holder | 5′ Round Table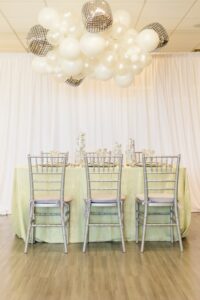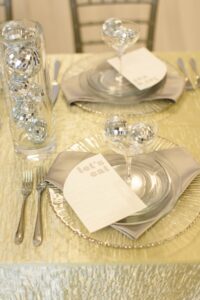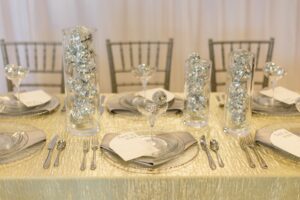 ACPR: What are your go-to rentals from A Classic?
Kayla: A Classic is always my first call for all linens and place settings. They are a one stop shop to help curate the perfect event.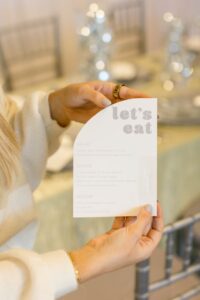 Featured Rentals: Sage Iridescent Crush Linen | Silver Satin Napkin | Silver Chiavari Chair | 6′ Banquet Table
Silver Apollo Charger | Clear Glass Plate | Sienna Flatware | City Coupe | Glass Cylinder Vase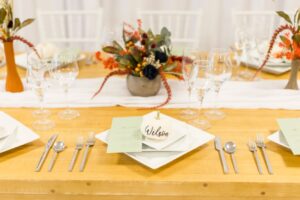 ACPR: What career moment are you most proud of thus far?
Kayla: One of the most important and special moments of my career was planning one of my dear friend's wedding. Not only was it special because of our friendship, but this wedding was at a family estate in Michigan and truly had to be built from the ground up. From the tents and seating to an open bar to portable bathrooms, every piece had to be meticulously planned and executed. Everything came full circle and the wedding went off without a hitch (even with a rainy forecast)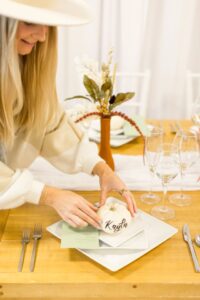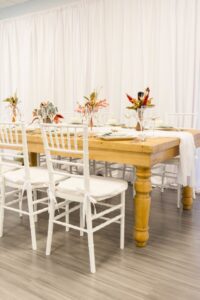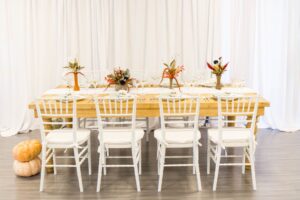 ACPR: What is your favorite part of the planning process?
Kayla: My favorite part of the planning process is getting to know the bride, groom and their families leading up to the big day. From phone calls to coffee to dinners, watching the relationship grow is the most rewarding aspect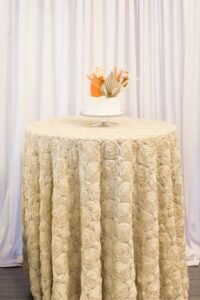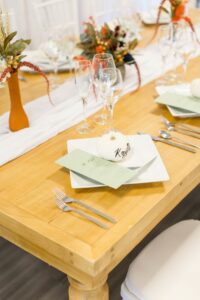 Featured Rentals: Birchwood Dining Table | White Chiavari Chair | White Sahara Table Runner
Chiffon Rose Khaki (Cake Table) | White Square China | Elexa Flatware | Napa Glassware
Speed Round!
1. Tell us a fun fact about you! I graduated college in 3 years.
2. What's the best advice you have ever received? Treat others the way you want to be treated.
3. Favorite book? Mistaken Identity: Two Families, One Survivor, Unwavering Hope (Biography / Autobiography)
4. Your go-to coffee order? Either black coffee or an oat milk latte!
5. What's a quote you live by? "There is Gold In Every Piece of Your Story"
6. Last show you binged? Summerhouse
7. Favorite Emoji?