Today we are featuring 7 unique appetizer ideas from Crystal Catering! Based in Indianapolis, the team at Crystal Catering has mastered the art of curating menus that cater to all taste buds and dietary restrictions. We visited Crane Bay to see what Chef Brian Pleasant (25 years of experience, 13 with Crystal Catering), and Chef Scott Cramer (28 years of experience), are creating for upcoming Summer events and we were blown away by their unique culinary masterpieces.
Chef Brian was tasked with creating a light and refreshing menu for an upcoming high profile event. He and Chef Scott, who was inspired by his experience living in the Caribbean, dished out imaginative starters with Indiana flare using locally sourced ingredients. Treat your guests to an unforgettable foodie experience with these chic summer appetizers!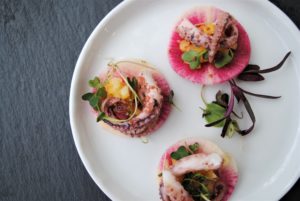 Watermelon Radish topped with Chilled Octopus, Preserved Lemon, and Red Salt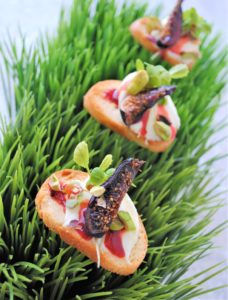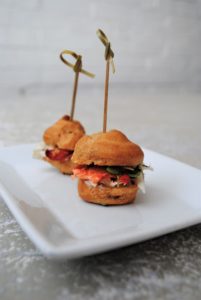 Left: Crostini with Mascarpone Mousse, Fig, Red Wine Syrup, and Pistachio
Right: Imperial Crab Profiterole with Grain Mustard and Arugula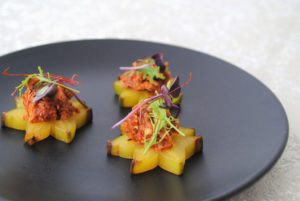 Carambola Canape topped with Jerk Jackfruit with Chile Thread garnish (Vegan)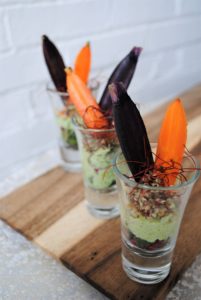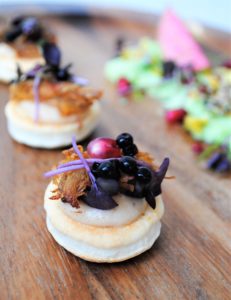 Left: Edamame Hummus with Blanched Carrots (Vegan & Gluten Free)
Right: Shortbread with Crispy Pork, Balsamic Pearls, and Pomegranate
Roasted Beet Skewer with Sorghum and Citrus Hemp Seed Gremolata (Vegan & Gluten Free)
Visit Crystal Catering's website for more information on booking for your next event at one of their 3 unique venues in Indianapolis!