Tent Safety & Codes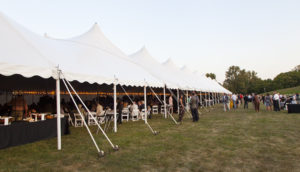 Permits & Notifications
In some cities, permits and/or notifications are required by law. In the City of Indianapolis, any temporary structure over 3,200 sq. feet requires a permit; all temporary structures over 400 square feet, require a Notification sent to the City of Indianapolis. Other cities, like Carmel, require a permit for any temporary structure on commercial property. The City of Lawrence requires a permit for any temporary structure – residential or commercial. This can pose a burden on you – the renter, that's why A Classic will take care of this for you! Unfortunately, the city imposes a fee for any permit submitted we will take care of the submission and the fee will be passed directly to you.

Permits require submission of the Certificate of Flame & Resistance, a layout, diagram, and site map.

Tent Evacuation Form & Safety Guidelines: 
A Classic Party Rental is committed to ensuring the safety of our customers for all events. We advise all lessees of a tent rental to read the above document thoroughly. Our goal is to increase awareness of best practices, clarify responsibilities, and address the safe use of equipment. 
Failure to evacuate a tent in an emergency can result in serious injuries or even fatalities. By nature, tents are temporary structures and are not designed to withstand extreme weather conditions. While it is not A Classic Party Rental's responsibility to implement a proper emergency evacuation plan, we provide a sample plan on our customer's behalf to help reduce risk from unforeseen emergencies or storms. This plan should be made available in the tent and to all appropriate parties.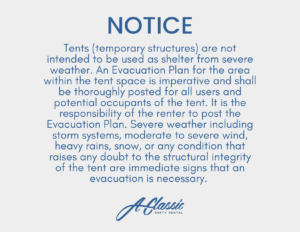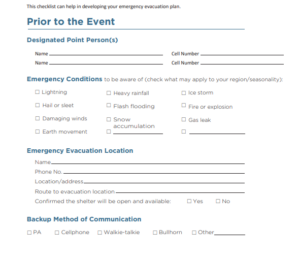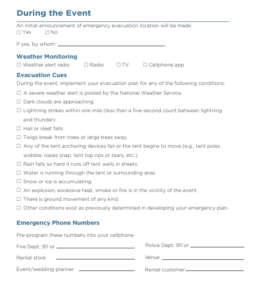 3. Fire Code & Safety Package
A Fire Code Package will be provided by law depending on the square footage, residential or commercial, and side walls/lighting. This is required by Indiana State Law. A Classic takes pride that we abide by the highest safety standards put in place.
4. Safety Rules
A few priority safety rules are as follows:  1) ensure the installation site is properly prepared 2) we highly discourage the use of weights 3) do not attempt to move or modify a tent or canopy and 4) do not permit the accumulation of precipitation on rented items and tent. See full guidance above.
5. Flame Resistance
A copy of the Flame Resistance Certificate will be provided to the Fire Marshall per the permitting process. This can be obtained upon request of the renter.
6. Cigarette Smoking
Smoking is not permitted in tents, canopies, or membrane structures. No Smoking signs will be placed in tents over a certain square footage.
7. Open Flames
Open or exposed flame equipment such as cooking devices, gas or charcoal shall not be permitted or located within 10 feet of the tent while open to the public. Chapter 31 Fire Code, 3104.7
Contact Us Today!
Call 317.251.7368 or email a tent specialist.