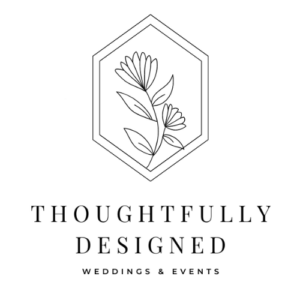 We have been following Miranda's lifestyle blog (@thoughtfullythrifted) for years, where she shares her home decor and renovation tips, her journey through motherhood, and everything in between. When we learned she was adding Wedding Planner to her resume with the launch of Thoughtfully Designed Co. (@thoughtfullydesignedco), we could not be more excited! She has been a pleasure to work with and we are honored to have her as our fall showroom designer – keep scrolling to learn more about Miranda and to check out her showroom tablescapes!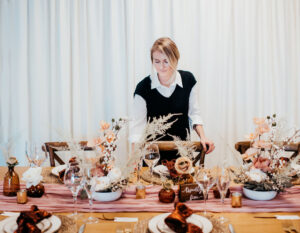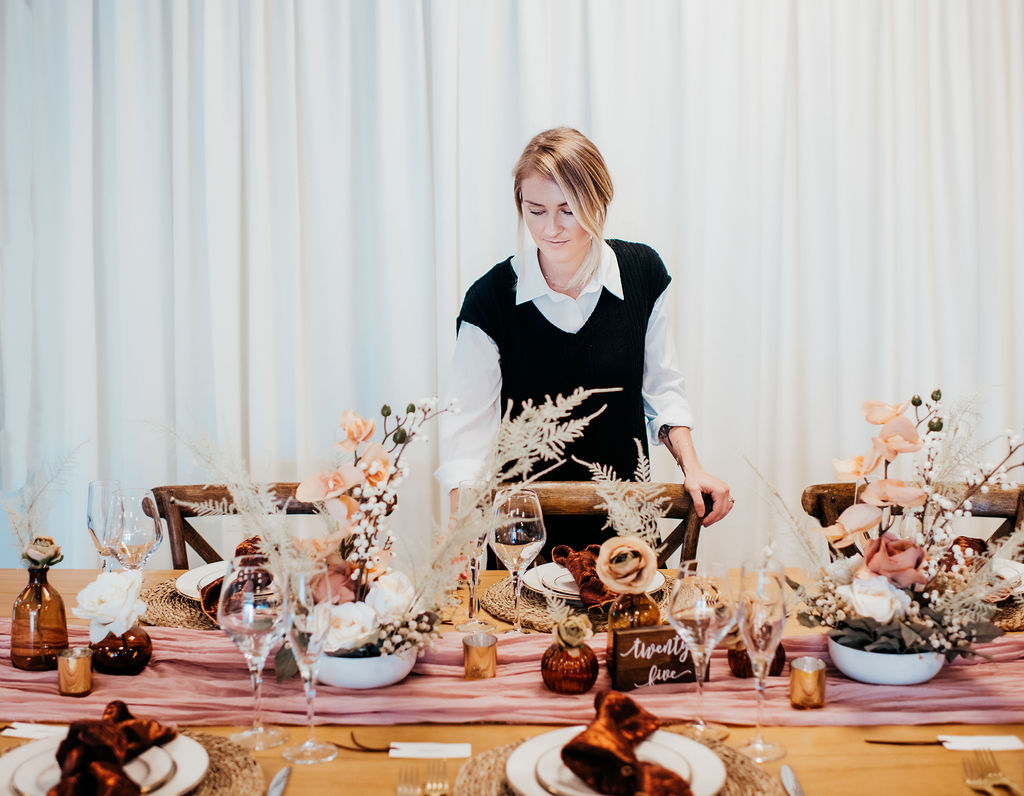 Creative Team | Photography: AMY HALL PHOTOGRAPHY | Handlettering + Paperie: THE LETTERING GROVE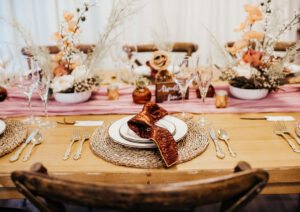 ACPR: Tell us about your background and how you started Thoughtfully Designed Co.!
Miranda: Believe it or not, starting Thoughtfully Designed was a complete accident. I have been a lifestyle and home decor blogger since 2017. In the midst of COVID, I hosted an outdoor party for my husband which was later shared on a rental company's Instagram page. After seeing my party decor, a bride contacted me through my blog Instagram account which was tagged in the photo. The rest is history!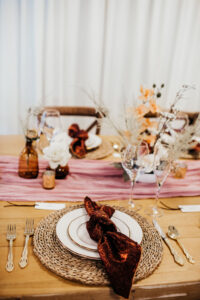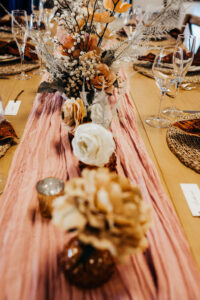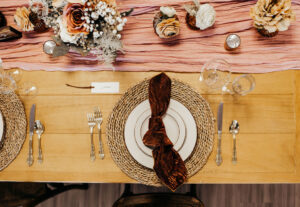 Featured Rentals: Birchwood Dining Table | Vineyard Crossback Chair | Blush Sahara Table Runner | Copper Iridescent Crush Napkin | Amelia Seagrass Placemat | Gold Band China | Napa Stemware | Abbey Gold Flatware 
ACPR: What inspired your showroom designs?
Miranda: I keep various collections of images saved on my Pinterest account for when I need to execute something out of the box. The minimal, rainbow table was inspired by Pride Month. The deep blue, velvet table was an ode to fall, while the wood and blush table highlights a trend of colors and textures I'm seeing this year. Lastly, the "Black & Tan" table was inspired by our company branding. We love a good black and white/high contrast moment!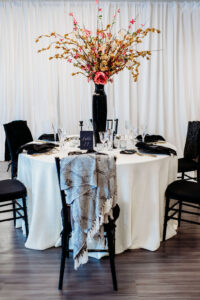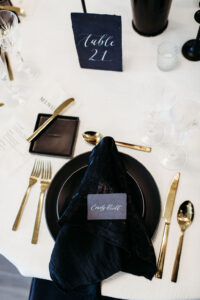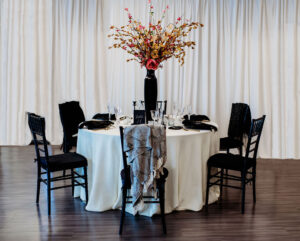 ACPR: What are some event trends are you loving right now?
Miranda: The trend I'm loving right now is to NOT follow trends! I feel like couples are embracing what they want for their big day vs. what everyone else is doing. Your big day should be a reflection of you!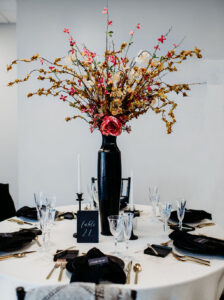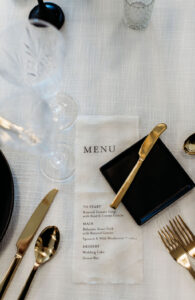 Featured Rentals: Black Chivari Chair | Ivory Panama Linen | Black Iridescent Crush Napkin | Matte Black Stoneware | Cristallo Stemware | Crown Gold Flatware | 5′ Round Table 
ACPR: What career moment are you most proud of thus far?
Miranda:After working full time in marketing for almost 10 years, I was able to transition into wedding planning full-time in January of 2022. I have always wanted to be self-employed, and I haven't looked back since!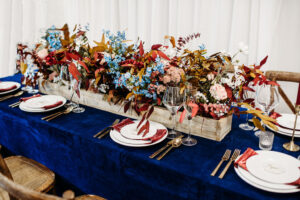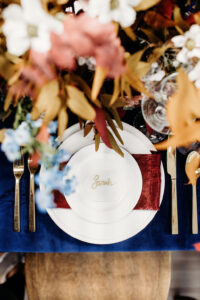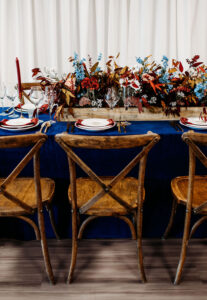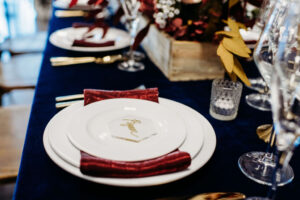 ACPR: What one piece of advice would you give to couples planning their wedding?
Miranda: At minimum, please hire a day-of wedding coordinator! Yes, we would love to be there every step of the way helping you plan your wedding, but a day-of coordinator is non-negotiable. They ensure every detail is in place so you, your family, and your bridal party can truly enjoy the day. If problems arise, which they will, a coordinator is there to smooth it over (hopefully without you even knowing)!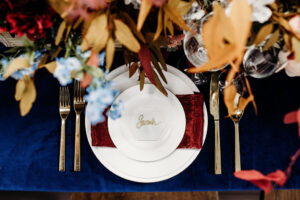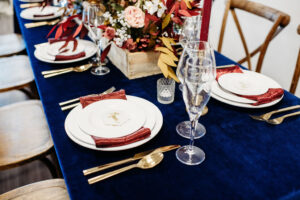 Featured Rentals: Vineyard Crossback Chair | Marine Velvet Linen | Red Merlot Iridescent Crush Napkin | Classic White China | Avorio China | Napa Stemware | Crown Gold Flatware | 8′ Banquet Table
ACPR: Your favorite part about living in Indianapolis?
Miranda: We are obsessed with Indianapolis. We love the small town feel with the big city amenities. My husband and I are always up for trying the hottest new restaurants, and now that we have a little one, there is a never-ending list of family activities from the children's museum to the zoo!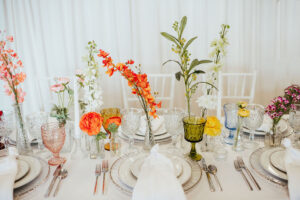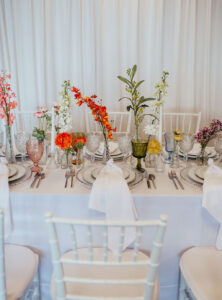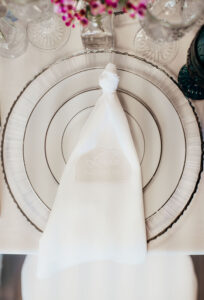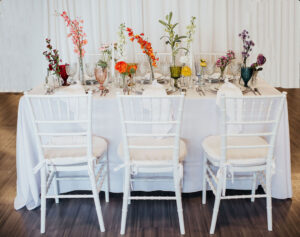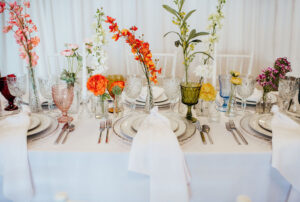 Speed Round!
Tell us a fun fact about you!  I was a collegiate soccer player

Favorite movie or show?  Anything HGTV

What's the best advice you've ever received? – Just jump in and give it 100%. Failure is expected and required for growth! 

Go to coffee order? – Vanilla latte with oat milk

Favorite quote? – "As one person I cannot change the world, but I can change the world of one person." (Paul Shane Spear)

Most used Emoji? – 🖤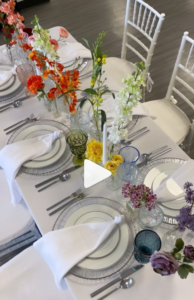 Featured Rentals: White Chivari Chair | White Belize Linen + Napkin | Silver Apollo Charger | Silver Band China | Elexa Flatware | 6′ Banquet Table