Love at first sight. It was that simple. Matt knew instantly that he was going to marry Lucia.
And so he persisted.
Lucia, being a modern-day feminist with a soft spot for fairy tale romances, slowly,
and then all at once fell in love with Matt.
The rest is history.
Lucia knew she wanted a modern wedding with hints of romanticism to fit her style and personality. The Indiana Roof Ballroom provided the perfect setting for historical romance while plush velvet and shantung linens created the backdrop. Juxtaposing iconic old-world features at the Indiana Roof Ballroom with modern matte black china, sleek gold flatware, and rich, jewel-toned velvet linens created an unexpected mixture that most brides would be hesitant to pursue. Lucia and Matt were not afraid to be bold and daring.
The Indiana Roof Ballroom is a premier event venue, located in the heart of Indianapolis. Lucia and Matt, along with most of their guests, had attended several events at the Indiana Roof Ballroom so it was important that they create an experience unlike any other. To achieve this, a large scale, gold, chandelier was hung from the center of the ballroom. Keep scrolling and be prepared to lift your jaw off the floor.
As if the chandelier wasn't enough, the wedding team, David Reilich, Event Designer & Planner, the MOB, and bride, designed and custom made 16 square marble tables with gold pedestal bases. The marble tables were adorned with moss velvet runners and tall gold candelabras. David Reilich along with David Strohmeyer, owner, and designer at The Empty Vase, insisted on adding a pop of fuchsia to the tables. Their unique eye for design did not disappoint and was essential to the overall look.
We'll go ahead and call this wedding a masterpiece as it was truly a work of art. To achieve this level of planning and design, a full team of professionals was behind every decision to pull it off. See the full list of experts, below Lucia's interview.
We could go on, but we will leave it to Lucia to tell the rest of their story…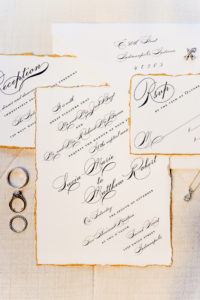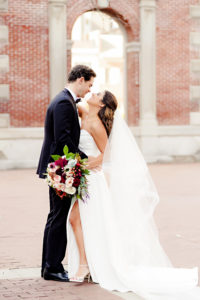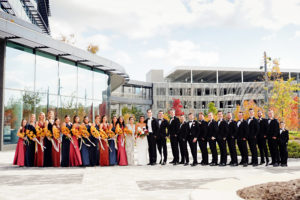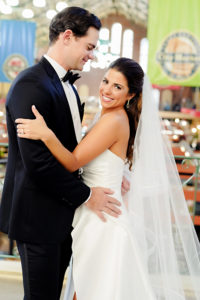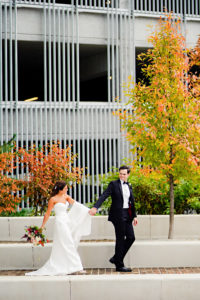 How did you meet Matt and when did you know he was the one?
It depends on who you ask. Matt doesn't remember meeting me the first time, but it was at Crooked Stick when we were in college. According to Matt, it was when he picked me up for our first date, which was in March of 2017.
Matt says he knew I was the one pretty quickly. My sister even joked in her speech at our wedding that he said "I love you" before it was socially acceptable. I think I probably knew he was the one pretty early on, but wasn't ready. I think it's all about timing and our timing was off at first. It took me a while to come around, with much persistence on Matt's part.
I don't think there was one moment where I knew he was the one, but a lot of moments where I knew I didn't want to do life without him. He just felt like home at some point and that's how I knew.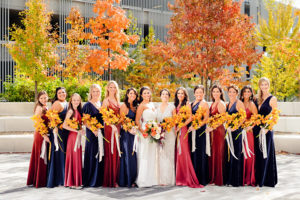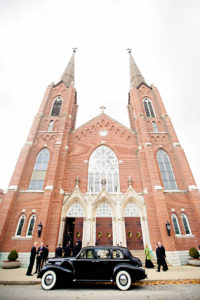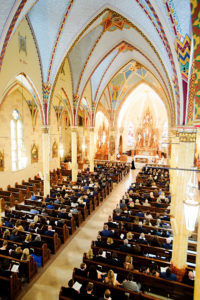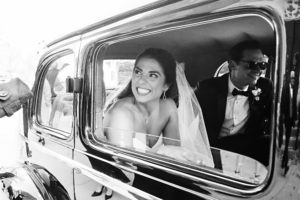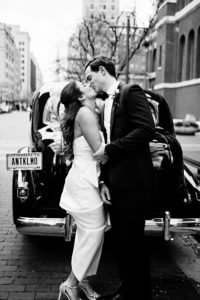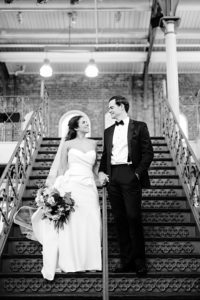 Tell us about the proposal! 
Matt actually proposed to me twice and both times were in Naples, Florida. It's a very special place for both of us, as we both have grown up spending a lot of time there with our family, so it was the perfect location. My sister and I had always talked about getting engaged at sunset on the boardwalk in front of our condo, walking out to the beach. So Matt had planned to do just that—propose on the beach at sunset. 
Unfortunately for him, I messed up his plan every step of the way.  I planned to get drinks with my aunt and uncle that evening and by the time we were finished, the sun had already set.  Afterward, he tried to get me to take a walk on the beach with him, but I refused because I didn't want to get mosquito bites (they love me!). We decided to go back to the condo for some appetizers and a cocktail before our dinner reservation. Again, knowing I had dreamt about being proposed to on the boardwalk, he tried to get me to head to dinner early and walk there from the beach, but I again refused, so he ended up proposing to me on the balcony of the condo, and I, of course, said yes!
Our friends arrived a few days later and Matt continued to tease me about ruining his perfect proposal, so one evening as we were walking across the boardwalk to watch the sunset with our friends, I gave him back the ring and said he could do it again (as a joke) and he actually did it! Our friends were taking pictures and everyone on the beach started cheering for us. It was pretty funny, but it's one of my favorite memories. I think it really speaks to how wonderful Matt is. He really did want to give me my dream proposal and he did—he gave me two!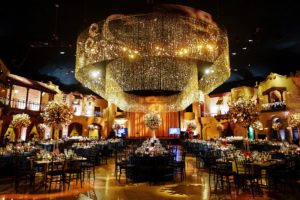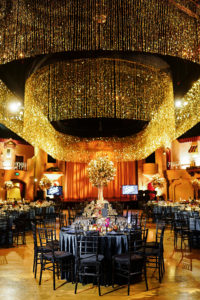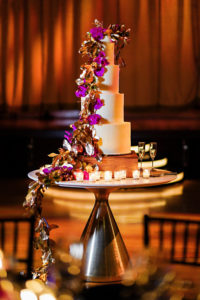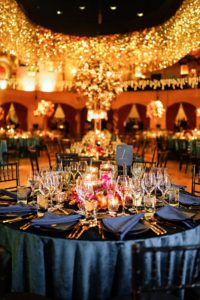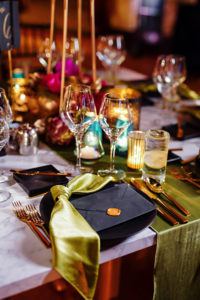 What was the most challenging part of the wedding planning process? The most enjoyable? 
I feel silly saying this, but the most challenging part of the wedding planning process was that I wasn't that involved in the process. My family is in the event industry and was pretty much planning my wedding from every angle. From the venue, to where the ceremony was, to the rentals and the rehearsal dinner. Everything was taken care of. We were really lucky to have our family be so hands on and to take my vision and my ideas and bring them to life.
That was also probably my most enjoyable. I loved spending countless hours with my mom and sister talking about all of the details and brainstorming ideas. Working with my sister in the A Classic Showroom, playing with linens, fabrics, and china. And being able to work with my brother on our specialty cocktails and my Aunt and Dad on our menu. As much time as a wedding takes, it's wonderful being able to spend that time with your family and it makes it that much more fun!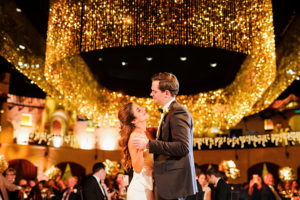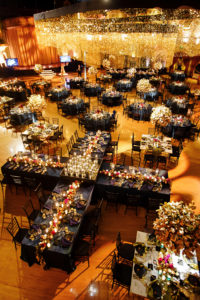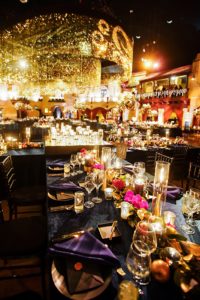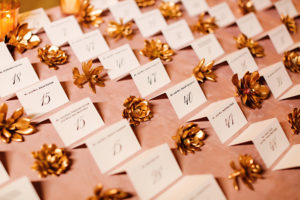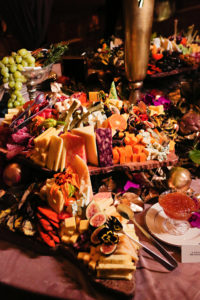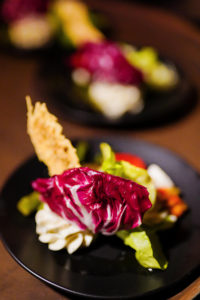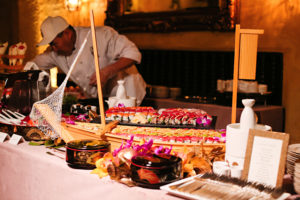 What was your favorite detail from the wedding?
Oh my…there are WAY too many to just pick one. 
My vision for the wedding was what I started calling a "moody, modern romance." I wanted a wedding that was truly unique from what most brides opt to do in the Roof. And because so many people in my family have had their wedding there, I wanted to bring the Roof to life in a way that had never been done for a wedding before.
The space itself is so romantic, mimicking a Spanish courtyard, but not many people merge that old-world romance with modern elements and bold colors and lighting for weddings. 
We paired teals, blues, and chartreuse with gold, black and marble accents with pops of pinks to brighten it up.  I didn't want a ton of flowers in the room, so we had large gold trees on the square marble tables and gold leaf runners down the four large "X" tables. That was another unique element to our wedding. I wanted the room to be set up in a really different way, but that brought people together. We did four large "X" tables that included six people on each side with a table in the middle that was full of candles to add another romantic touch, but in a modern way. 
The lighting was another element that was really important to me. There was a picture from a wedding in the 90's that I have loved since I was little….it looked like the stars from the dome of the roof were falling from the sky. We used that picture as inspiration, but David designed a chandelier that was beyond anything I could have ever imagined. It gave the effect of light just dripping from the sky, but was a very modern interpretation of the original image that I loved so much. The room was glistening all night and light was bouncing off of the gold strands of the chandelier.
The "love wall" of family weddings was a really special and meaningful detail. My sister had a stunning family tree at her wedding that had framed wedding images of family members hanging from the branches. We wanted to do another "family tree", but something that fit the more modern/romantic vibe of our wedding. Family and love was such a central theme throughout all of our wedding, so it was really special to have all of our family (past and present) featured and honored. Matt and I were both extremely close to our Grandmothers who have passed away and it meant a lot to have their pictures on the wall. It made it feel like they were there with us.
The tables also had SO much detail incorporated to them and there were three unique table designs. From the black china (which I LOVED) to the velvet linens and gold trees—to the romantic candles scattered throughout. The really small details on each table I think made such a large impact. I hear a lot of people talk about how the small things don't matter, or go unnoticed, but I disagree. I think it's all of the small details combined that make the largest impact. Guests might not remember each detail or tell you exactly what color linen you had, but they will notice how the space makes them feel and how stunning everything is because of those details—it's like they say about life….it's not just the big events that make up who you are. It's all of the little things that add up to shape who you are. I think the details add up to make events more magical.
The room was simply breathtaking and it literally brought me to tears when I walked in. I have seen so many beautiful events in that ballroom, but nothing quite like that night. It was everything I had dreamed about and more.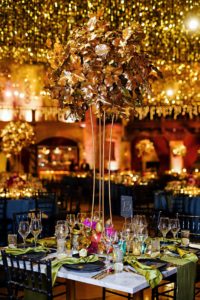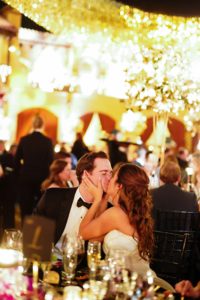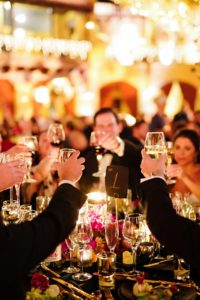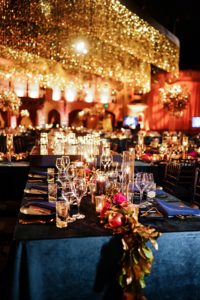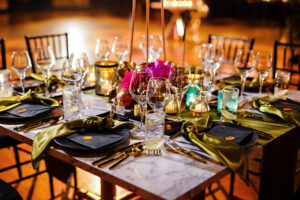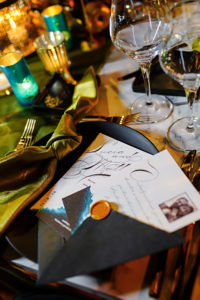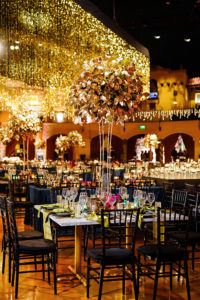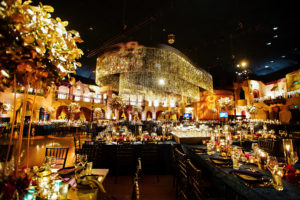 Any advice you can give to couples that are currently planning their big day? 
Try to view the event from the eyes and experiences of your guests. Everything we did and all of our decisions were made thinking about our guests experience. At the end of the day, it's about you and your marriage, but the overall experience is for everyone. Don't lose sight of that—you want them to be there to celebrate with you…not just celebrate you. That will bring so much more joy and love to your day. And also, just because the details matter, don't let them ruin your day. At some point you just need to let it go. My sister always reminded me that "done is better than perfect". Just make decisions and be confident in them or you will drive yourself crazy! With the amount of information that is out there you can always find some idea that you like or thing you could change, but it's not worth it. And you really should rely on the pros. They do this every day and they can provide you with advice and guidance that really will make your day better. There were multiple times I was told "no" or "change that because of this". Even though it's what I had in my head, it wouldn't have worked and it wouldn't have been a good experience for my guests. And I am SO happy I listened to all of them along the way, without losing my vision or voice.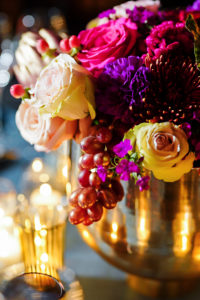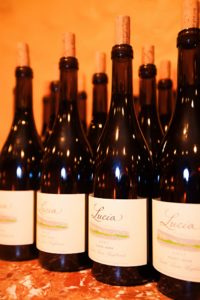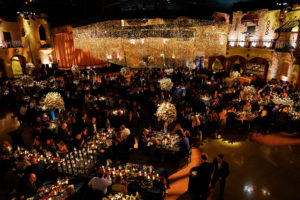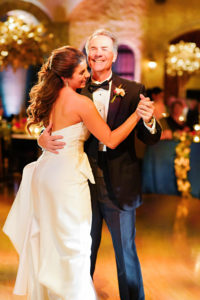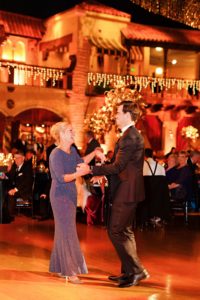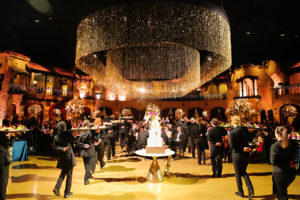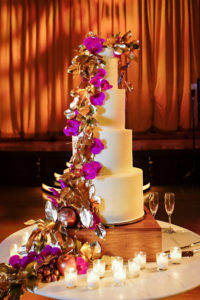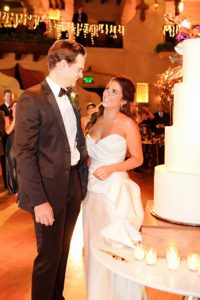 Where did you go on your honeymoon?
We didn't want to go right after the wedding because we wanted to have some time to really fine-tune our plans, so we are going in February. We both have traveled all over Europe and went to Hawaii over Thanksgiving with some friends, so we wanted to go somewhere that neither of us have been for our honeymoon so that we could share in that adventure together. We decided on South East Asia and are going to Singapore, Laos, Thailand and ending with a few days in Tokyo.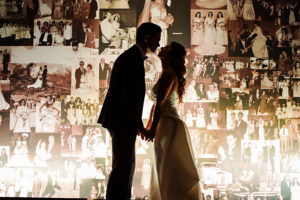 VENDOR TEAM 
PHOTOGRAPHER: Jessica Strickland Photography
DESIGNER & PLANNER: David Reilich Occasions
RENTALS: A Classic Party Rental
DRESS: Vwidon
CHURCH: Sacred Heart Church
HAIR: Salon 1|4, Kortney Norris & team 
MAKEUP: Tara Dumser & Team
FLORIST: Empty Vase
VIDEO: Eyenamics
INVITATIONS & MENUS: David Reilich Occasions
JEWELRY: Reis Nichols
TRANSPORTATION: Antique Limo
BRIDESMAIDS: Bella Bridesmaids
STRING QUARTET: Kirkwood Strings
CEREMONY VOCALIST: Ken Knowles
ORGANIST: Brother Gary Jeriha
VENUE: Indiana Roof Ballroom
CATERING: Crystal Catering
CAKE: Heavenly Sweets
DJ/BAND: Chicago Catz
INVITATIONS & MENUS: David Reilich Occasions
JEWELRY: Reis Nichols
SUSHI BAR: Tegry Bistro
TABLE NUMBER CALLIGRAPHY: LoKee Lettering
TRANSPORTATION: Antique Limo
RENTALS, VISUALS, STAGING, CHANDELIER, ETC: Dodd Technologies, Markey's, Impact Group
CAKE BOX:  Snyder Woodcraft