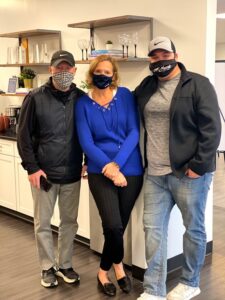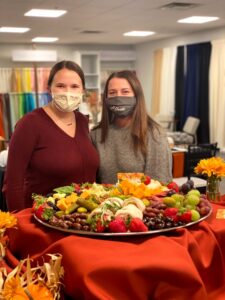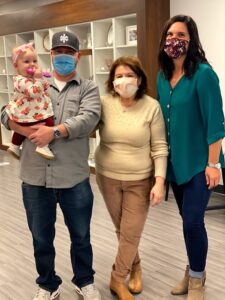 Thanksgiving is just a few weeks away! Your tables may be smaller this year but you can still focus on the design to create an intimate, welcoming tablescape for your family and friends. Our Event Specialist Team split into 4 teams to collaborate on a Thanksgiving tablescape design to inspire you. There's something for everyone- traditional, minimalistic, jewel-toned, and rustic – featuring rentals from our inventory. Which pieces will make it to your holiday table this season? Let us know in the comments below!
This was our first in-person team bonding meeting since March so it was great to see everyone and get our creative juices flowing. Wishing everyone a happy and safe Thanksgiving this year!

What we're loving >> Classic elegance with a touch of nature 
Our Thanksgiving Table was inspired by traditional Fall colors with natural elements. We really wanted to incorporate multiple textures throughout our design and did so by using velvet, satin, and elements of nature (leaves, pinecones, acorns, pumpkins, cranberries, & cinnamon sticks). This table would look amazing in any setting and on top of that, you can get the children involved collecting items from the outdoors!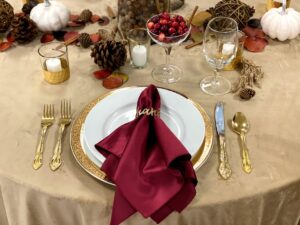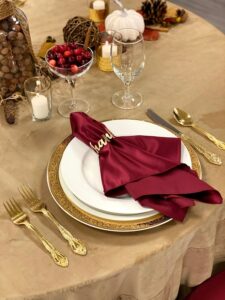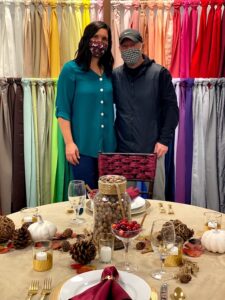 Pictured above left to right: Colleen Stanish, Mike Wiggins
 Featured Rentals: Mahogany Chiavari Chair | Cashmere Velvet Linen | Burgundy Satin Napkin & Sash
Majestic Gold Charger | Classic White China | Abbey Gold Flatware | Anchor Water
City Coupe | Votive Cup with Gold Hammered Finish | Votive Cup with Gold Rim
What we're loving>> Minimalistic with a pop of color
Our Thanksgiving table was inspired by natural earth tones, a minimalistic approach, and pops of color. We started with the linen color and fabric and based the rest of the table design on those vibes. This table would look great in any Thanksgiving set for the family to gather around! xoxo Angela & Caity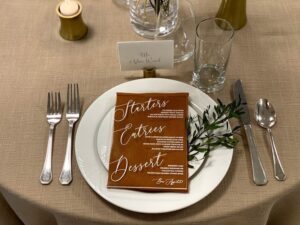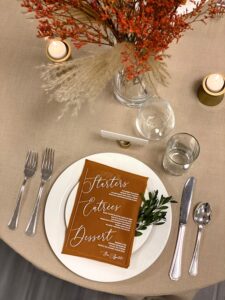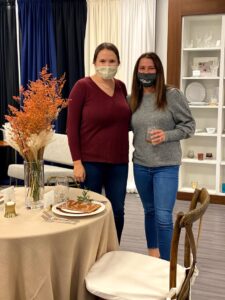 Pictured above left to right:  Angela Richart, Caity Hickman

What we're loving>> Rich jewel tones
Our Thanksgiving table is inspired by rich jewel tones. We wanted to create a table that is unexpected and a shift from traditional Fall color palettes. The use of teal provides an unexpected twist and a strong pop of color that draws your eye to the table. All items except the gold pinecones and candlesticks (found in Chris's home!) can be rented from A Classic. We assumed people will not want to spend time shopping around this season – a one-stop-shop for your intimate table setting will allow you to safely decorate and prepare this holiday season. Come visit us to start designing your smaller, special holiday table! xoxo, Amanda, Chris & Gina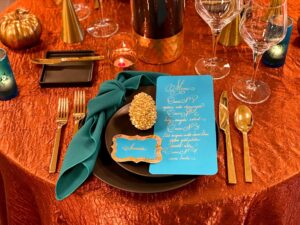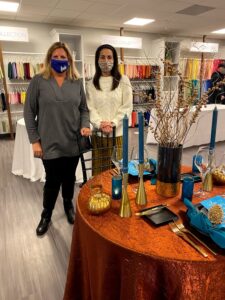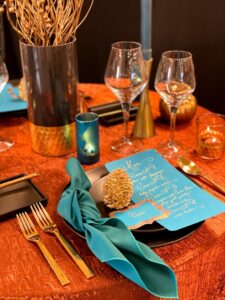 Pictured above left to right: Chris Lar Mar, Gina Glas (not pictured: Amanda Wood)
Featured Rentals: Black Chiavari Chairs | Copper Iridescent Crush Linen | Teal Poly Napkins | Napa Glassware
Black Stoneware | Crown Gold Flatware | Clear Glass with Gold Hammered Finish Votives And Vase
Blue Marble Votives | Brass Hourglass Taper Candle Holders | Paperie provided by Invited Indy

What we're loving>> Traditional Fall
Our Thanksgiving table's inspiration came from traditional fall colors with a touch of shine – with the Copper Polyester table linen, Burlap Runner, and Orange Iridescent Crush napkin!  The Silver Band China and Elexa flatware really accented these colors well. The centerpiece was a combination of home decorations beautifully put together into one seamless tabletop piece. This is just one of many simple and beautiful tablescape ideas for your family's Thanksgiving meals! xoxo, Mary Anne & Clayton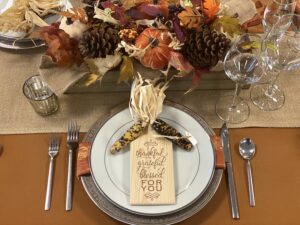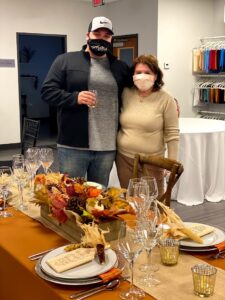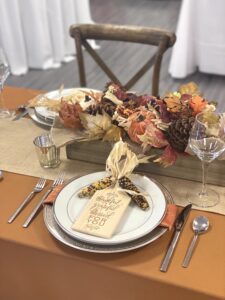 Pictured above left to right: Clayton Sharp, Maryanne Hawkins 
Featured Rentals: Copper Poly Linen | Burlap Table Runner | Orange Iridescent Crush Napkin
Silver Band Charger | Silver Band China | Elexa Flatware | Napa Glassware 
Gold Stripe Votive | Menu by Pickle Prints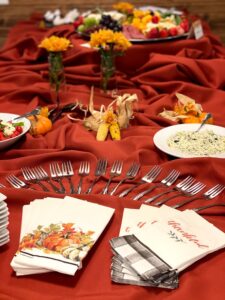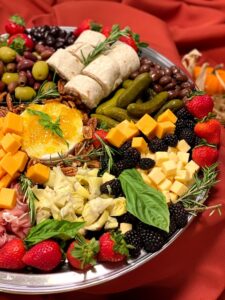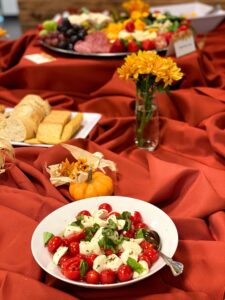 Thank you to MaryAnne for putting together this beautiful and tasty spread for our team meeting!