Since our showroom is closed until at least April 7th, we are so excited to bring it to you! Lori Schmidt and Annie Meister, the duo behind Lori Anne Weddings & Events, designed our showroom this season. This fab duo has everything to offer you – experience, passion, a vision and a love for perfectly executed timelines (really, that's a thing). Lori and Annie were so easy to work with, flexible and fun!
Lori and Annie partnered with Eileen Adam from Noteworthy Expressions for paper products, Classic Cakes, and Nathaniel Crouch Photography. Check out our interview with them below!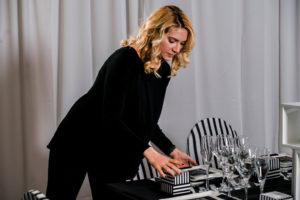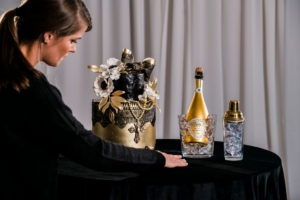 ACPR: How did Lori Anne Events start and what services do you offer?
Lori Anne Events: At the end of 2018 we put our finishing touches on paperwork and our website and launched Lori Anne Events on Jan 2, 2019. It started out as a conversation and quickly became a reality. We wanted to start a company that filled the void we saw in the events industry. Lori Anne Events offers different styles of day-of coordination, full-service planning, corporate and social planning.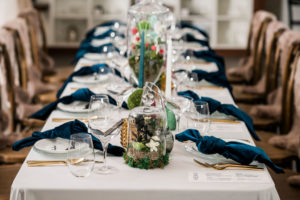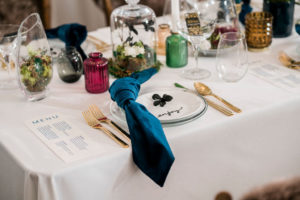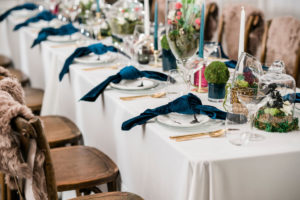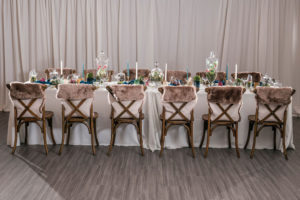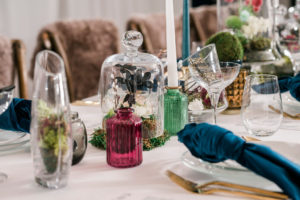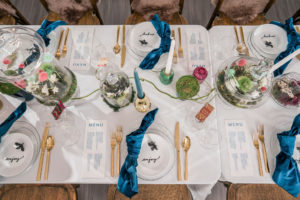 Vineyard Crossback Chairs | White Velvet Linen | Marine Velvet Napkins | Clear Glass Plates
Crown Gold Flatware | Stemless Wine Glass | City Coupe 
ACPR: Where did you find inspiration for your tablescapes? Which is your favorite table and why?
Lori: With the new decade upon us, Annie had the idea to create an interactive experience through the decades and their trends. We ended up with tables from the 60s, 70s, 80s, and a modern 2020 table that displayed the trends of this year.
Annie: From there, Lori had the idea of keeping with our brand and doing an all black and white color palette. For us, this was an amazing challenge that we wanted to take on. We did allow ourselves to use accents of gold and silver. As you know, color in the decades was a huge part of new fads & fashion. So narrowing down our color pallet, it really became a challenge to still implement the looks in a major way.
Lori Anne Events: We honestly cannot pick a favorite, we love them all!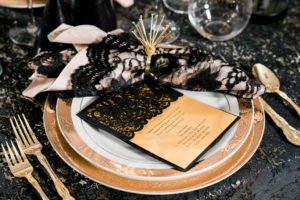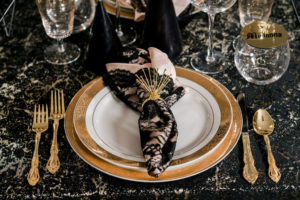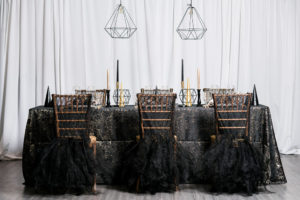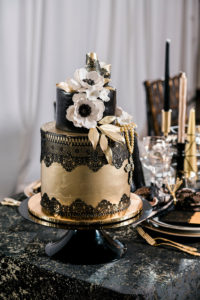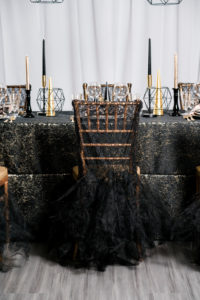 Gold Chiavari Chair | Black & Gold Marble Linen | Camel Satin Napkin
 Gold Majestic China | Abbey Gold Flatware 
ACPR: Annie – you recently got married, congratulations! What was the planning process like for you?
Annie: I did, Thank you! It was an amazing adventure. We decided to pull the trigger & get married in Cannon Beach, Oregon. Giving ourselves 3 months to pull it all together, we definitely had our challenges, but lucky we know about that (wink, wink). Week of & leading up, it was absolutely a one of a kind trip that we will treasure always. I ended up hiring Lori (one of the absolute best decisions) to come out & be my day-of for the wedding weekend. In addition, to Lexi from Alexis Nicole Photography. These two made it a dream and I can honestly say I got to feel like the "bride"! It was weird being on the other side at first, but I quickly became accustomed! The true ones who brought it all together were the vendor team we had. We were truly blessed.
ACPR: Lori – If you could attend any event in the world, what would it be and why?
Lori: Veuve Clicquot Polo Classic. I do not know anything about Polo, but the event has always looked amazing and I would LOVE to celebrity watch!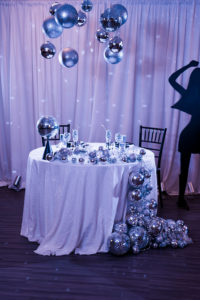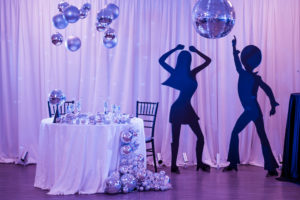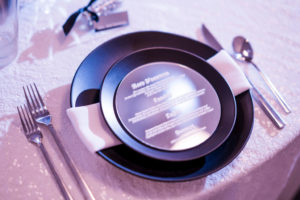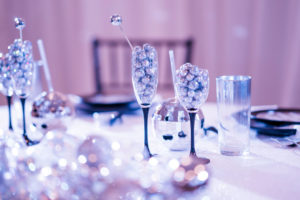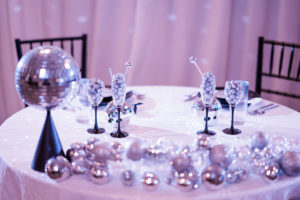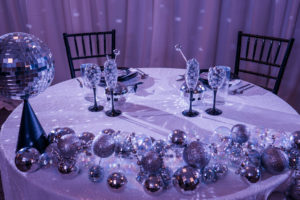 Black Chiavari Chair | White Glimmer Linen | White Poly Napkin 
Matte Black Stoneware | Elexa Flatware | Black Stem Glassware
ACPR: What event trends are you most excited about for 2020?
Lori Anne Events: We love that color is back! For years we have had stunning events with neutrals and blush. But the jewel tones and rich colors that are big in 2020 is refreshing. We also believe that couples are becoming bold with their visions, which we love and encourage. They are willing to take a risk and create the uncreated. It makes each wedding more unique.
ACPR: Where you do see Lori Anne Events in 10 years?
Lori Anne Events: Gosh, where do we see ourselves in ten years! Well, hopefully still crushing it, (laughing). Kidding, we would love to continue to grow. The goal of Lori Anne Events is not to stay small, we want to continue to build a strong client base, grow in employment and ultimately be a successful event planning company that our customers want to work with. We do this for our clients and the reward of seeing the events surpass their vision.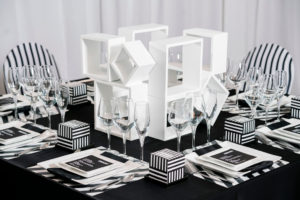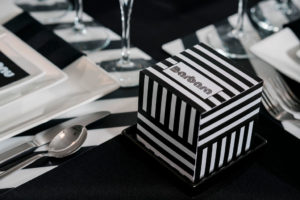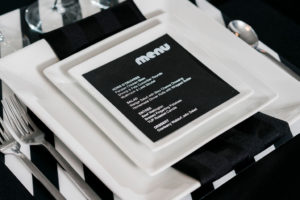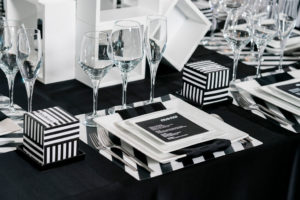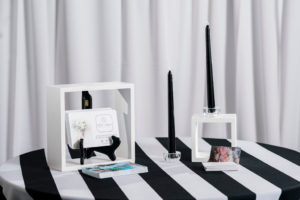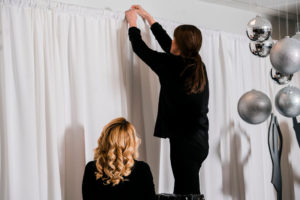 Black Satin Linen | Black Imperial Napkin | Ballroom Stack Chair | Stretch Chair Cover
White Square China | Elexa Flatware | Napa Glassware | Black & White Stripe Cabana Linen 
A Classic: 5 questions for our readers to get to know you on a personal level!
Annie:
1. Guilty Pleasure: Bravo (Housewives)
2. Favorite Movies: Vince Vaughn Movies
3. Hobby: Dip Dying Napkins is my Newest Hobby
4. Favorite Quote: This is art. Get it? – Ted
5. Most used Emoji:
Lori:
1. Guilty Pleasure: Flavored Coffee
2. Favorite Movies: What About Bob
3. Hobby: Cooking
4. Favorite Quote: "The more relaxed you are, the better you are at everything–the better you are with your loved ones, the better you are with enemies, the better you are at your job, the better you are with yourself." – Bill Murray
5. Most used Emoji: