In case you missed it, we moved to a bigger and better facility last month! Our new showroom has plenty of space for mock table settings, private design rooms, a coffee bar, and tablescape inspiration from local event professionals. Our first showroom designer is the lovely Danielle Lea, Owner and Creative Director of Events by D. Nicole. Danielle has been designing and planning events for over 5 years in the Indianapolis area. She offers everything from design services to partial and full-service planning packages. We are thrilled to have her as the first designer in our new space! Keep scrolling to get to know Danielle and see her beautiful tablescapes!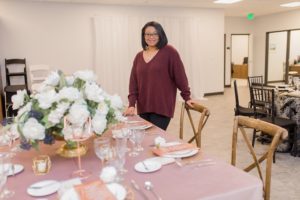 VENDORS: Floral + Centerpieces Knox Flowers | Paper + Signage  Noteworthy Expressions
Photography Kaylee Creighton Photography | Cake Classic Cakes
ACPR: Let's start at the very beginning! Tell us about yourself and how you started Events by D. Nicole.
Danielle: Events by D. Nicole started from my love of planning & designing events. At the age of 5, I would make invitations and give them to my family to come to my 'lavish' tea parties. I wholeheartedly believe that life and love should be celebrated every chance you get! I have a degree in Organizational Leadership and Supervision from Purdue University, which lead me down a path of Human Resources related jobs. My roles always gave me the opportunity to plan corporate events. From there I ventured into weddings which allowed me to focus on the personal story that should be told about a couple…and the rest is history.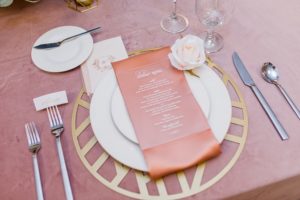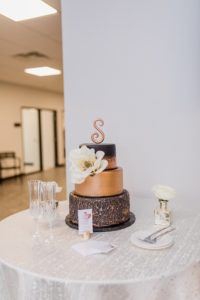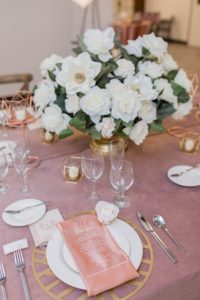 Rose Velvet Linen | Mauve Satin Napkin | Vineyard Crossback Chairs | Elexa Flatware
Syracuse China | Excalibur Wine Glass + Champagne Flute | 11.5 Water Goblet | Gold Edge Placemat (BBJ)
Cocktail Table: Ivory Contour Linen (BBJ) | Arco Crystal Champagne Flutes
ACPR: What services do you offer and what sets you apart from other event planners?
Danielle: I offer Wedding Planning & Design, Decor & Floral Styling, and Day-of Coordination. What sets us apart is our undeniable passion for design and personal details. Every wedding is just a wedding until you make it YOURS. I help couples tell their love story through design elements. I live for the few seconds at the wedding when the couple first walks into their reception space and everything has come together. The shock and awe, and tears is absolutely what I do this for. On this day, couples are becoming one and re-introducing themselves to the world. That should have a unique look and feel…that's what I help couples get to through the selection of florals, linens, rentals, day-of stationery, centerpieces, etc. At the end of the day, they will have a cohesive design that represents who they are.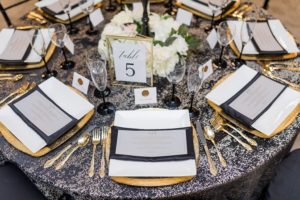 ACPR: Where did you find inspiration for your 3 tablescape designs?
Black is slowly making a come back in weddings. Paired with the right colors and designs and it creates a timeless, elegant look. I wanted to create tablescapes that would fit any occasion. From the very formal, to the feminine and fun; and include a rustic chic look. My personal style is more modern glam. It's sophisticated but has a bit of sparkle to it. The designs all stemmed from the linens that were selected. The black/gold was our more formal design, the black sequin offered a fun and feminine style, while the velvet is very in right now, it gave way to the rustic feel we wanted.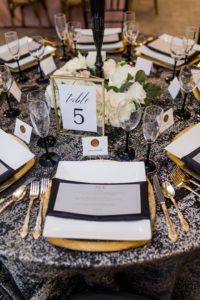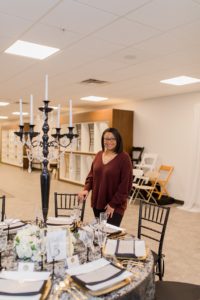 Onyx Vera Linen (BBJ) | Black Satin Napkin | Black Chiavari Chair + Black Cushion
Black Stem Glassware | Abby Gold Flatware | Square White China
ACPR: What are your favorite trends for 2019?
Danielle: I always look forward to what the years' trends will be. I'm really excited about how 'Living Coral' will be used and all the combinations we'll see. I think we'll see the use of scents throughout the wedding experience. Scented candles, custom crafted blends specific to the event, sprayed on invites, pumped through the venue and even gifted as party favors. And I can't forget all the food trends! Caterers continue to wow with all the different ways they present entrees and late night snacks. How about breakfast for dinner at a wedding?!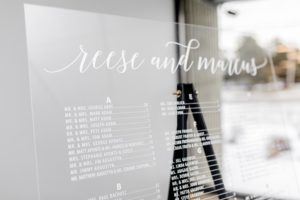 ACPR: If you could plan any event in the world, what event would you choose and why?
Danielle: I would love to plan and design a party for the Oscars or Grammy's. So many fabulous people and fashion all in one space. I think it would be fun to create for an event like that. The opportunities are endless for what can be done!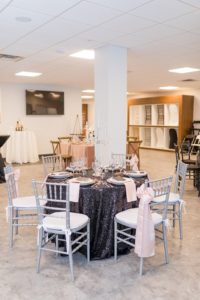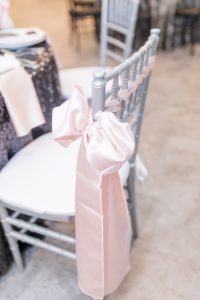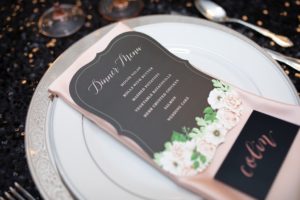 ACPR: 5 questions for our readers to get to know you on a personal level!
Guilty pleasure? Chicago Style Popcorn
Favorite movie? The entire Marvel Series
Hobby? Crafting
Best career advice you've ever received? If it doesn't make you excited when
you wake up; find what does.
Favorite Emoji?
 SMH…I feel like I use it a lot!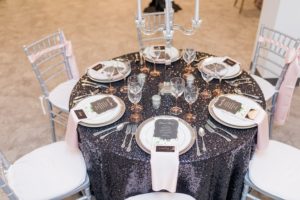 Black Glimmer Linen (special order) | Blush Satin Napkin | Silver Chiavari Chair + White Cushion
Silver Band Charger + China | Chateau Flatware | Pink Stem Glassware