Meet Hannah Strickler, owner of Design the Day Events and our 2018 fall/winter showroom designer! Hannah's love for weddings began at a young age of 4 when she was a flower girl. She admits she was left with ketchup on her dress and forgot to throw the petals, but hey, it can only go up from there! Fast forward to present day, Hannah is running her own business planning dream weddings for her clients and pulling off award-winning styled photoshoots. #GirlBoss.
A Classic is honored to have Hannah's designs displayed in our showroom through the holidays. Her inspiration stems from organic and natural elements that not only appear in her design but in her process. We love that she used dried floral in each of her centerpieces which has never been done in our showroom before. Keep scrolling to get to know Hannah and see her three beautiful tablescapes!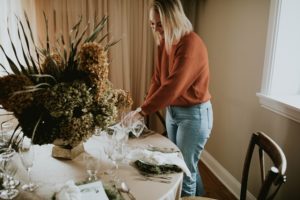 VENDORS: Design the Day | Grounded Weddings | Minted | Emma Leigh Photography
ACPR: Tell us about yourself and how you got your start in the wedding industry.
Hannah: I studied Tourism, Hospitality, and Event Management at the best place on earth, Indiana University (go Hoosiers!), and I have worked within the catering world, facility rentals, venue management, and planning. When I took a step back to really think about what I loved most about the event industry, client connection + event design was something that I knew I was incredibly passionate about. Once I started Design the Day, I knew this was the right move for me, and it definitely helped that I had an incredible support system, not only with family but also vendor connections in Indianapolis!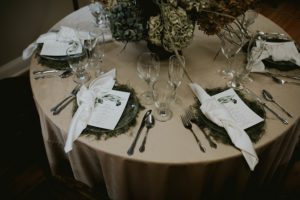 ACPR: What services do you offer?
Hannah: I offer day of coordination, partial planning, full-service planning, design, and everything in between!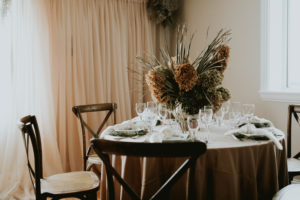 ACPR: How do you see Design the Day growing in the next 5 years?
Hannah: Design the Day has already grown so much since starting in March of 2017, so it's hard to imagine where it will be in 5 years! My ultimate goal is to just keep meeting great people and to keep creating for those
fabulous people. I would also love to have my first destination wedding – we shall see!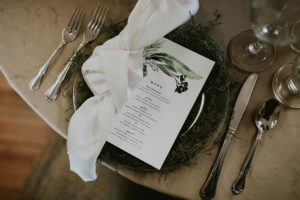 Cashmere Velvet Linen | Ivory Satin Napkin | Vineyard Crossback Chairs | Clear Glass China 
 Chateau Flatware | Excalibur Stemware | 10.5 oz. Water Glass | Beige Voile Pipe & Drape
VENDORS: Design the Day | Grounded Weddings | Minted | Emma Leigh Photography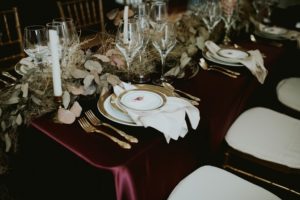 ACPR: Where did you find inspiration for your 3 tablescape designs?
Hannah: I find inspiration within my clients themselves and within nature. I love all things organic and earthy – which all three of these designs are. I have a thing for dried florals, and I am making it my mission to incorporate these into some 2019 + 2020 weddings!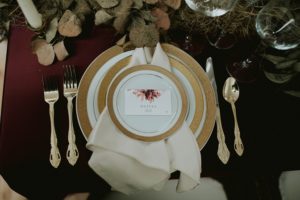 ACPR: What's your favorite piece that A Classic offers?
Hannah: Definitely all of the new velvet linens! I am a huge texture gal, and these are just beautiful!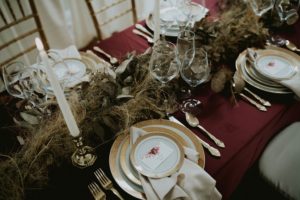 Burgundy Satin Linen | Camel Satin Napkin | Gold Chiavari Chairs
Majestic Gold China | Abbey Gold Flatware | Napa Glassware
VENDORS: Design the Day | Grounded Weddings | Minted | Emma Leigh Photography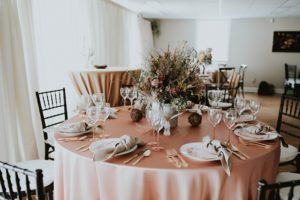 ACPR: If you could plan anyone's wedding, who would it be and why?
Hannah: Can we go back in time so I can plan Blake Lively + Ryan Reynold's wedding? I am the biggest Blake Lively fan, and we could have had some major fun with that wedding!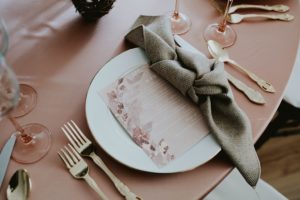 Guilty pleasure?
Definitely Cheez-It's…
Favorite way to spend your day off?
Probably watching the Office on Netflix!
Best career advice you've ever received?
If it makes you happy, then keep doing it.
Most used app on your phone?
Instagram!
Favorite Emoji?
I have a few, but probably the eye roll!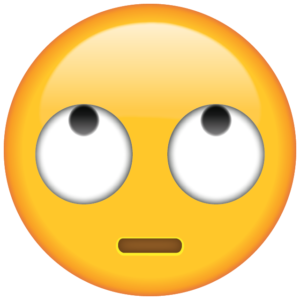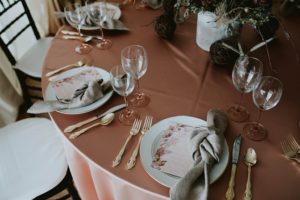 Mauve Satin Linen | Faux Burlap Napkin | Mahogany Chivari Chairs
Gold Band China | Abbey Gold Flatware | Pink Stem Glassware
VENDORS: Design the Day | Grounded Weddings | Minted | Emma Leigh Photography