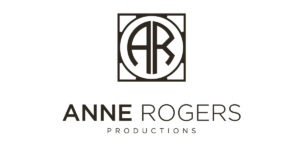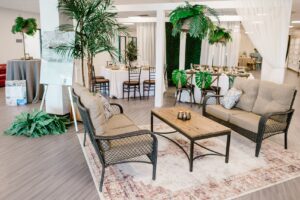 We are thrilled to have Anne Rogers Productions featured in our showroom! Anne is based in Indianapolis but started her boutique event planning business in New York back in 2008. She has worked with many big-brand fashion and lifestyle companies such as Levi's, Nike, VOGUE, Elle Magazine, and Dr. Martens just to name a few. Whether it is a milestone birthday, wedding, bar/bat mitzvah, or corporate branding event, she will customize and design a truly unique event. Check out her tablescape designs below along with our exclusive interview!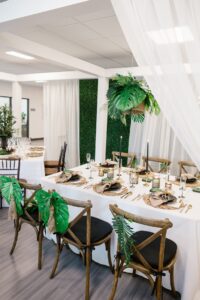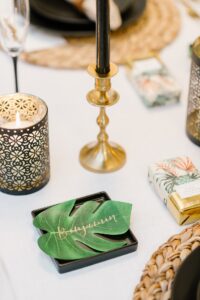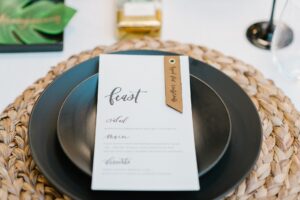 Vineyard Crossback Chair | White Panama Linen | Natural Panama Napkin | Matte Black Stoneware
Stemless Wine Glass | Black Stem Champagne Flute | Black Candle Holders | Oriental Rug | Sheer Ivory Drape
Menu: Interprintations | Handletting: Painted Letter Co. | Custom Jute Shades & Placemats: Setting the Mood
Boxwood Backdrop, Rattan Patio Furniture, & Pergola: Atmospheres Indy
ACPR: How did you start your career in the event industry and what services do you offer?
Anne: I started working in events in NYC at Showroom Seven doing the shows for designers. Later, I started my own firm called KRT with two partners and we worked on fashion shows, events, and press for designers and big and small fashion brands. We have been entrusted with every type of celebration from galas, dinner parties, launch events, birthdays, anniversaries, Mitzvahs, movie screenings, weddings, and corporate events.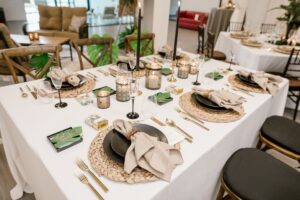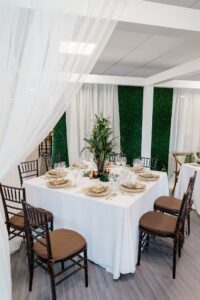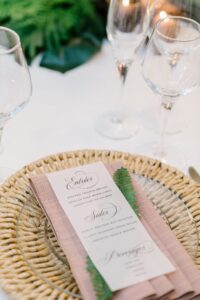 5′ Round Table | Mahogany Chiavari Chair | White Belize Linen | Toffee Belize Napkin
Clear Glass Plates | Napa Glassware | Abbey Gold Flatware | Menu: Pickle Prints Invitations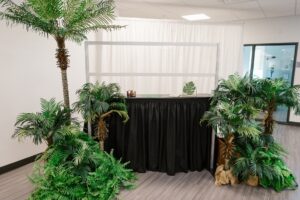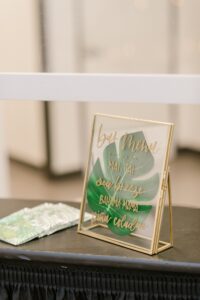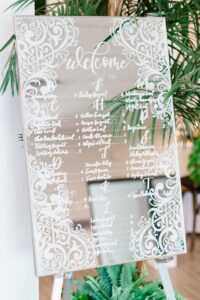 6′ Bar Kit with Sneeze Guard | Silver Easel 
Bar and Mirror Welcome Signage: Painted Letter Co. | Faux Plants: Atmpospheres Indy
ACPR: Where did you find inspiration for your showroom tablescapes?
Anne: I have been inspired by all things outside and green. I had a tropical destination in mind when planning the look. This could be outside in your backyard or on a beach somewhere.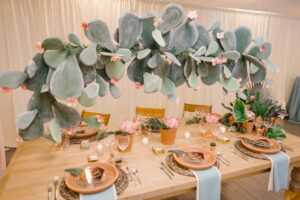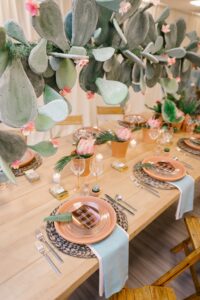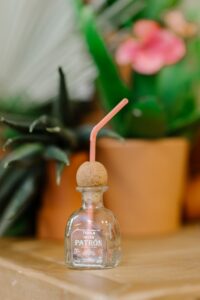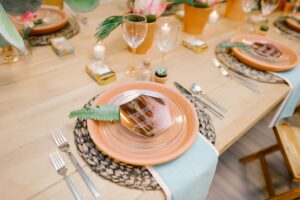 Birchwood Dining Table | Rustic Wood Chairs | Soft Pink & Storm Belize Napkins
Clear Glass Plates | Elexa Flatware | Pink Stem Glassware
Menu: Pickle Prints Invitations | Centerpiece and Hanging Installation: Setting the Mood
ACPR: How has the pandemic affected your past and future events? How are you proactively keeping events safe for your clients?
Anne: The pandemic shut down many spring and summer events that were ready to go. A few cancelled and more rescheduled. We adjusted to much smaller guest counts.
We had ceremonies in backyards and are now making plans for bigger receptions next year. As I am planning events that are happening now we are doing everything possible to move outside and create space for guests, provide masks, and served-meals or have attendants at all food and beverage stations.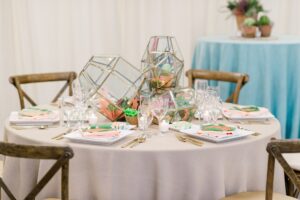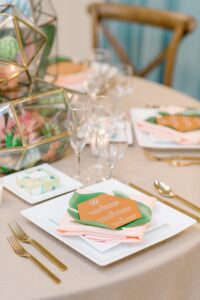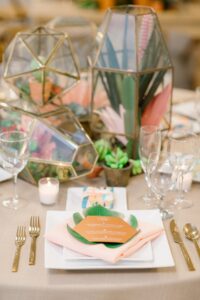 ACPR: What event trends do you think we will see going into the fall and holiday season?
Anne: Smaller events with more custom elements. Home entertaining that is more elevated and more meaningful. A chef creating the meal real-time, a speaker or live performances as part of the evening. Intimate celebrations that are truly reflective of the hosts.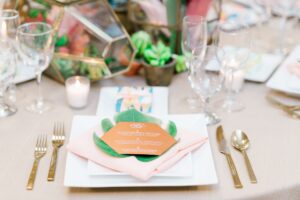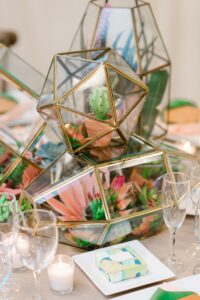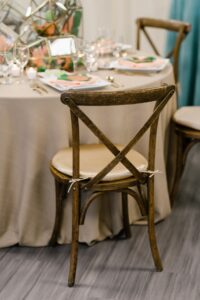 Natural Panama Linen | Peach Polyester Napkin | Vineyard Crossback Chairs
Square White China | Crown Gold Flatware | Water Goblet | Excalibur Wine & Champagne Glass
Menu: Pickle Prints Invitations | Centerpiece: Setting the Mood
ACPR: If you could plan and design any event in the world, what would it be and why.
Anne: The Met Gala would be up there! This event has all the elements I love: Art, Fashion, Pop Culture and it takes place in one of my favorite cities-NYC.
To work with Anna Wintour and the Vogue Team along with Raul Avila who produces the event and is a genius with all things- especially floral. I was able to see Avila's creations and discuss projects while working in the building next door in the Meatpacking District in NYC.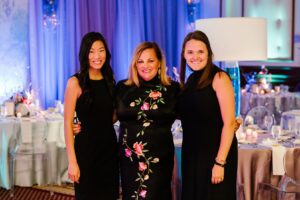 Anne Rogers Productions Team |  L to R: Chung Chow, Anne Rogers, Angela Richart
A Classic: 5 questions for our readers to get to know you on a personal level!
1. Guilty Pleasure: Vanderpump Rules
2. Favorite Movies: The Devil Wears Prada
3. Hobby: Home Decor, Art, Design & Travel
4. Favorite Quote:" Let Them Eat Cake"
5. Most used Emoji: 😍
VENDOR TEAM
Planning and Design | Anne Rogers Productions
Photography | Stacy Able Photography 
Rentals | A Classic Party Rental
Decor | Setting the Mood 
Decor | Atmospheres Indy 
Paperie | Pickle Prints 
Paperie | Interprintations 
Hand-Lettering | Painted Letter Co.