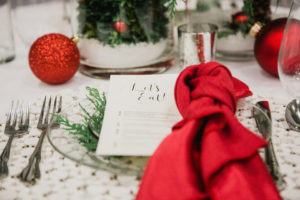 When it comes to hosting over the holidays, things can get a bit stressful so we recommend planning as much as possible ahead of time. That's where we come in! Let us help take the stress out of hosting with these 5-holiday party rental tips.
1. Let us do the dishes
Cleaning up after hosting a party is a daunting task. Whether you are hosting a cocktail party with hors d'oeuvres or a 3-course dinner party, we have you covered. We carry a wide range of china and flatware in various styles, sizes, and price points. Simply scrape and rinse the plates and we do the rest of the work for you. Keep it simple with our Castle White china and Elexa flatware or go full-on holiday glam with our Majestic Gold china and Abbey Gold flatware.
2. Set up a self-serve bar
The last place you should be while hosting is behind the bar mixing up drinks. If you are hiring a bartender we have a bar kit that comes with everything you need. If not, set up a self serve bar with a 6' or 8' banquet table and stock it with both alcoholic and nonalcoholic beverages. We like to stick to the basics and serve 2-3 beer options, a red, white, and sparkling wine option, and a signature cocktail. Ice beer, white wine, or bubbly down in our large white coolers, super coolers (holds 155 cans), or horse trough if you're hosting a crowd. We suggest serving up wine and nonalcoholic beverages in our stemless wine glasses, bubbly in our Excalibur champagne flutes, and cocktails in rocks glasses.
3. Seasonal linens
For the winter holidays, shimmer and shine are always in season; try our iridescent crush or sequins linens. Client favorites this time of year include red polyester, hunter green polyester, tartan plaid and burlap. If you're not sure what you're looking for, come visit our showroom and check out our linen wall, which features our standard linens as well as our growing collection of specialty fabrics. Don't see the linen you envisioned? No problem, we can custom order linens if the order is placed 1 week before your event.
 4. Seating
We carry several styles of chairs ranging from $1.25- $9.00. Try one of our folding chair options for a casual get together or our chiavari collection for an upscale vibe. Need something in-between? Our new Vineyard Crossback chairs can be dressed up or down! View all our options here.
5. Rent a coat rack
If you're hosting more than a handful of guests in the winter months consider renting a coat rack. This will keep everyone's jackets organized in one area and off your furniture (which can be an eyesore). Our coat racks are collapsible for easy transportation and include 25 hangers.
Just like you, we want to enjoy the holidays with our loved ones. With our special holiday hours, we offer flexible rental periods and can deliver straight to you for an additional fee. We hope these holiday rental tips make your next party a breeze! Contact us with any questions and remember it's not too early to start planning for the holidays!