Happy New Year, all! And a very warm welcome to all the newly-engaged couples out there who had an extra special holiday season. We are kicking off 2017 with a new blog series: A Classic Weddings. We always joke that there's something in the water here because in the last year and a half, 4 ladies from our team have gotten engaged! With all the planning and excitement in our office I thought I'd start a new blog series so you could get to know us on a more personal level-so stay tuned for part 2, 3, & 4!
Our Event Specialist, Sarah, was the first to tie the knot last November and we are so excited to share the beautiful images from her big day. Continue reading to hear their love story!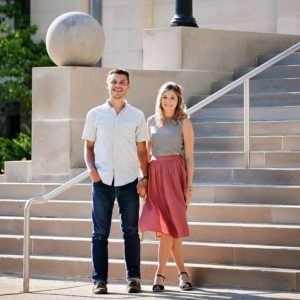 Chung: How did the two of you meet?
Sarah: Tim and I met while attending Indiana University as freshmen. Tim had a friend from high school that lived on my floor in the dorm. As loveable as Tim is, he didn't get along with his roommate so he was always on my floor visiting his friend.  I noticed him a few times while studying in the lounge located on my dorm floor and we eventually started talking and realized we had a class together.
As friends, we visited each other a few times over the summer months while away from school. Before going back to school in the fall, Tim asked me on a real date.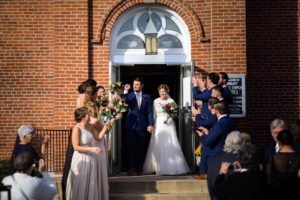 Chung: How did he propose?
Sarah: Going back to where we first met, Tim invited me to a casual dinner in Bloomington and then suggested ice cream from our favorite place located close to the campus. As we were walking to our ice cream spot, Tim wanted to walk through campus. As we were walking, he stopped and popped the question at Sample Gates. Needless to say, I happily accepted and was very surprised.
Chung: What is the one detail or vendor that you were so happy to have as a part of your wedding?
Sarah: Family, traditions, and history are all very important to us. I was very excited to have our ceremony at the church I grew up in with the same priest that did my baptism and first communion. Our priest actually knew me and enjoyed getting to know Tim and us as a couple. My grandparents were married in this same church, along with many other close relatives and friends.
Although both of my grandparents had passed away recently, it was nice knowing that I was standing in the exact same spot with my soon-to-be husband nearly seventy years later from when they were married at St. Elizabeth's.  After the wedding, our guests raved about how personable and engaging the ceremony was. We couldn't have asked for a better spot for us.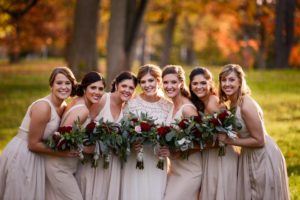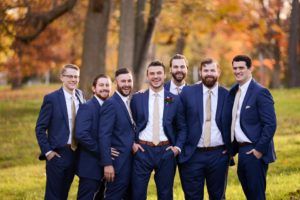 Chung: What was your most memorable moment about your wedding day?
Sarah: The best man dropped my wedding band in front of 250 guests during the ceremony! It rolled about 5 feet until it was picked up and returned to the rightful owner.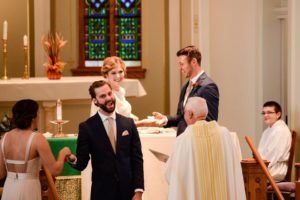 Chung: Where you go for your honeymoon?
Sarah: Tim and I went to an all-inclusive resort in Riviera Maya, Mexico. After all of the stress and planning and with the winter weather approaching, we needed a warm and relaxing getaway. We spent a week on the beach and enjoyed wonderful weather, food, and entertainment.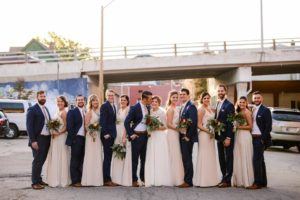 Chung: Any planning advice for current Indiana brides?
Sarah:  At the end of the day, you are marrying your best friend in front of your close family and friends. This should be a happy time so don't let the little details frazzle you! You should also definitely plan ahead and set deadlines for yourself.  If you do not have any wedding planning experience, seek outside resources to assist you!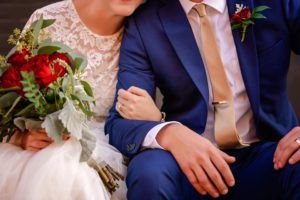 Big congrats to the happy newlyweds!
– VENDORS –
Photographer: Photo Fourteen
Sarah's Dress: Skirt & Top #1 –Bridal Store: Bridal and Formal (Cincinnati, OH)
Designer: Willowby by Watters
Top #2 – BHLDN
Bridesmaids Dresses: Bridal Store: David's Bridal
Designer: White by Vera Wang
Groom's Suits: Apt. 9
Ceremony Venue: St. Elizabeth of Hungary (Cambridge City, IN)
Reception Venue: 4th Floor Blues Club (Richmond, IN)
Hair: Jacalynn's Hair Studio (Cambridge City, IN)
Floral: Flowers by Carla